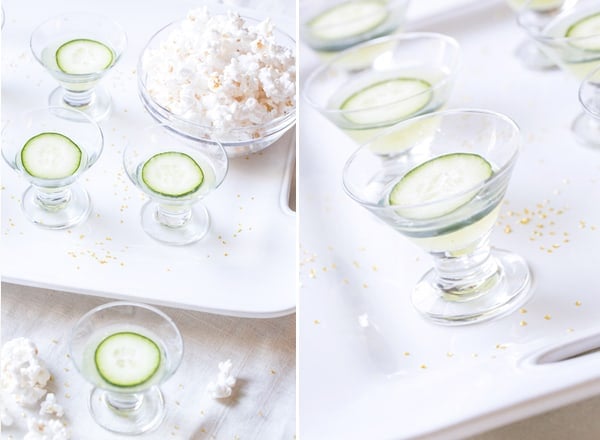 Cucumber and ginger martinis, yum! The star-studded Oscars are here and this is the perfect mini-cocktail to serve! I love martinis, but since they tend to be significantly strong, I actually prefer mini ones. These minis are extremely charming and are just the right size to sip! The cucumber gives the martini a light and fresh melon taste, while the ginger vodka adds a spicy kick and the lime evens it all out! Place six of them on a tray to handout to your friends before the show starts. Other treats that will help make your party special are mini bowls of popcorn (this recipe by my friend Siri looks incredible) and lime Perrier for guests to sip on. Fruit and cheese platters are good appetizers to snack on while watching the big event. Also, here is another tasty cocktail recipe from last year's Oscars. Cheers to hoping Silver Linings Playbook, Lincoln and Les Mis take home some golden men! Read more for the recipe… Enjoy!
Cucumber & Ginger Mini-Martinis (recipe is for one mini-martini)
3 slices cucumber
Juice of 2 lime wedges
1/2 teaspoon agave sweetener
1 ounce ginger-infused vodka (I like Skyy or you can make your own beforehand)
Directions:
In a cocktail shaker, muddle cucumbers, lime juice, and agave until the cucumber is completely crushed. Add in ice and pour vodka on top. Shake vigorously until ingredients are mixed. Strain into a mini- martini glass and garnish with a cucumber wedge.