I heard whispers around town that Proof Bakery is incredible and that I must try it. So one early morning, I took my friend Kim (who snapped the lovely photos) down to check it out. When we arrived, a line of people was already waiting before the doors opened… a good sign.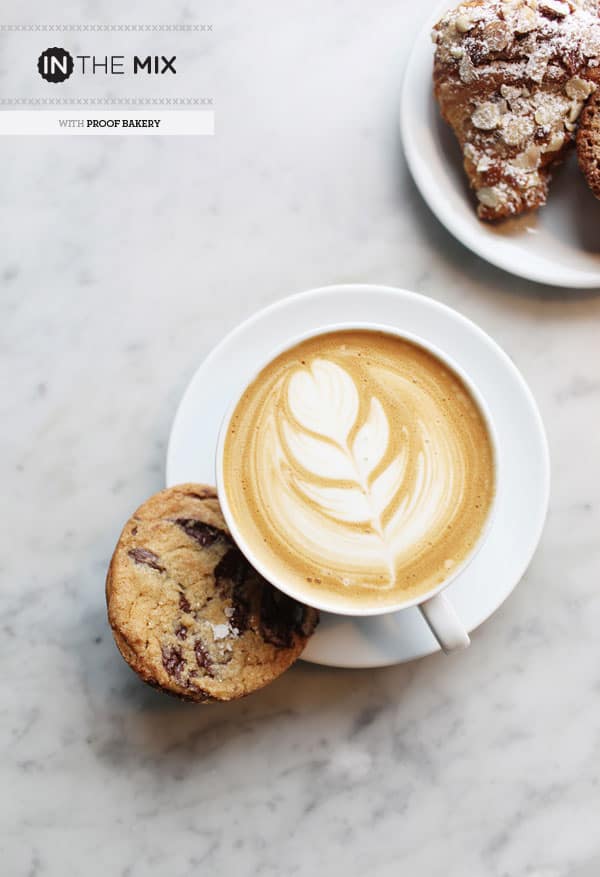 What we Loved at Proof Bakery
Once we settled into the trendy bakery, we had a gorgeous platter of the most amazing treats waiting for us (thanks Jules!).
I had to pace myself so I could taste everything, starting with the chocolate croissant, which was probably one the best I've ever had. Moist, crispy, buttery with the perfect amount of chocolate in the center.
I could wake up with one of those everyday! I also loved the banana muffin wrapped in french baking paper and the salty chocolate chip cookie with chunks of chocolate! We sipped a delicious (latte art is great, but sometimes too pretty to drink!) and incredibly smooth latte while I nibbled on the pastries.
My visit to Proof was a success. I came home 5 lbs heavier, but you know sometimes it's just worth it! Good thing this isn't down the street from me. That would just be bad!
SEE MORE FROM OUR IN THE MIX SERIES
Photos by Kimberly Genevieve
You can also FOLLOW US on FACEBOOK and PINTEREST to see more delicious recipes, cocktails, desserts, and parties!