A sneak peak into the colorful and delicious world of the Museum of Ice Cream in Los Angeles!
For our most recent LA with Kids, we visited the one-of-a-kind, Museum of Ice Cream! It made it's way to LA after a very successful pop-up in New York and we are SO happy it's here for a few months!
I dreamed of a place like this as a kid…a real-life Willy Wonka factory filled with the most imaginative rooms and delicious ice cream treats! Romeo was in heaven, although it's debatable who liked it better!!
The very first room is ALL pink with hanging phones that provide you with an insight into the museum and ice cream when you take a listen!
Banana Split Room
The banana split room was awesome! A Scratch-n-Sniff banana wallpaper, hanging bananas and swings! It's bananas!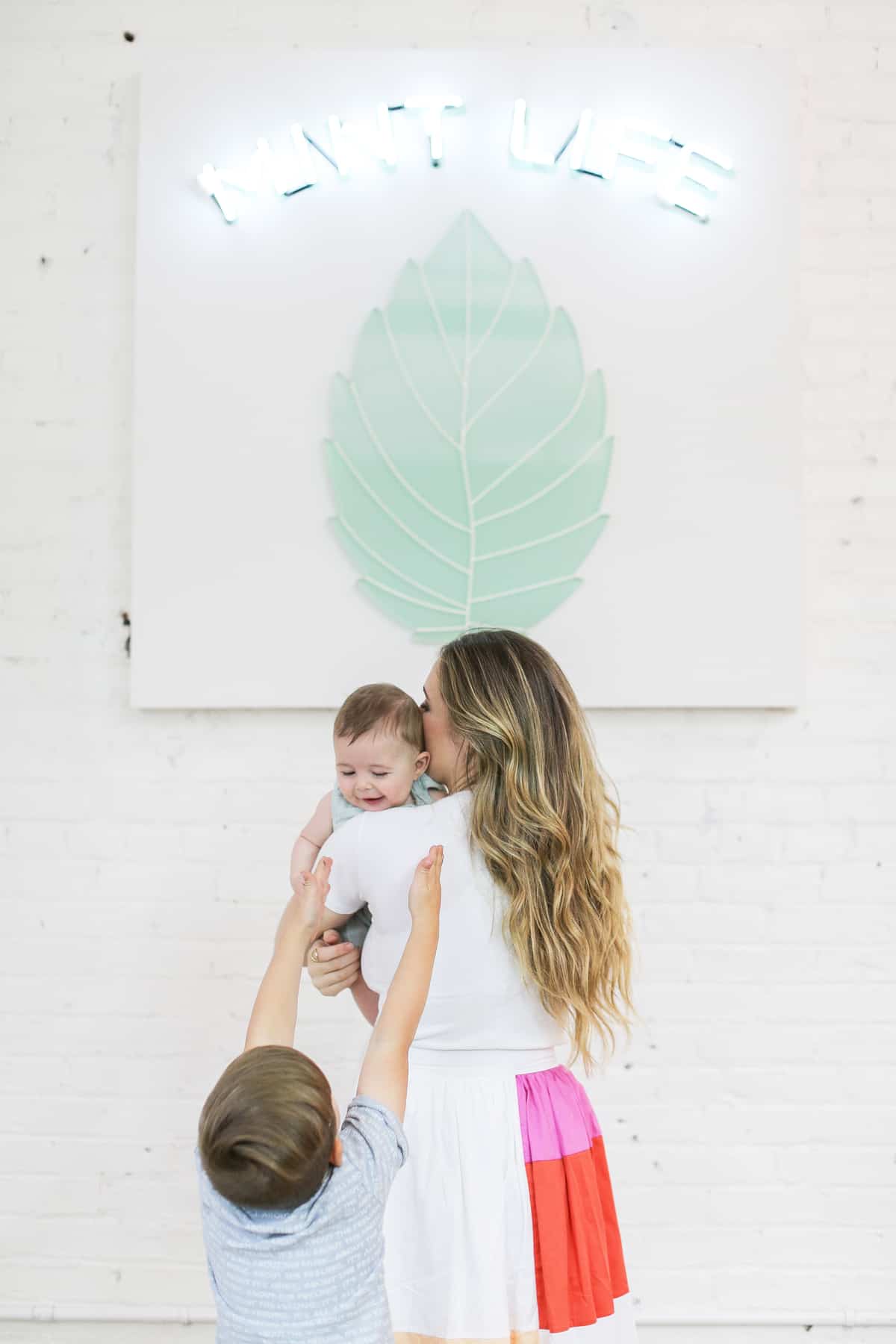 Mint Room
We loved the mint room! It smelled amazing and they used cocoa nibs to grow the mint. They also served the yummiest mint mochi ice cream!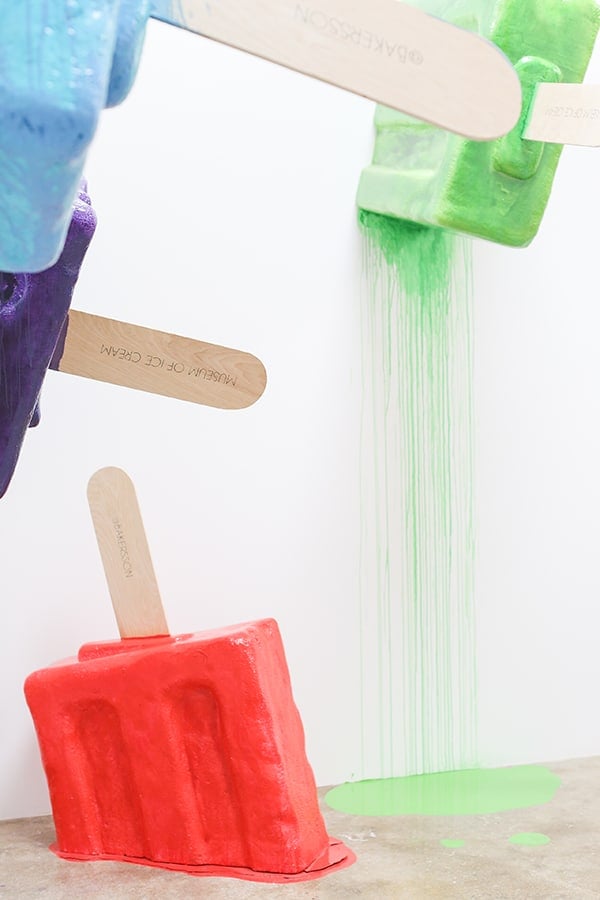 Popsicle Room
This room was so fun! It was a large room with giant popsicles!
Each room was created by a different artist, this one was very cool!
Sprinkle Pool
This is probably the most popular room at the Museum of Ice Cream! It's a pool filled with sprinkles! Of course, they're faux sprinkles but it's so much fun to play with and toss around. My kids LOVED every minute of it!
The tiny sprinkles are anti-bacterial and so much fun to play in.
Frequently Asked Questions
Museum of Ice Cream Locations
There are two permanent locations: San Fransisco and New York City. They also create pop-up locations in different cities. Also check their site to see when one will coming to a city near you!
How Much Does the Museum of Ice Cream Cost?
The tickets are $38 and children under 2 are free. Groups of 10 people or more can buy discounted tickets for $29 each.
What do you do at the ice cream museum?
It's an interactive art exhibit and museum with ice cream and candy-themed installations. It feels almost like a modern-day Willy Wonka filled with colorful walls, scratch and sniff wallpaper, sprinkle pools, a rock-candy cave and so much more!
It's an incredible experience for kids and adults!
Does the Museum of ice cream serve ice cream?
Yes! At the end of the tour you're able to buy ice cream as well as other treats. They now have their own brand of ice cream and there's a lot of fun memorabilia you can buy as well.
How long does it take Museum of ice cream?
This is really up to you and how long you take in each area. It will usually take about an hour to 1.5 hours to walk through the museum.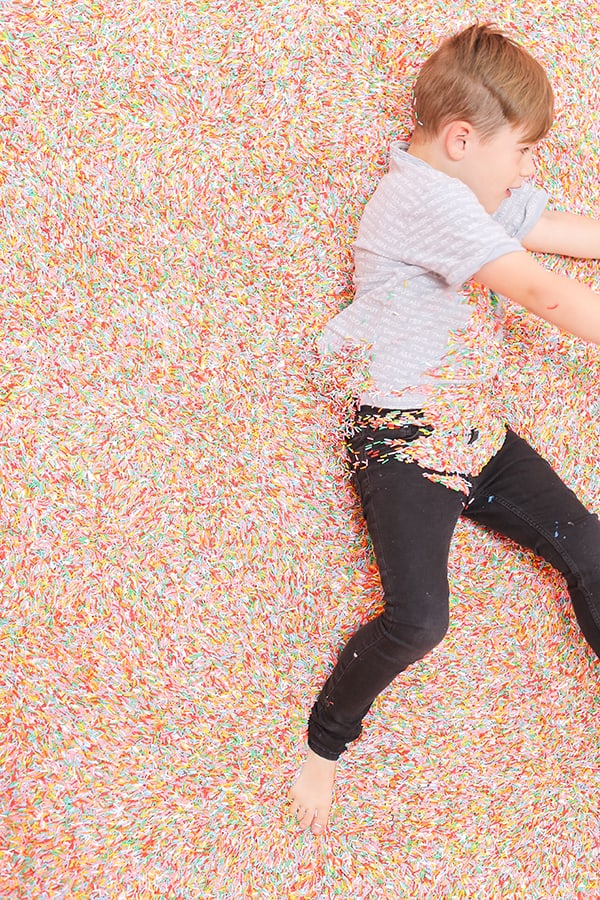 Who created the Museum of Ice Cream?
Maryellis Bunn was 26 years old when she co-created the MOIC. You can read more about her story here.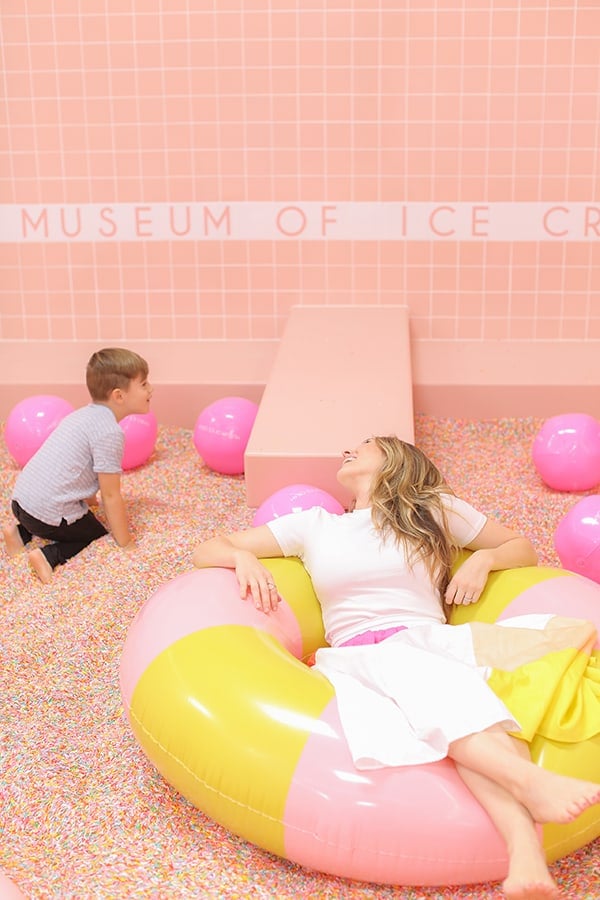 We ended our ice cream adventure with an ice cream sandwich for breakfast! Two strawberries, buttermilk pancakes with a blueberry waffle custard ice cream. Amazing.
Homemade Ice Cream Recipes
If you love ice cream as much as we do, here are a few of our favorite recipes!
How to Create an Ice Cream Bar at Home also see our time at Miette in San Francisco.
The Museum of Ice Cream is definitely worth a visit. It was like nothing we'd experience before and with every dollar! The enjoyment of each room and the surprises they had throughout was pure enjoyment.