If you're hosting a taco party we're sharing all the charming taco bar ideas to make the best taco bar!
Who doesn't love tacos? Even dragons love tacos! There are so many delicious varieties of tacos, vegetarian, fish, meat, and vegan.
It's easy to make this tasty and delicious taco salad!
There is definitely a taco to fit everyone's needs. However, what if you created a taco bar where all of your guests can make their own tacos?
It's the easiest way to feed a crowd! We teamed up with Old El Paso and used their taco boats to create a charming DIY taco bar for Cinco de Mayo!
They're perfect for delicious layer toppings, and all of the ingredients stay IN the boat! Kind of genius if you ask me!
What I Love About Taco Bars
Taco bars are one of my favorite things to entertain with. They are so easy to put together, and everyone always loves them! Plus, they are perfect for any occasion – from casual get-togethers to more formal affairs.
One of the best things about taco bars is that they are completely customizable. You can set out all of the toppings and let everyone build their perfect taco. Or, you can make things even easier on yourself by pre-assembling the tacos. Either way, it's sure to be a hit!
Here are some of my favorite tips for making a killer taco bar:
1. Choose your protein wisely.
There are so many delicious options when it comes to choosing a protein for your taco bar. Traditional ground beef is always a hit, but you could also try shredded chicken, pulled pork, or even grilled fish. If you're looking to add some vegetarian options, roasted vegetables or black beans would be great choices.
2. Make a few different kinds of salsa.
Salsa is one of the most essential components of a good taco bar. I like to make at least two or three different kinds so there's something for everyone. A classic tomato salsa is always a good choice, but you could also try a fruit salsa, a corn salsa, or even a roasted salsa.
3. Don't forget the toppings!
There are so many delicious toppings that you can add to your taco bar. Some of my favorites include shredded lettuce, diced tomatoes, sour cream, cheese, and avocado. But really, the sky's the limit when it comes to toppings. Get creative and experiment with different combinations.
4. Offer a variety of tortillas.
Tortillas are another important component of a good taco bar. I like to offer at least two or three different kinds, so there's something for everyone. Flour tortillas are always a good choice, but you could also try whole wheat tortillas or even corn tortillas.
The Best Taco Bar Ideas
Here are some ideas to make your taco bar the best!
Taco Bar Ingredients
You'll want to have a few meat options for your taco bar. The most popular are carnitas, chicken, and beef. Besides meant, it also serves a plethora of ingredients to make your taco bar full and flavorful!
Beans (Black Beans or Pinto Beans or Refried Beans)
Taco Shells or Taco Bowls or Tortillas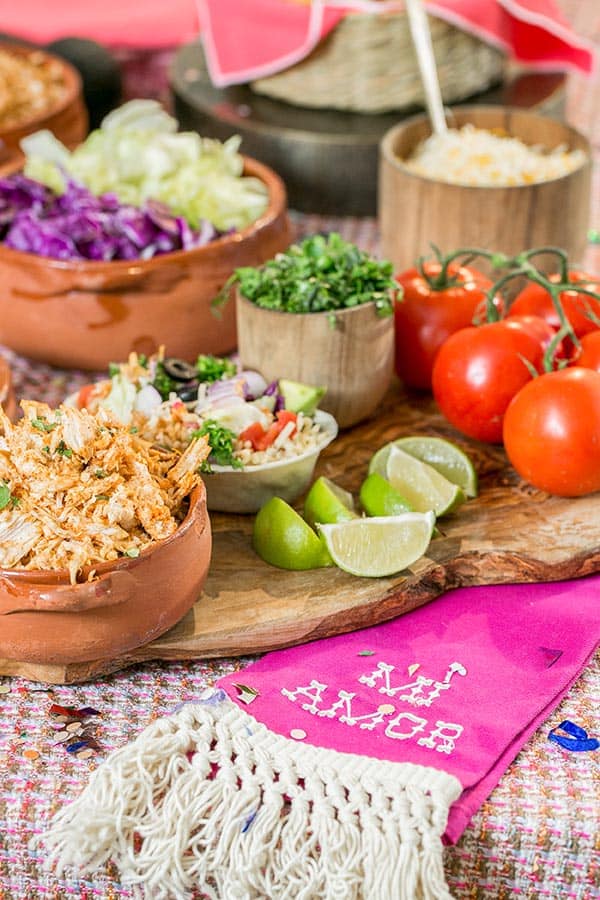 How much taco meat do you need per person?
When deciding how much taco meat to put in, it's important to know that people usually load up their taco meat when it comes to a taco bar! Since you're not portioning it out, it's also hard to be accurate with a self-served bar, but here is a general rule: 8 ounces per person.
How do you make a good taco bar?
Now that you have all of your ingredients prepped, it's time to make your taco bar good! This is when the charm comes in. Set out wooden bowls or terracotta bowls to fill with toppings.
Set the bar up on a dining table or kitchen island. Add a colorful tablecloth, colorful napkins, and all the ingredients on the table.
Add height by placing some toppings on stands, like a cake stand or stacking wooden boxes.
The easiest way to keep tortillas or taco shells warm into wrap them in foil, place them in the oven on low heat, and remove them right when you're about to serve, but keep them in the foil.
You can also use a crockpot to keep tortillas warm. Although, if you only own one, it might be used for meat. Slow-cooked chicken and carnitas are the best and so easy in the crockpot.
We're really into the details, so any charing touches like fun dishes, cups, taco bowls, or even confetti sprinkled on the table all make for a good taco bar.
What goes with tacos for a party?
All of the ingredients are set out, so what else goes with a taco party? Well, drinks definitely go with a taco party! Specifically margaritas! Here are the 10 best margarita recipes you can make!
For a refreshing non-alcoholic drink to serve, try one of our 4 delicious agua fresca recipes.
For sides, make Mexican street corn, a large Mexican salad with a large bowl of chips, and salsa.
More Tips for Making a Taco Bar
Don't leave everything for the day of the party. You can prep and chop almost all of the taco bar toppings the day before.
Set the bar with the empty bowls, then add the ingredients to the bowls. This keeps the placement organized.
Small baskets are also great for storing chips and tortillas. Keep them covered if you can.
If you're hosting outside during the summer, make sure you use food covers. We have a list of very charming food covers to keep the party pretty!
More Party Bar Ideas!
If you're hosting this taco party for Cinco de Mayo, check out our Cinco party here!
We hope you've got some good taco bar ideas for your next taco party!
You can FOLLOW US on FACEBOOK, INSTAGRAM, and PINTEREST to see more delicious recipes, cocktails, desserts, and parties!