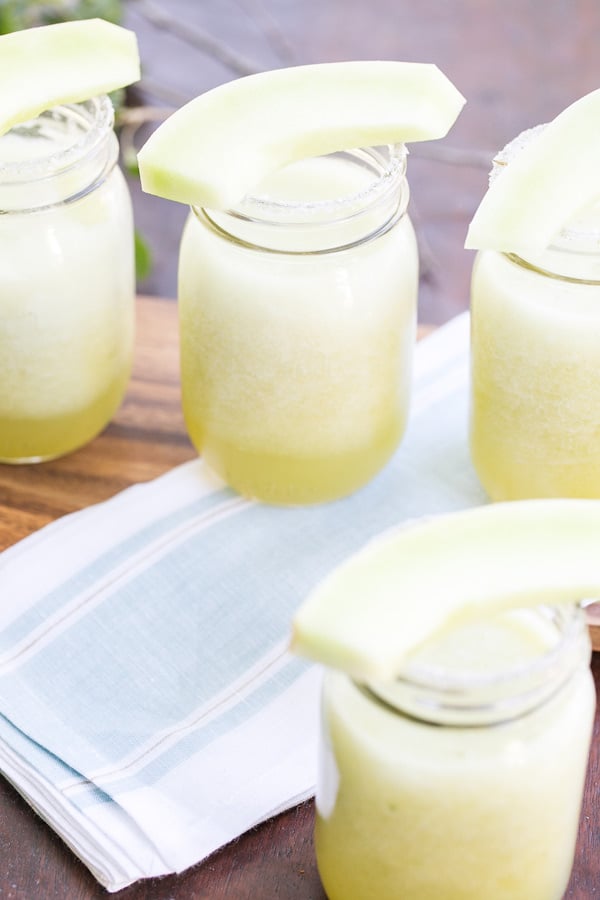 We're switching it up from the typical red and blue for this upcoming Labor Day. Instead, we went with something refreshing and chilled to cool off with during the last few weeks of warm weather…although here in LA, September is just as hot as any summer month! This cocktail is perfect for an outdoor summer BBQ, but with ingredients like honeydew, cucumber, lemon and honey…it's sure to help your guests kick back and relax, exactly what Labor Day is for! The rim is a mix of sugar, salt and a tiny bit of fennel to give it a little jolt! We served it in classic American Mason jars with a sliced honeydew melon on top, which looks cute! I followed a recipe from Food & Wine, but cut the amount of honey in half. With this drink, I love that you can chop and prepare everything before, store it in the fridge and when your guests arrive, blend it up. Enjoy your weekend everyone and Happy Labor Day!
Cucumber Honeydew Freeze Cocktail via Food and Wine
Ingredients:
Sugar and Salt with Fennel Rim
1 teaspoon ground fennel
2 tablespoons sugar
1 tablespoon salt
Cucumber Honeydew Cocktail
8 ounces gin (or vodka)
2 cups peeled, chopped and chilled cucumber
2 cups peeled, chopped and chilled honeydew melon
6 ounces fresh-squeezed lemon juice
1/2 cup honey
5 cups ice
Fresh mint if you want!
Directions:
Prepare the rims of the glasses before you start the cocktail. Mix the ingredients for the rim, place on a plate. Rub the rim of the glasses with a lemon or lime wedge. Then dip them into the sweet fennel salt.
Chop and chill the ingredients before you blend. When you're ready to serve, add all of the cocktail ingredients together in a mixer and blend until frothy. Then poor into rimmed glasses and serve immediately. Enjoy!