Ideas and tips for designing a small shared room for kids! We turned a small room into a beautiful shared room for my two boys! Here's how we utilized this space for toys, clothes, and more!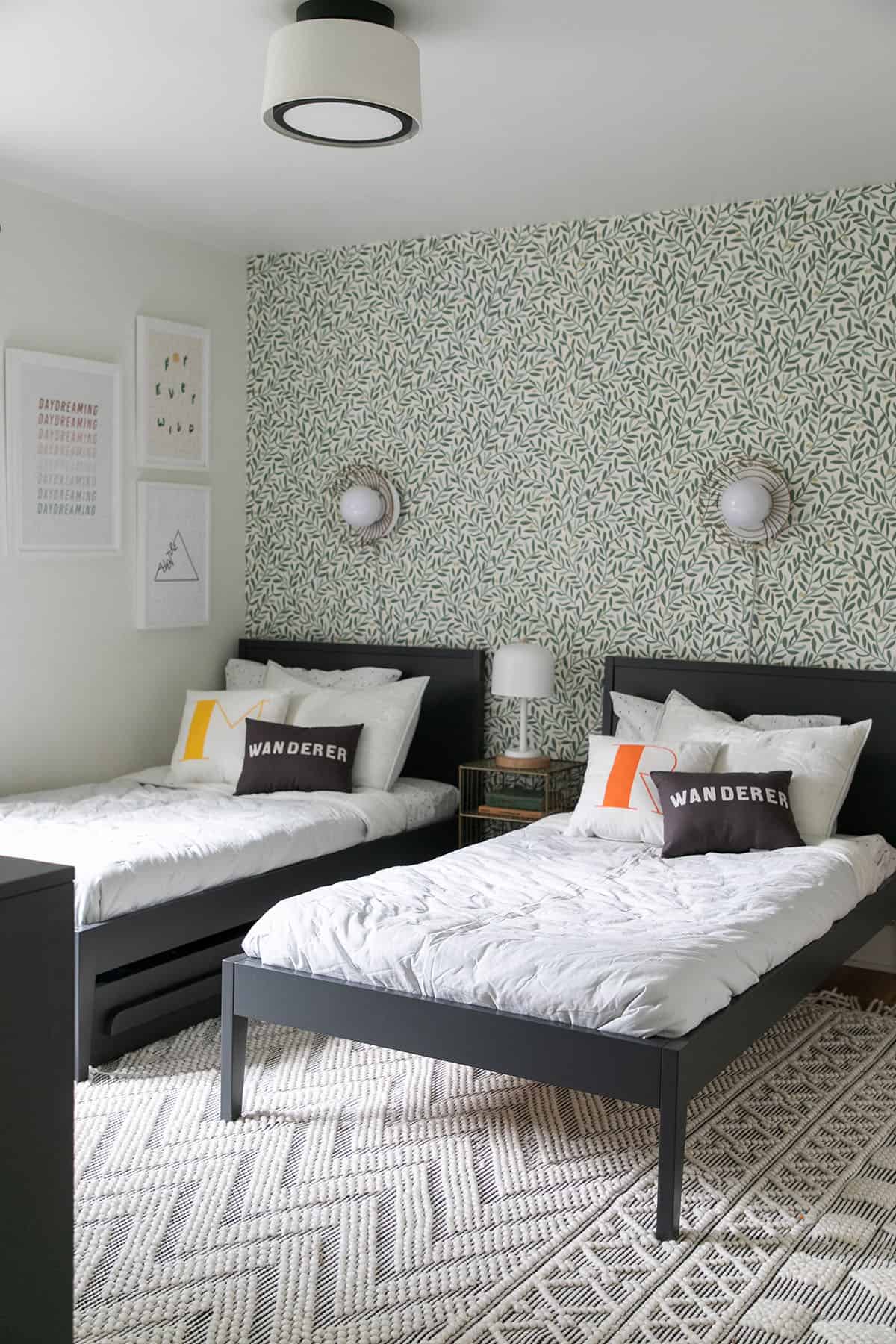 My boys needed a major room transformation after moving back from Knoxville to our small cottage in Los Angeles. This room is a much smaller space than what they had in Tennessee and there were some challenges I had to figure out to make this room work for both of them.
The boys absolutely love sharing a room because they like having each other when they go to sleep. They love each other's company. However, one of my kids will not sleep on the top or bottom of a bunk bed.  In a small room, bunk beds are a huge space saver! The challenge was to fit two slim twin beds in this room and come up with storage solutions that don't take up an of room.
I'm sure many of you who live in city apartments or smaller spaces in a city can relate to figuring out a small space for kids! I'm happy to share what we came up with using all products from Crate and Kids! 
Before Photo of the Bedroom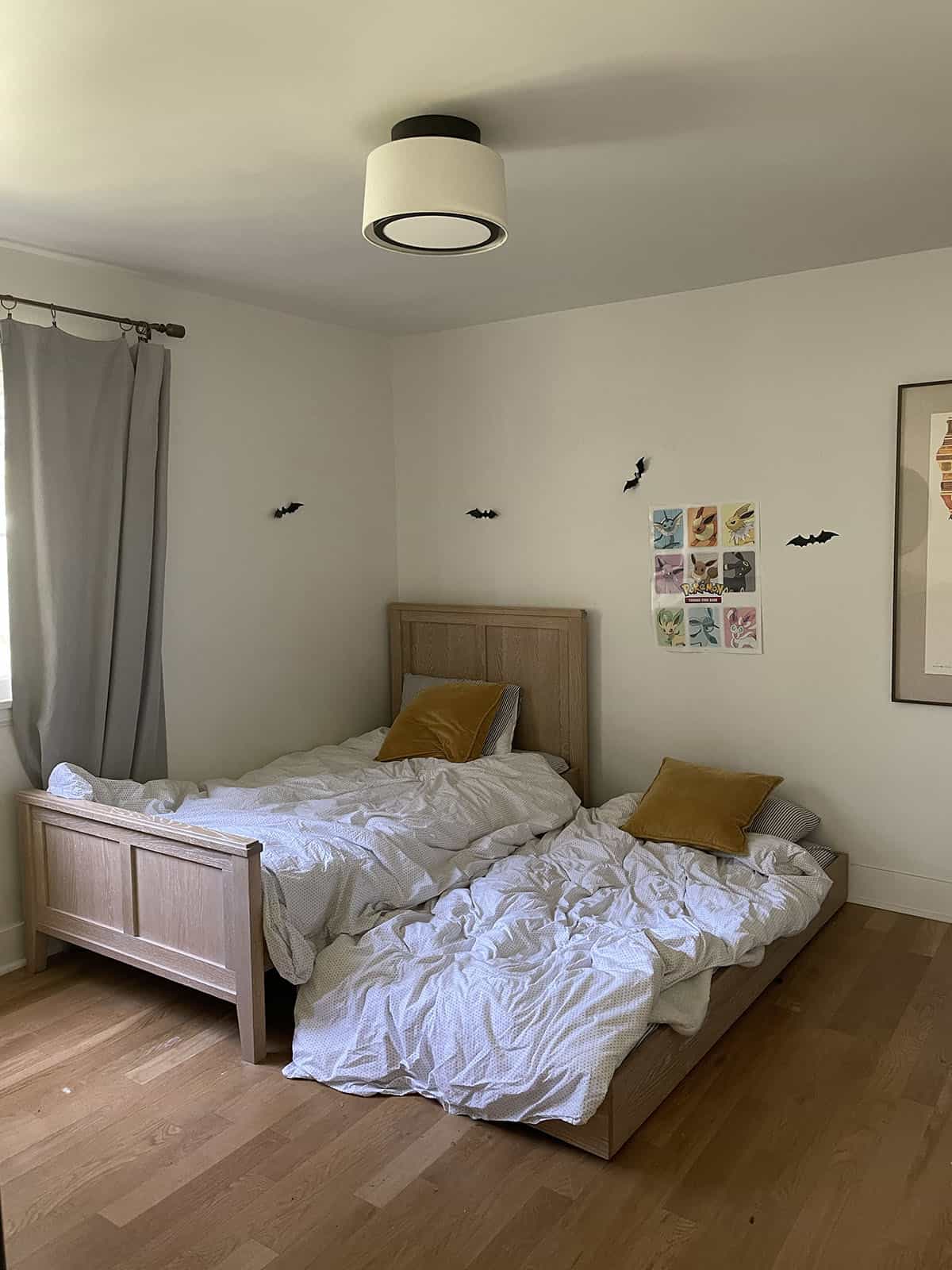 Before we dive into the good photos, we have to share a before! This is what the bedroom looked like when we moved back to our cottage… it really needed an update!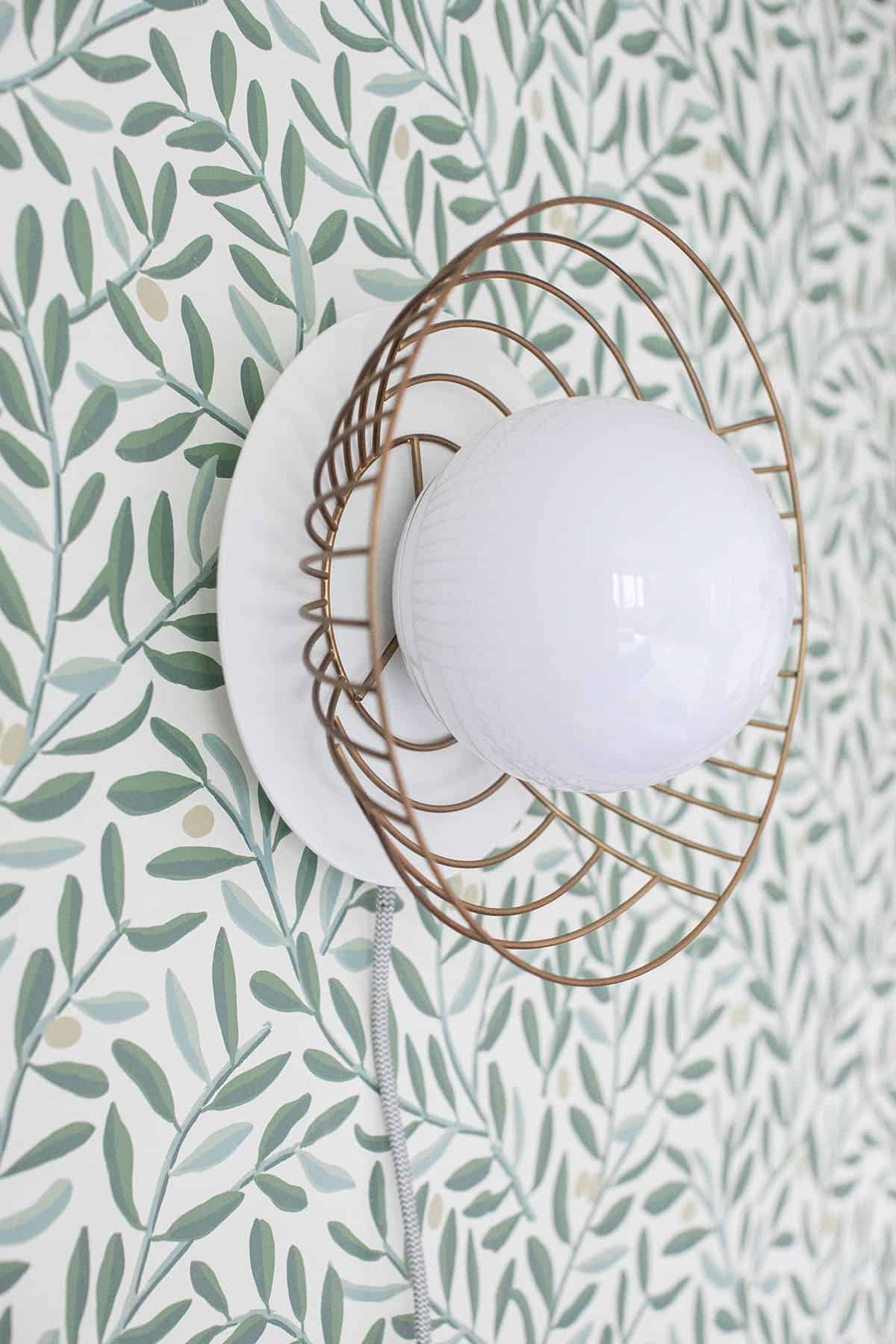 Kids Lighting
Lighting is fun in a kid's room because you use unique shapes and fun items to add lighting and decor. I used these super cool basket wall lights that hang above each bed.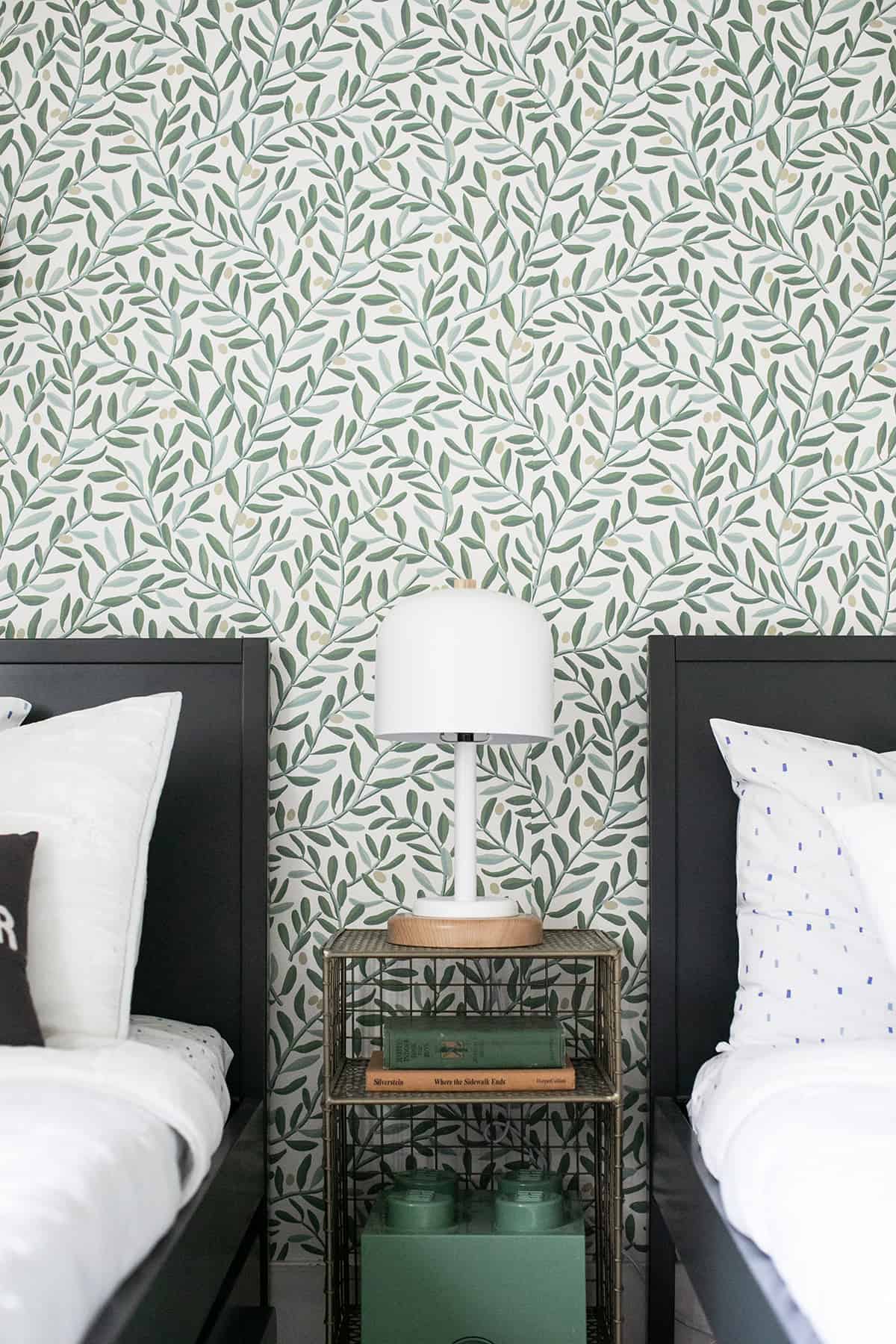 I also added a touch lamp in the middle of their nightstand. I highly recommend touch lamps in kid bedrooms as it makes it super easy for them to turn the light on quickly when they need it. 
Another fun lighting item we added to their room is the neon hello sign. This has been one of our favorite pieces for many years.
Wall Art and Wallpaper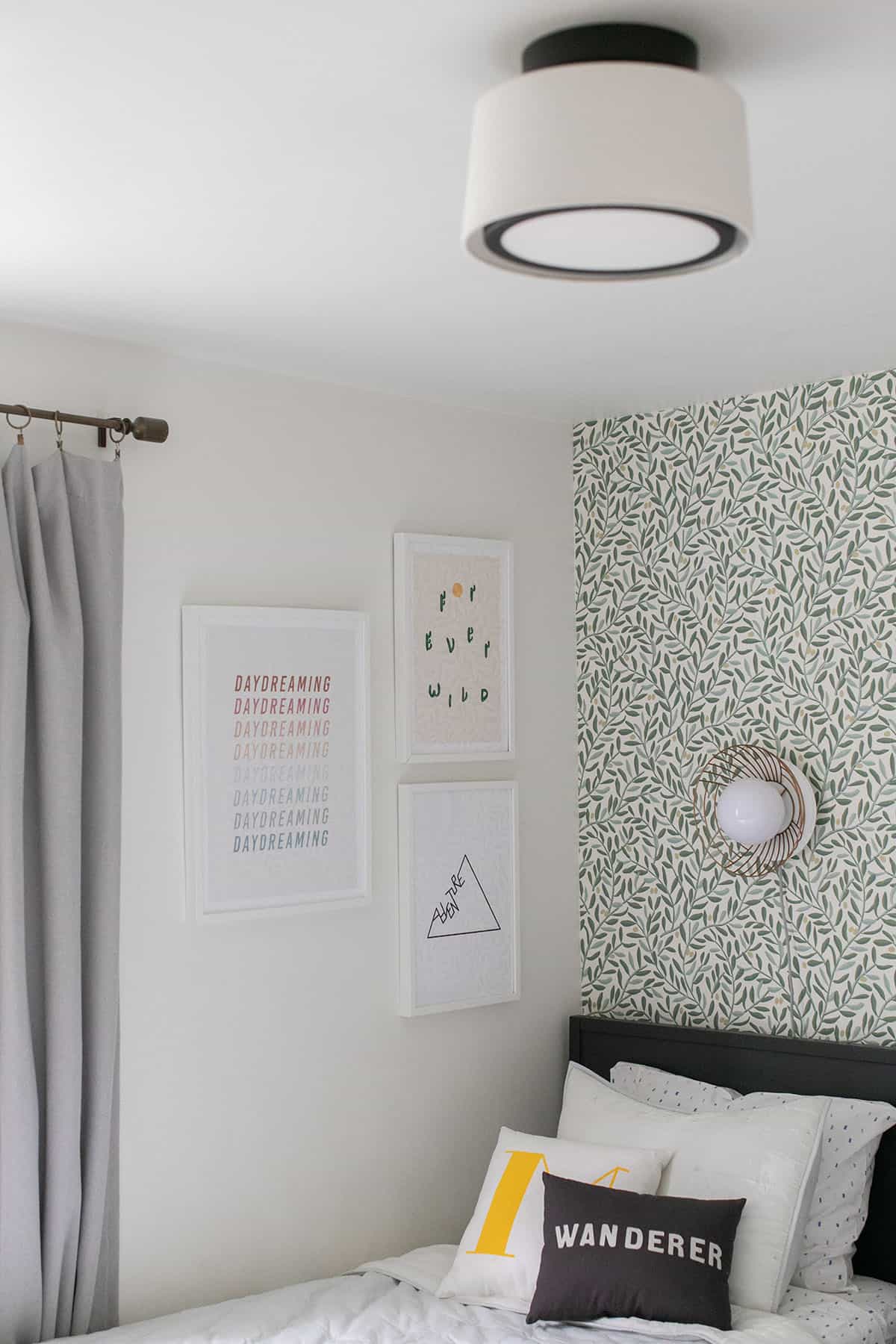 Wallpaper adds so much color and texture to a bedroom. I chose an olive leaf wallpaper as olive trees are a symbol of peace and friendship. There is an olive tree right outside their window and olive trees are very much part of our landscape in southern California. 
I chose a few fun wall art pieces from Crate and Kids. They are not framed in glass and can be hung near or over a bed. They add color and texture to the space as well.
Small Space Solutions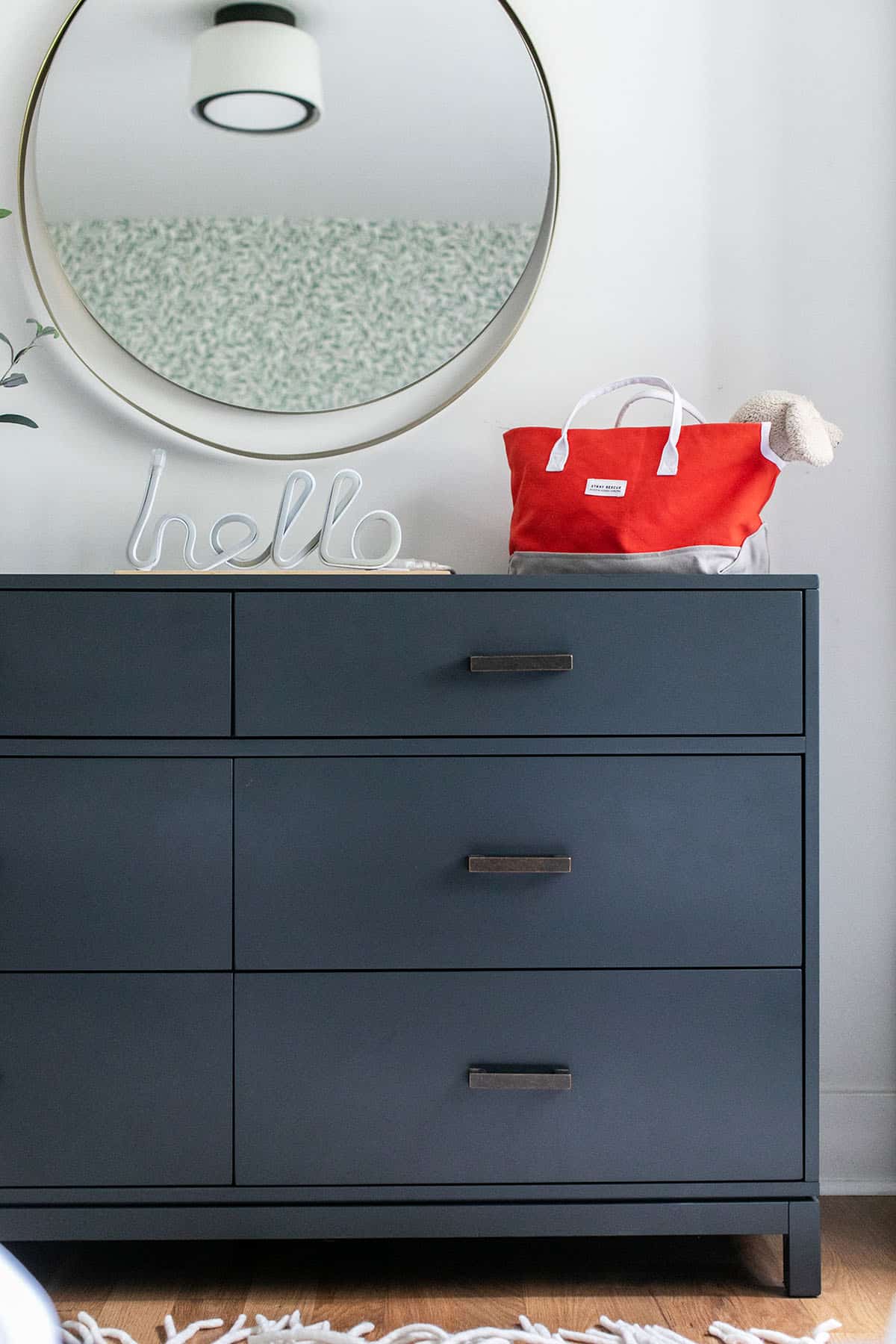 Since the space is pretty small for two kids, I had to get creative with storage. Before we had a smaller green dresser with only three large drawers and three small drawers. To fit all of their clothes, I needed a bigger dresser. This one matches the bed frames and looks sleek. I love the color too as it will grow with them and we will use it for years to come.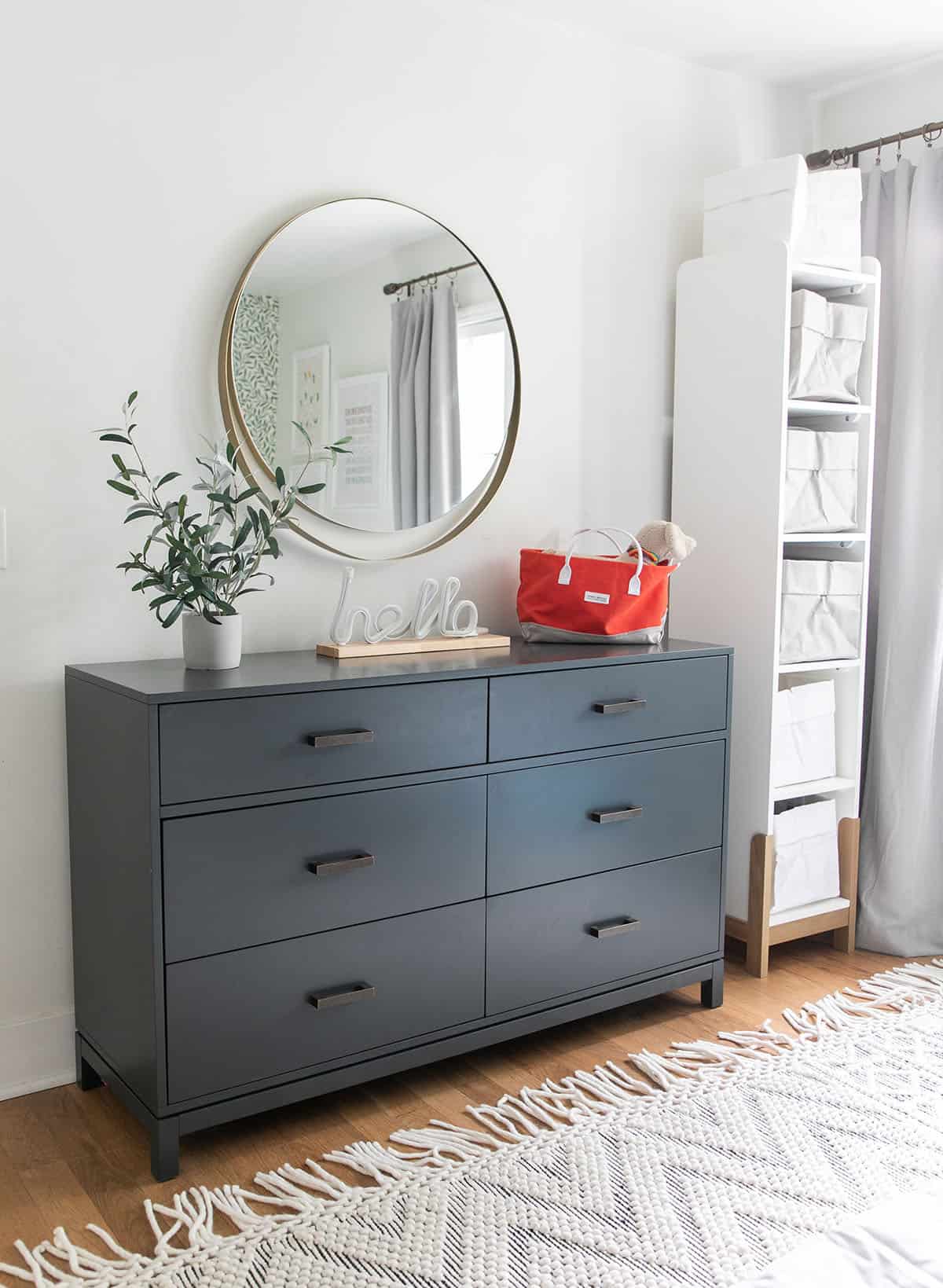 Before the space next to the dresser was just empty. I wanted to utilize this space for toys, so we added a tall, slender bookshelf and these fun paper baskets for toys. This really helped a lot with storage!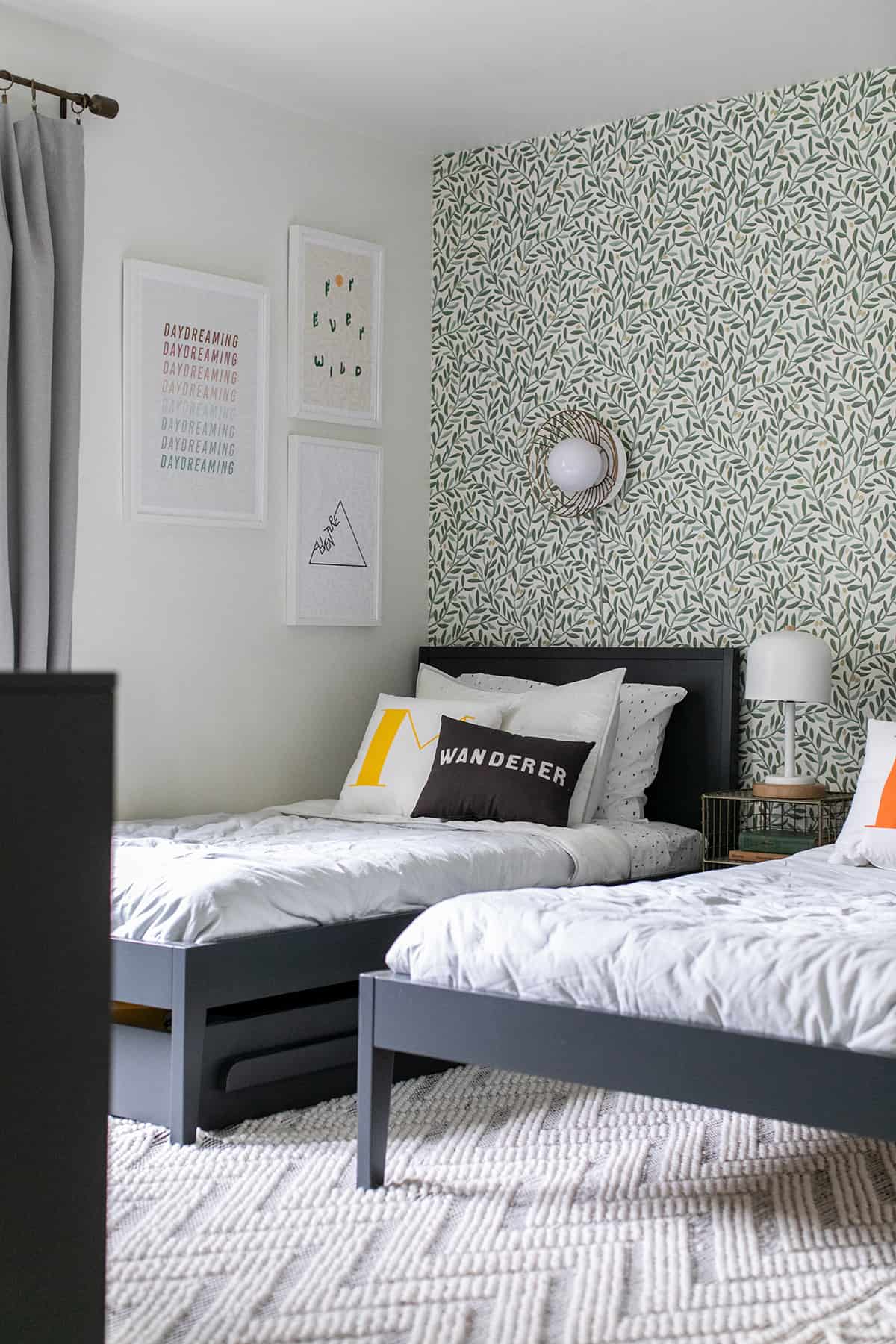 I added a trundle to one of the twin beds. I didn't want to put one under both beds as I felt it would close the room in and I like the airy feeling of having nothing under the beds. However, in this room I had to take advantage of any storage space, so adding a trundle under this bed gave a lot of room for blankets, games, and more.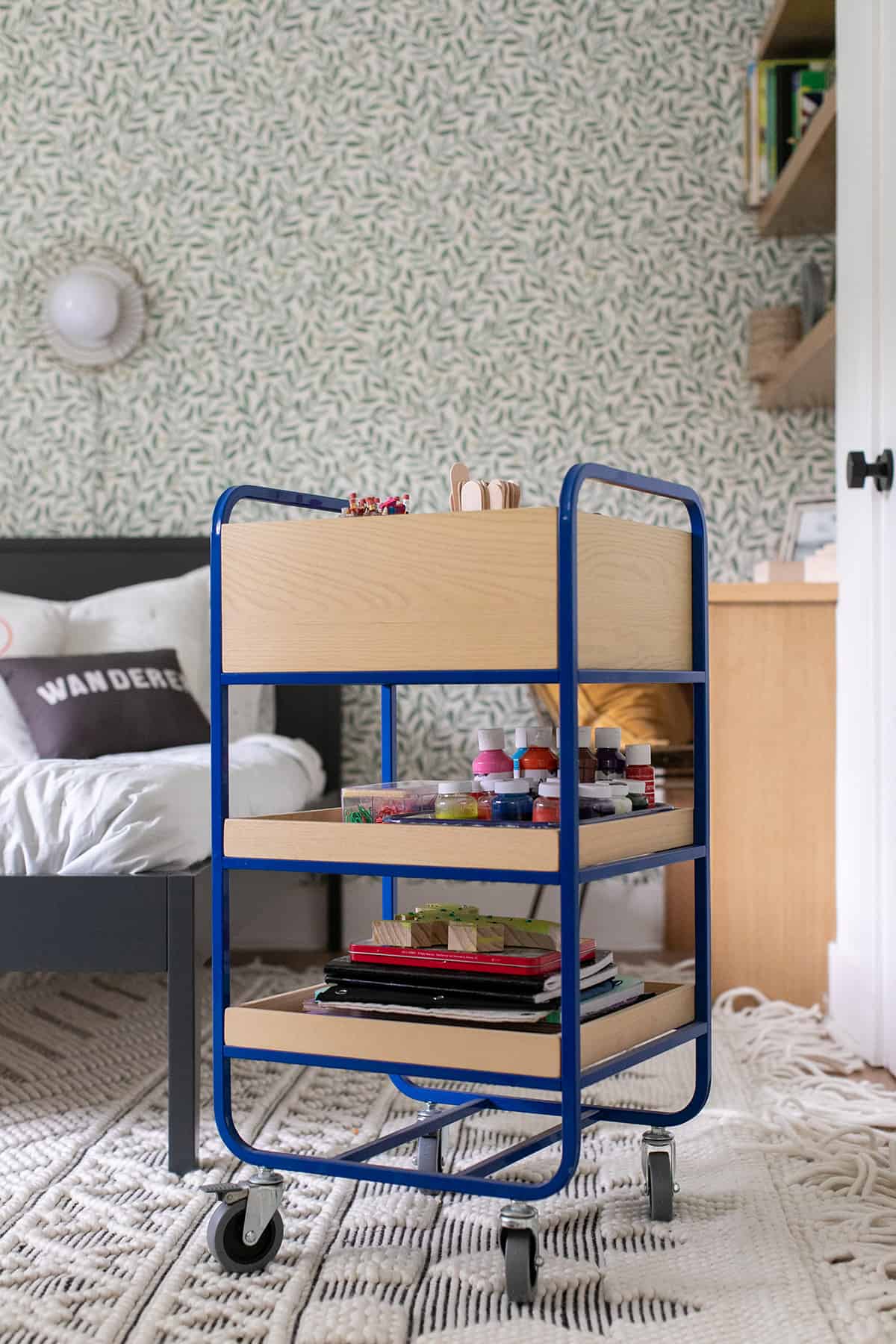 The art cart is one of my favorite ideas for small spaces! This rolling cart is filled with all of their art and craft items. It can be rolled out of the room so they can do crafts on the dining table.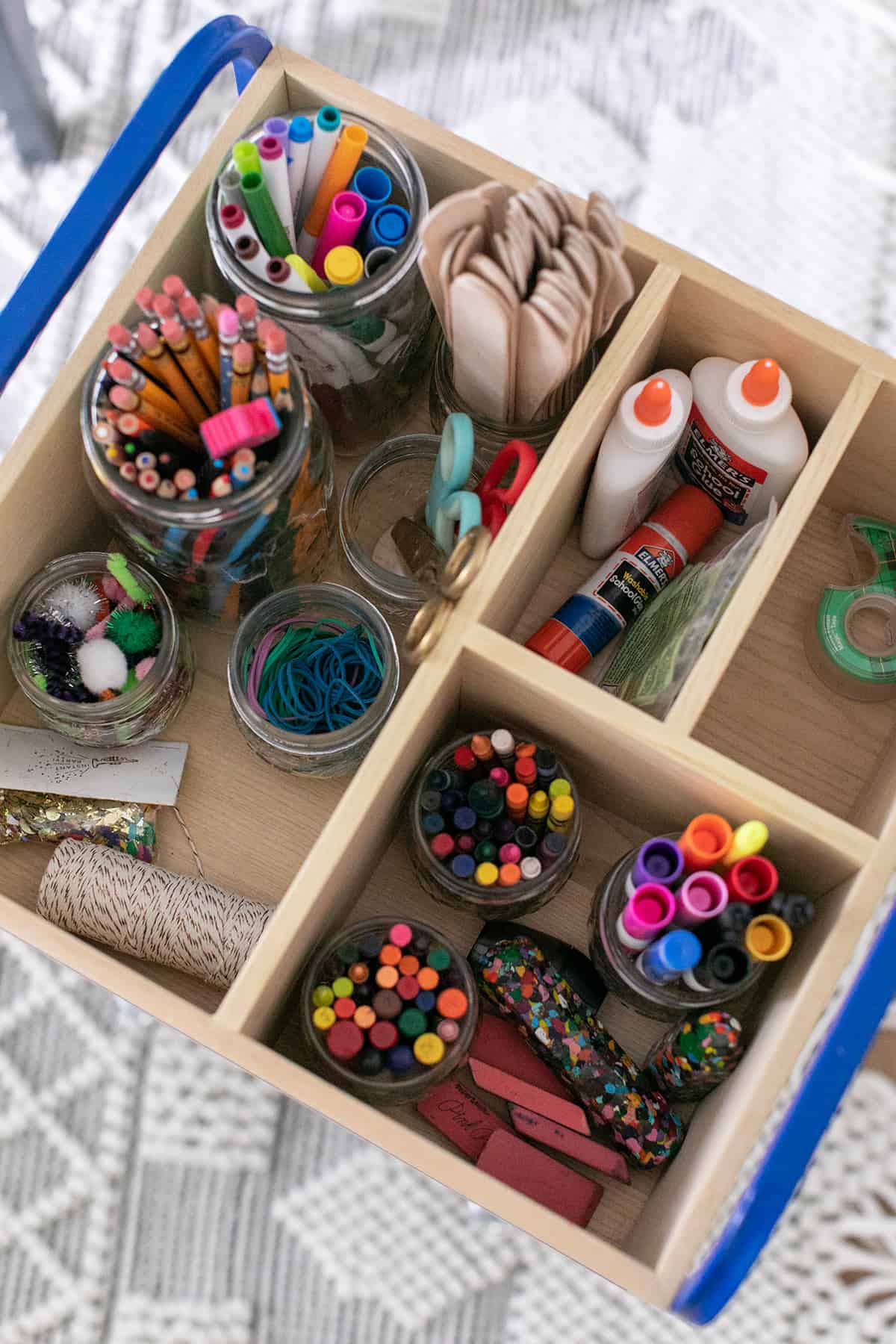 This cart keeps all of the craft and art supplies organized. It's so nice for the boys to be able to grab their own art items and be creative whenever they want!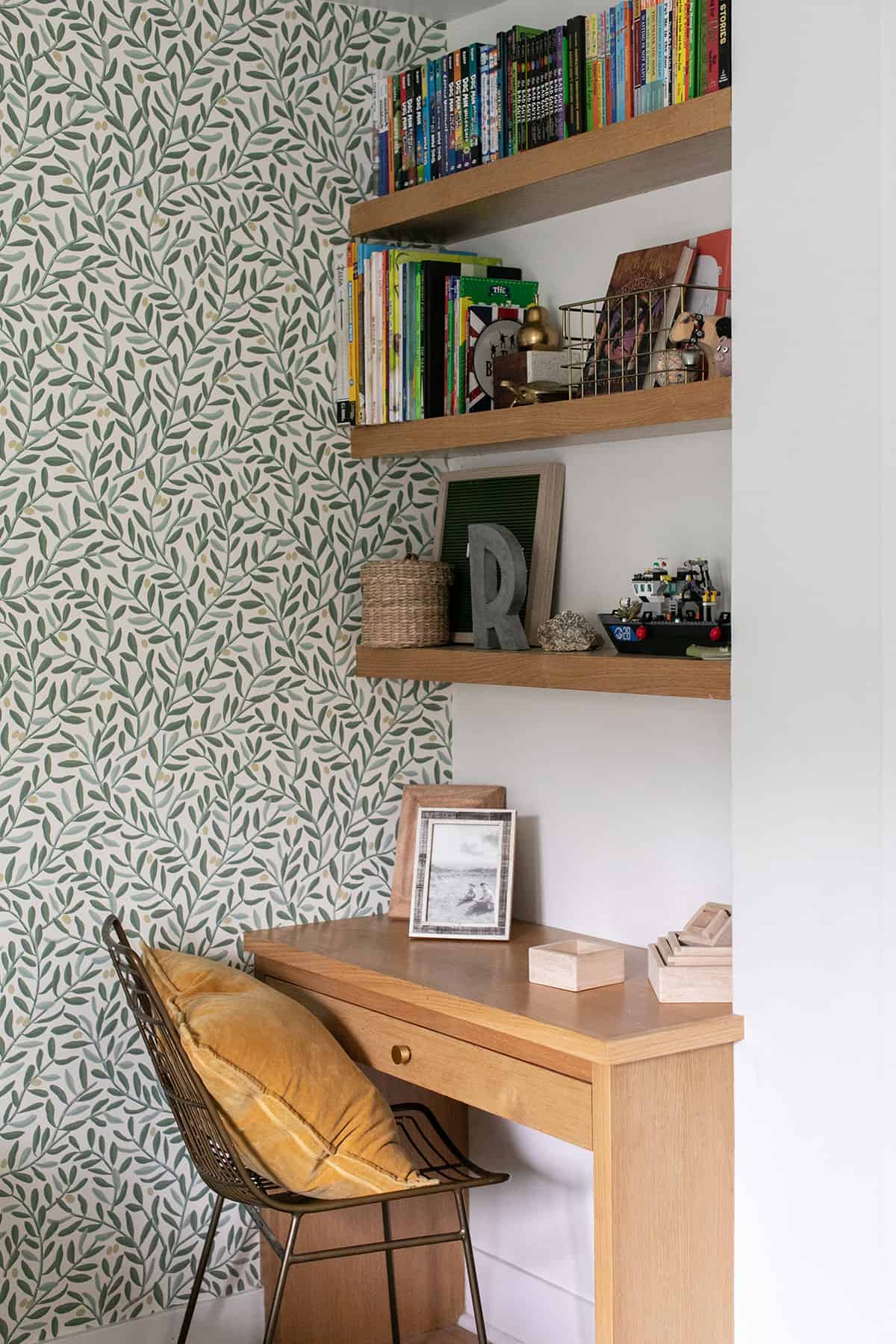 When we remodeled the house we had a small desk built into the room. We still enjoy this desk and it gets a lot of use for lego building and art projects. The open shelving is perfect for their books.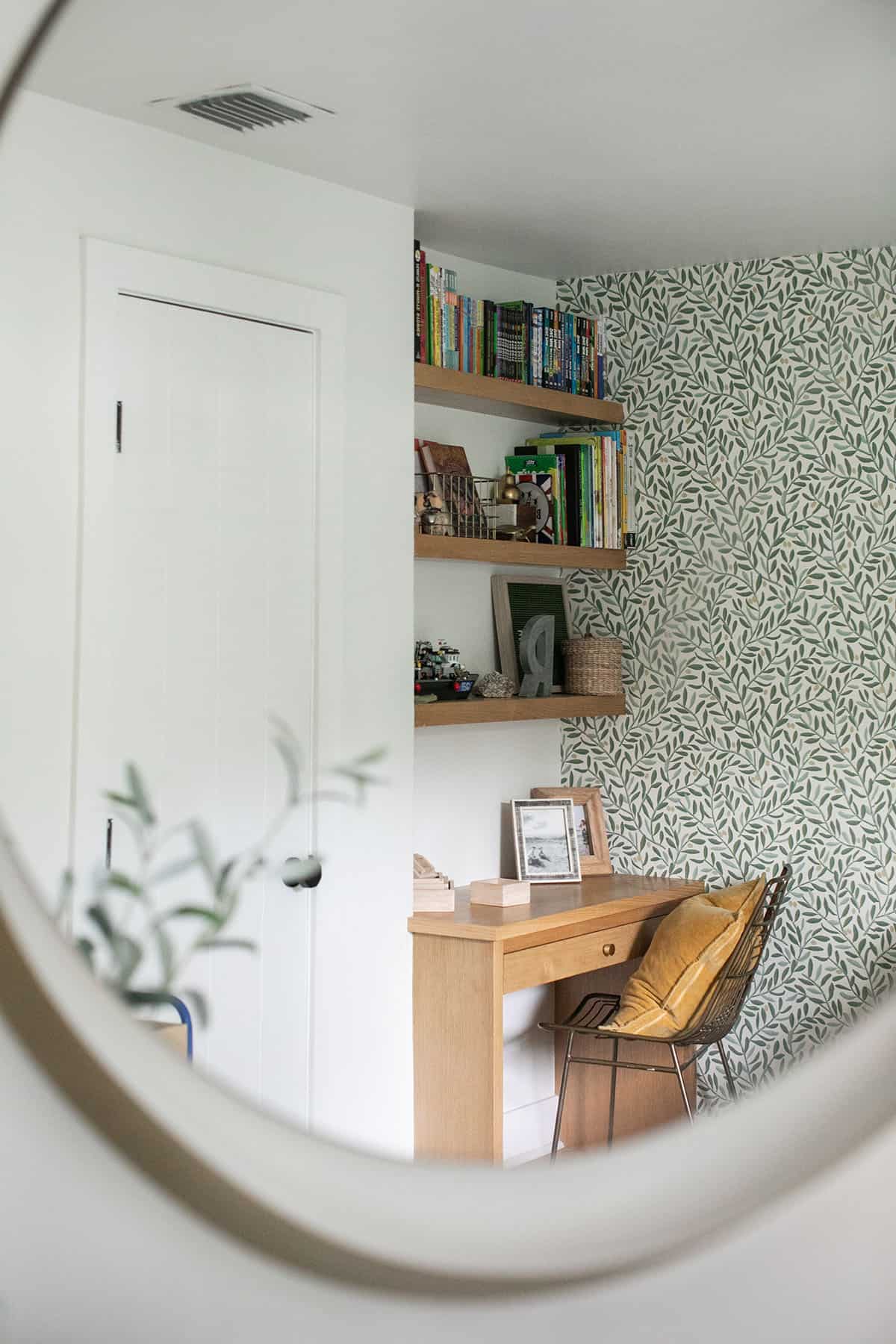 The gold chair and pillow are both from Crate and Kids. We've had them for years!
I love colorful bedding for a kid's room and throw pillows are a must! I also love adding a little personalization with letter pillows too.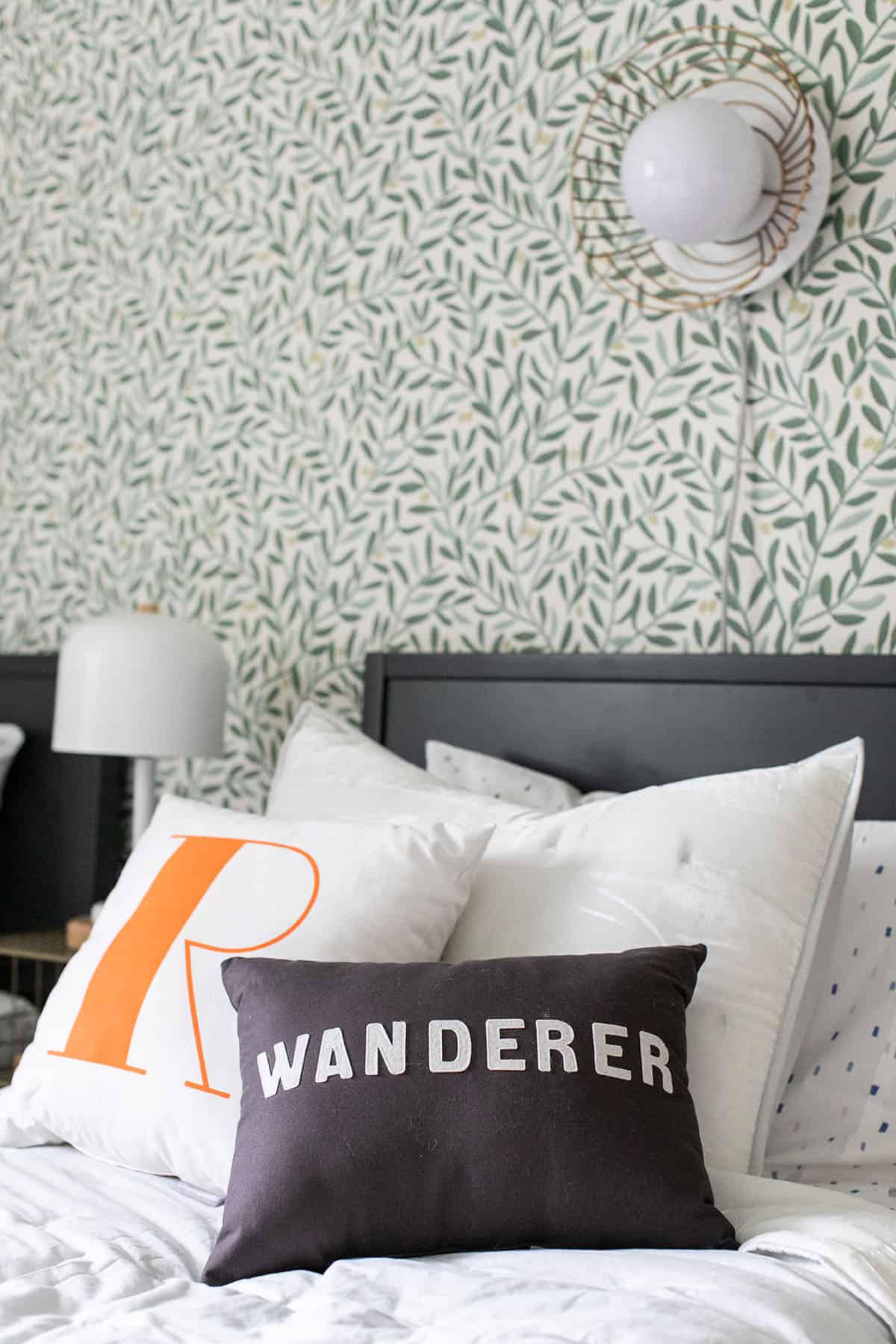 More Home Ideas You'll Love
Bathroom Remodel in the Cottage
We hope you've been inspired when designing a small space in your home!
You can also FOLLOW US on FACEBOOK, INSTAGRAM, and PINTEREST to see more delicious recipes, home ideas, cocktails, desserts, and parties!
This post may contain affiliate links. Please read our disclosure and privacy policy.