Sharing our small kitchen remodel that we did in our Tennessee cabin. Kitchen ideas, buying guide and how we saved money.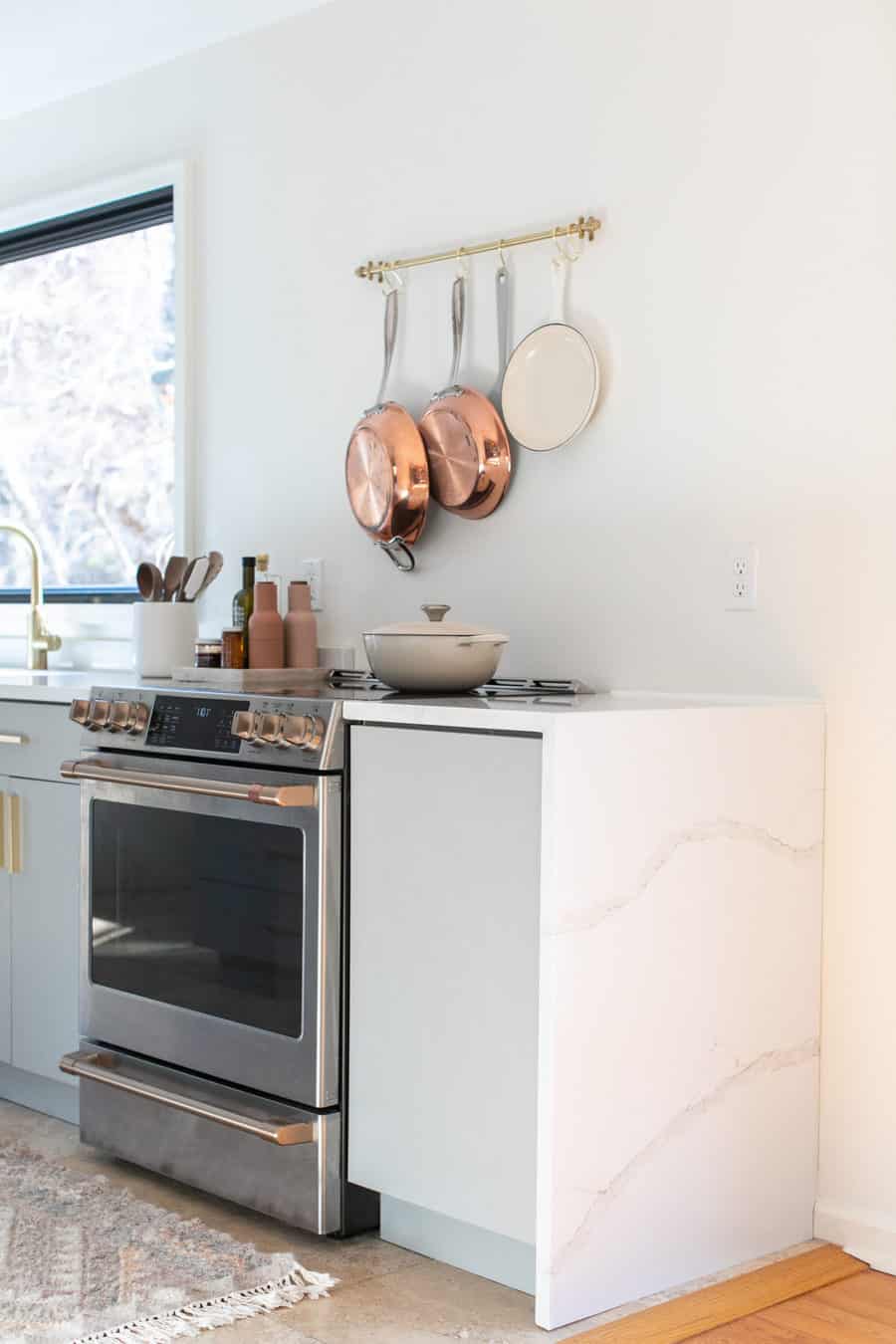 When we were looking for a cozy cabin to spend some time in we wanted something that didn't need a lot of structural work and something we could easily just upgrade with somewhat simple projects.
We found the perfect Tennessee home, with a tin roof on a few acres, not too far from the city. The house is in great condition with new windows and roof but needed some design love.
The kitchen had recently been redone, but not in the style we wanted. The walls were yellow and it had cheaper black appliances in it. It felt very dark and I wanted to brighten it up. Unlike our complete gut job at our cottage in Los Angeles, we had a pretty strict budget with this small kitchen remodel.
But we got to work, made our budget and a list of the items we could work with. After we had a simple plan, the small kitchen remodel began!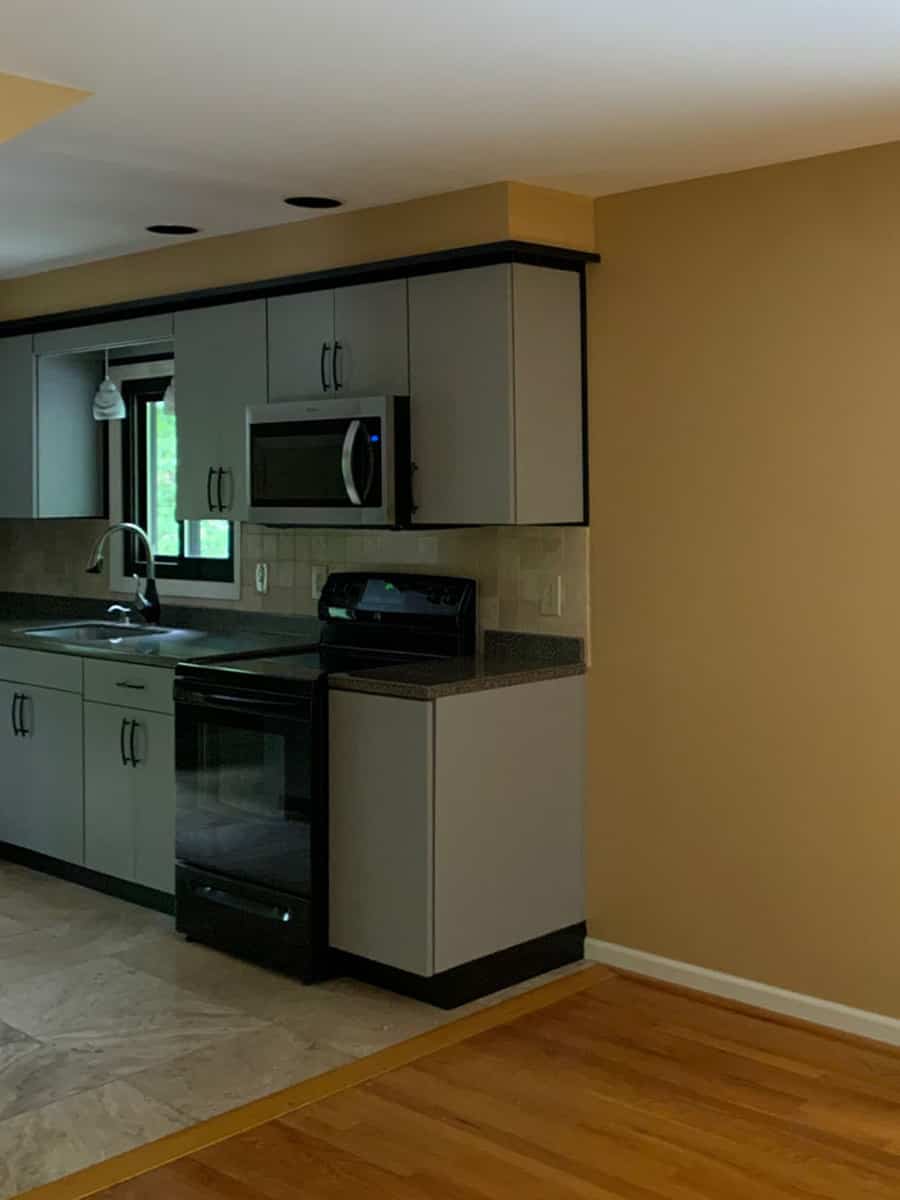 Kitchen Cabinets
The gray cabinets had been put in by the previous owner and they were only a year old. I knew we needed to keep them and work with what was there. It would have been so wasteful and pricey to remove them and I knew they would look great with a new counter top and pulls.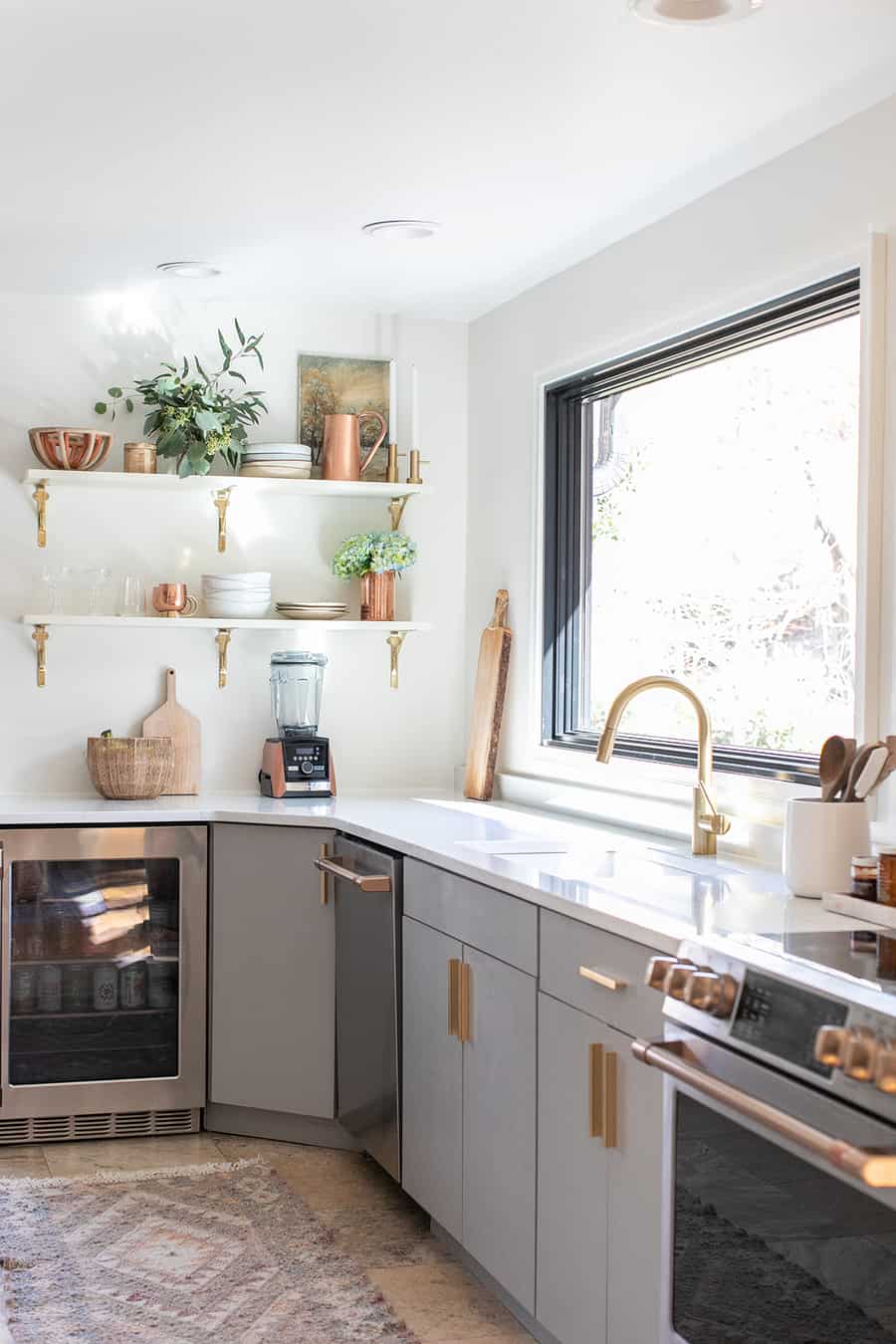 One thing that was strange was that all of the toe kick and filler around the kitchen was black. I didn't like that contrast and luckily, there was still some leftover gray toe kick in the basement! We got super lucky with that and were able to rip off the vinyl toe kick and replace it with the gray.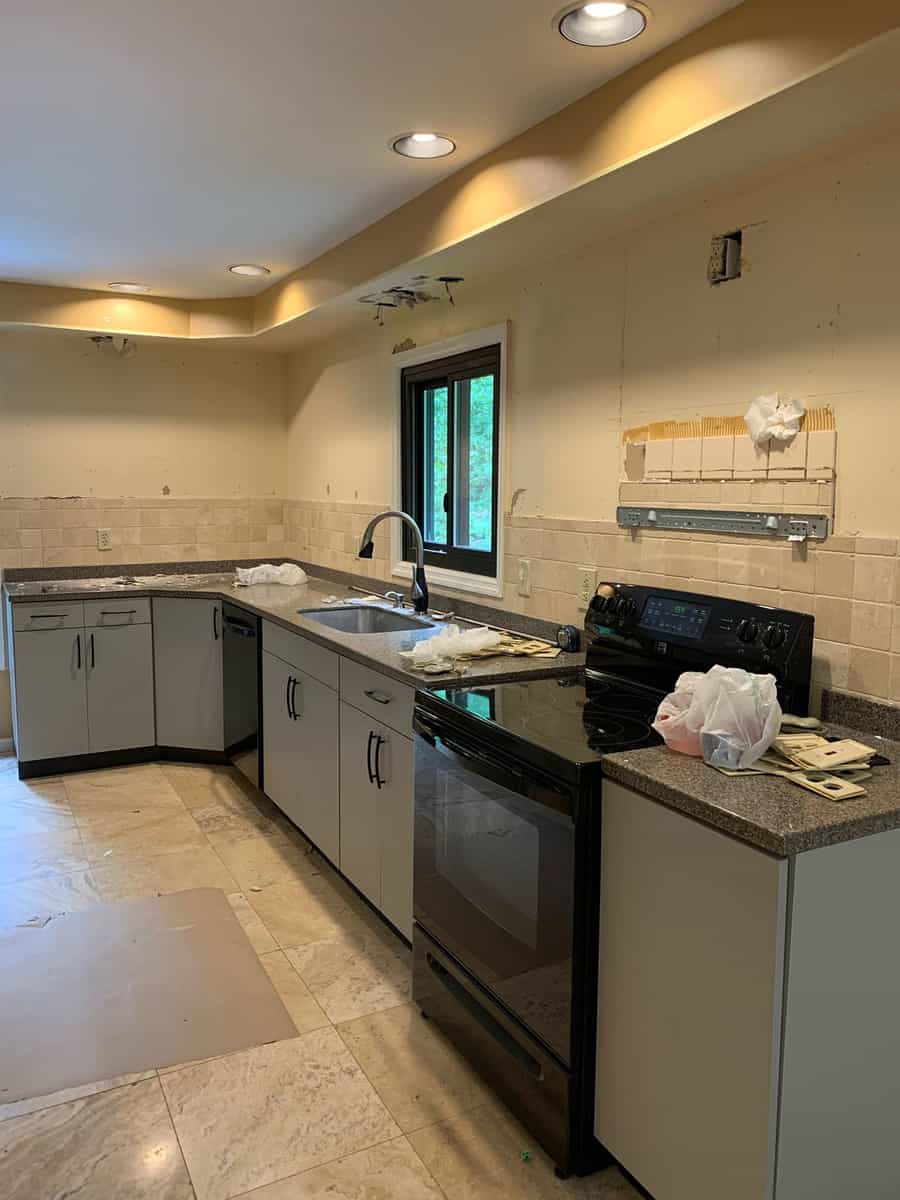 We kept all of the bottom cabinets pretty much the way they were, removing one for a mini fridge. Next, we updated the toe kick and then removed the upper cabinets completely.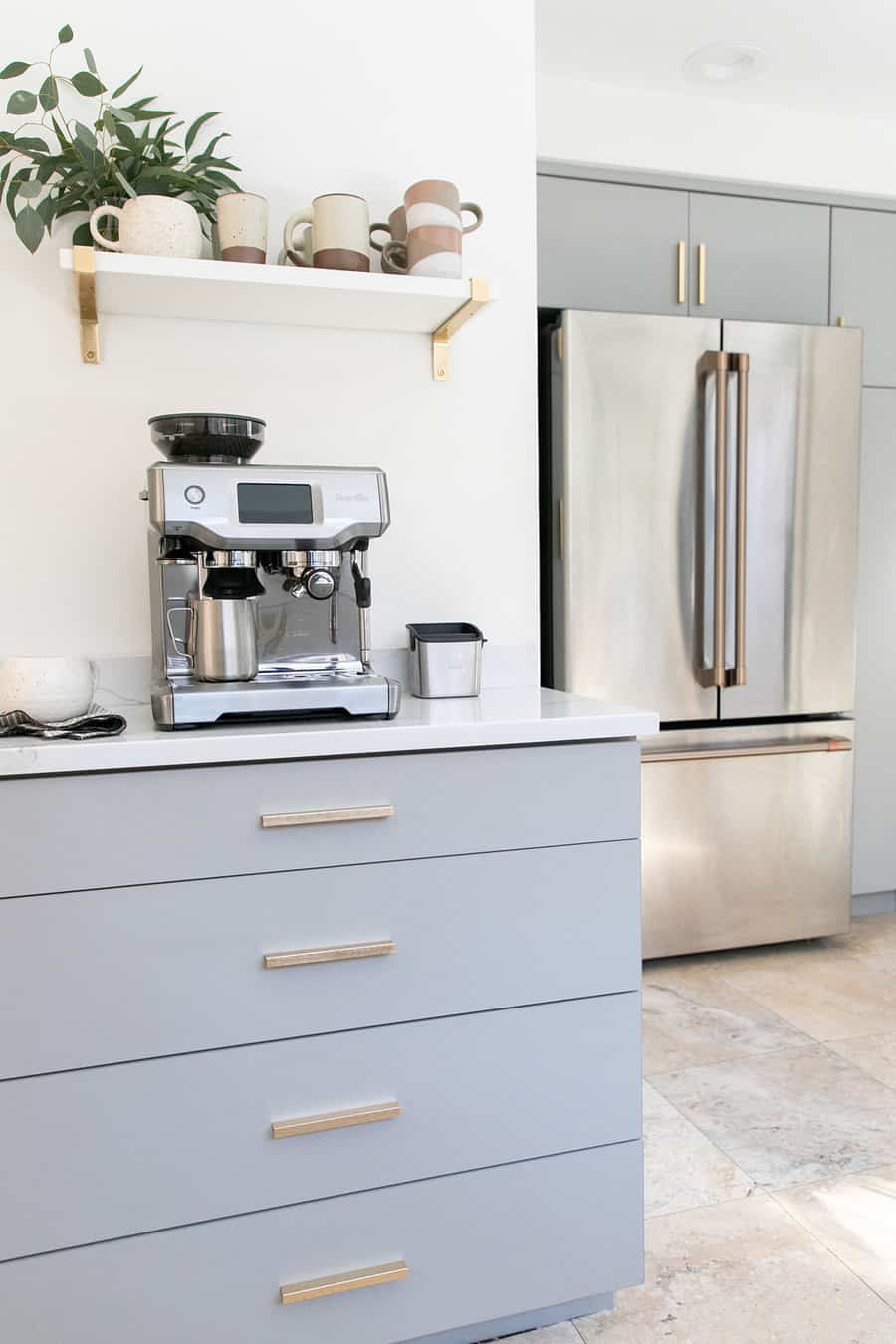 There was a drop soffit that upper cabinets hung from and we were very happy to know there wasn't anything under it! So we broke that down as well and it instantly opened the entire space up.
Windows and Drywall
It's ALL about windows! If you are ever doing a small remodel, consider using a larger portion of your budget for a giant window. Buy one as big as you can get it! Adding a huge window allows you to bring the outdoors in. It adds beautiful, natural light and takes up a very large space where you can save on drywall, tile and light fixtures. I always say I would live in glass house, I just love the way giant windows work and feel.
The original window over the sink area was very small so we fixed that and added a big window there. I ordered the largest window I could fit in that space from Home Depot. We bought the Anderson black windows and they were about $800 each.
So we hired someone to install the windows as we needed to make the opening much larger and then add in a structural beam above. We also hired them to complete the dry wall in the kitchen from the tile and soffit we removed.
Another way we saved money here was doing all of the trim ourselves. My husband did the trim around both windows.
Countertops
The counters were black, spotted granite and removing them was not negotiable! I chose an affordable white quartz and added a waterfall on either side to modernize the kitchen. The counters with install were $3500, which I didn't think was bad considering we paid much more for our cottage in Los Angeles!
Drywall vs Tile
I saw a beautiful kitchen that only had drywall and no tiled backsplash. We figured that would save us money and time so we ended up doing the same thing. I had also contemplated adding wood panels, but ultimately that would have taken more time and extra cost, so we went with just drywall and it turned out great!
If you do this make sure you use a good quality paint and finish, so you can easily wipe it down with a wet cloth.
Appliances
Appliances are EVERYTHING in a kitchen! If you buy beautiful, sleek appliances your kitchen will have the instant upgrade it needs. They add the most value and are the staple, focus and essential of the kitchen.
In my very first kitchen remodel (10 years ago!) I purchased a Cafe range and fell in love with it. Since then, Cafe Appliances have crated some of the most sleek, beautiful and smart appliances on the market.
You can customize the appliances too, choosing the finish and the handles.
To go with the cabinets and overall look of the kitchen I chose classic stainless steel and modernized it with brushed bronze hardware. It looks stunning and I love the convience of the convection oven.
Café™ 30″ Smart Slide-In, Front-Control, Radiant and Convection Range
This range is hands down the best option on the market for $2300. The water boils in literally 10 second. I had to get used to that in the beginning! It also bakes evenly, has smart features and a very sleek appearance.
Café™ ENERGY STAR® 23.1 Cu. Ft. Smart Counter-Depth French-Door Refrigerator
A counter depth fridge was a must to fit into the space we needed. If you have standard cabinets, you want a counter depth fridge that doesn't stick out too far. This one surprisingly has a ton of room and fits as much as the larger fridge that was here before. The use of space is much better.
We also chose not to have an ice maker in the fridge door and this provided more space as well inside. The ice maker in in the freezer of the refrigerator.
Café™ Beverage Center
Because we love to entertain and I like saving space in my refrigerator for food (not drinks!) I knew we would get good use out of the beverage center. It's perfect for the kids natural soda pops, waters, beer, kombucha and our wine! We use this as much as our refrigerator and it has smart features and looks sleek.
Café™ Stainless Steel Interior Dishwasher with Sanitize and Ultra Wash & Dry
We chose this dishwasher and the dishes come out beautiful every time. I like the adjustable rack and the little power jets too.
You really can't go wrong with Cafe Appliances as they truly make some of the best appliances on the market.
Range Hood
Here's the deal with the range hood… you don't need one. Yes, they help when you're making something smoky but and with grease, however, you can also open some windows and wipe down the wall.
We didn't add one to our kitchen in LA and I didn't put one in here either. In our first kitchen remodel, I did include one and maybe used it 10 times a year if that. So we opted out and I have always been okay with it.
Instead we added a cozy pot rack over the range. I found one on Etsy that works perfectly!
Open Shelving
Since we removed all of the upper cabinets, I added in some shelving to hold our everyday white bowls and plates. The upper cabinets made the kitchen feel confined and dark, as soon as they came down it instantly felt brighter. The whites shelves help with that too.
White Shelves – I bought the 10″ 3′ shelves.
Brass Shelf Brackets – These brackets are very affordable.
Kitchen Accessories
I also budgeted in kitchen accessories because you can't have a beautiful kitchen without some new pots and pans! Everything is from Williams Sonoma. Linking a few of my favorite items below.
A designated coffee area in a kitchen is a must for us! This spot, off to the side, was perfect for our espresso machine. I added a small shelf above to hold our coffee mugs. We use it every single day!
Areas We Saved Money On Our Small Kitchen Remodel
Keeping the cabinets just how they are – you can also refinish or paint cabinets too.
Keeping the tile floor and working with it.
Not adding any backsplash or tile on the kitchen walls.
Keeping the light fixtures that were there.
Areas We Spent Money
New counter tops.
Large windows
Cafe Appliances
Open shelving
Kitchen accessories
Overall the kitchen turned out really great and we saved so much money by keeping the floors, layout, cabinets and not adding tile. It's much brighter, modern but still cozy. The total was around $18,000 for the kitchen remodel with the new appliances, windows, countertops and all of the other details.
Check Out More Interiors Design Posts
Complete Guide to Caring for House Plants
How You Can Hygge Your Home and Life
If you have any questions ask away in the comments below! We'd love to know your thoughts.
You can also FOLLOW US on FACEBOOK, INSTAGRAM, and PINTEREST to see more delicious recipes, cocktails, desserts, and parties!
This post may contain affiliate links. Please read our disclosure and privacy policy.