Let's start this off by Zan's reaction to the pie, "it's by far the best pecan pie recipe I've ever tasted." Yup, he really said that and I don't get that reaction too often. And the men who were helping out with our yard devoured 2 jars each. I could tell they wanted more, but that would've left me with two slices and a disappointed husband. Out of all the pies I've made including crusts, fillings, different ingredients and measurements (it goes on and on) I think this one may take the pie ; ). The best part is that I think it's a pretty foolproof recipe. The thick, buttery and extremely flaky crust is my favorite crust recipe so far as well. Browning the butter and adding rum to the pecan filling was probably the smartest thing I've ever done in my life… truly, smartest decision ever. ; ) Serving it in individual Ball jars makes it easy to serve and prepare before anyone arrives! Why is everything so much cuter in a freaking jar?! Soooo now that I've talked this recipe up so much it's about to hit the ceiling. Have at it. I promise (fingers crossed) you will enjoy it. I'll be making it for Thanksgiving AND Christmas this year.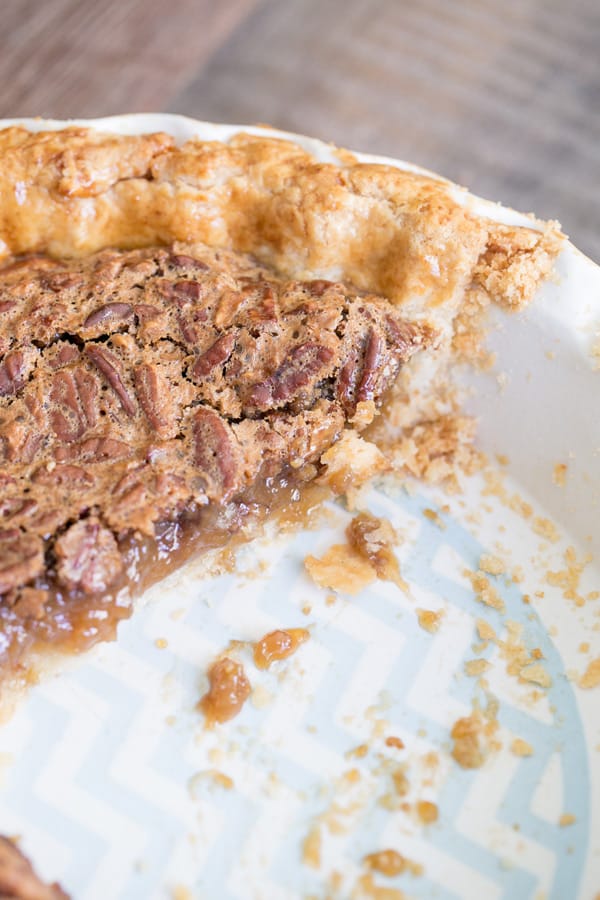 Brown Butter Rum Pecan Pie Recipe
Buttery Flaky Crust adapted from The Joy Of Cooking
2 1/2 cups all-purpose flour (King Arthur, chilled. I keep mine in the freezer just for pies)
1 tablespoon white sugar
1 teaspoon salt
1/2 pound (2 sticks) cold unsalted butter
1/4 cup Crisco
1/3 cup ice water
Directions
In a large bowl combine flour, sugar and salt.
Cut 2 sticks butter into small chunks and add to the flour mixture. With your hands or a pastry cutter, blend until butter chunks are the size of peas.
Add in Crisco and with your hands combine. It should resemble course crumbs. This mixture should remain dry and powdery.
Add ice water and mix dough with hands until combined. The dough should hold a loose ball and be more on the dry side. It should look rough.
Roll the dough out and fit it into the pie dish. You can refrigerate freeze it for 30 minutes in the pie dish, which I recommend doing.
Brown Butter, Rum Pecan Pie Filling
1/4 cup butter, melted and browned
1 tablespoon + 1 teaspoon Sailor Jerry Spiced Rum (or similar)
1 cup brown sugar
1 cup light corn syrup
3 eggs
1 teaspoon vanilla
1/2 teaspoon salt
1 cup roughly chopped pecans
Directions
Preheat the oven to 400 degrees.
Brown the butter on the stovetop until it turns a golden brown.
Let it cool a bit and add in the rum.
In a bowl, whisk together brown sugar and corn syrup.
Add in the browned butter and rum.
Then add in the eggs, salt and vanilla and whisk until combined.
Lastly, add in the chopped pecans and stir.
Pour the filling into the pie dish.
Brush egg yolk on the crust of the pie.
Bake for 20 minutes at 400 degrees.
Turn the oven to 325 and bake for 30 minutes or until the center of the pie is like a Jello texture. Do not over bake!
During the baking process I had to take the pie out and wrap foil around the crust so it wouldn't burn. It worked perfectly to protect the crust while the filling baked a little longer.