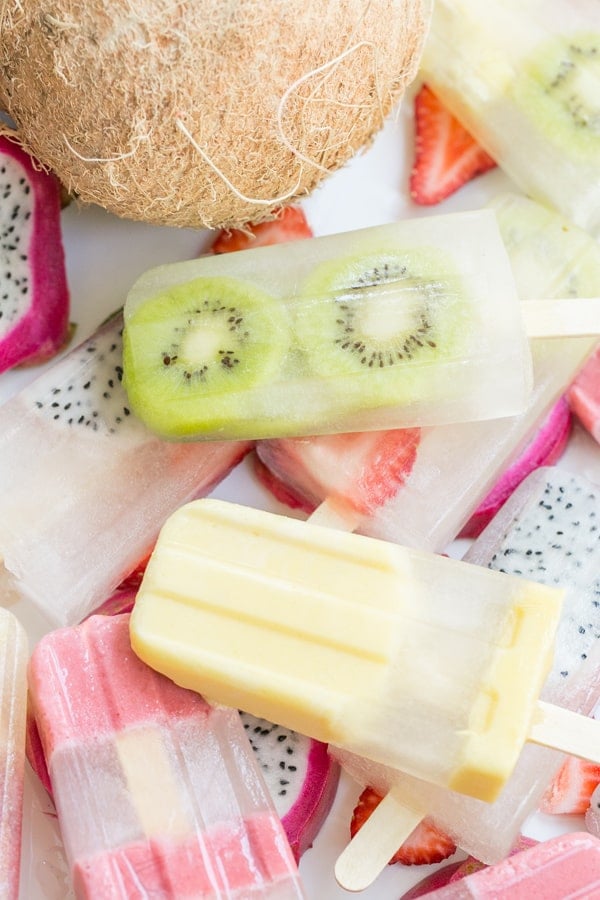 Hot summer days are upon us and we've been soaking them up with homemade popsicles! If you follow Sugar and Charm on Instagram you might have noticed us snacking on some coconut water popsicles a few weeks ago. They're absolutely delicious and great for kids since they're literally just coconut water (striped ones use coconut milk) and sliced fresh fruit. Romeo is a fan of these refreshing, lightly sweetened popsicles and since he usually gets a treat during the day, like a cookie or whatever, I don't feel guilty giving him a coconut water popsicle too.
I  created the striped version by pureeing mango and coconut milk to create the yellow stripes and then strawberries and coconut milk to create the pink stripes. I used kiwis, strawberries, pineapple and dragon fruit for the popsicles. They're so easy to make too! Just buy a bottle of coconut water, add it into a popsicle mold with sliced fruit and freeze! Now, if you like them a little sweeter, feel free to add some sugar to the coconut water or even some pineapple or orange juice would be great too.
To make the striped ones, puree your favorite fruit with coconut milk. Then pour a small amount of the puree into a popsicle mold. Freeze for about 30 minutes, then add in a layer of coconut water, freeze again for 30 mins, and add in some puree. Keep this pattern going until you reach the top of the mold. Enjoy and get ready to go coconuts over these!
SaveSave
SaveSave