In Mexico, during the Day of the Dead celebrations, sugar skulls and sugar art has been a tradition since the 17th century. They're created from homemade sugar paste, put into molds, then decorated and placed on real gravestones to honor the return of a spirit. Day of The Dead is a beautiful and colorful celebration that starts at midnight on October 31st and ends November 2nd in Mexico. It's also a tradition that families will give sugar skulls as gifts too. In the US we've been inspired by the colorful design of sugar skulls and the decor of Day of the Dead for Halloween. This year, I've noticed more sugar skull-inspired decor than ever before (World Market has a great selection!) and since I'm not much of a spooky Halloween person, I like that these are colorful and have more of a happy meaning. Just like carving pumpkins or making gingerbread houses for Christmas, making sugar skulls is also a form of traditional art. It's a fun activity for the holidays that lets your mind rest and be creative and it's a great DIY project for kids too. I personally had a blast making these from start to finish. It took me two days, since the sugar skulls have to dry for 12 hours before decorating, but the time and effort that goes into them is well worth it. They make me smile when I walk past them, haha!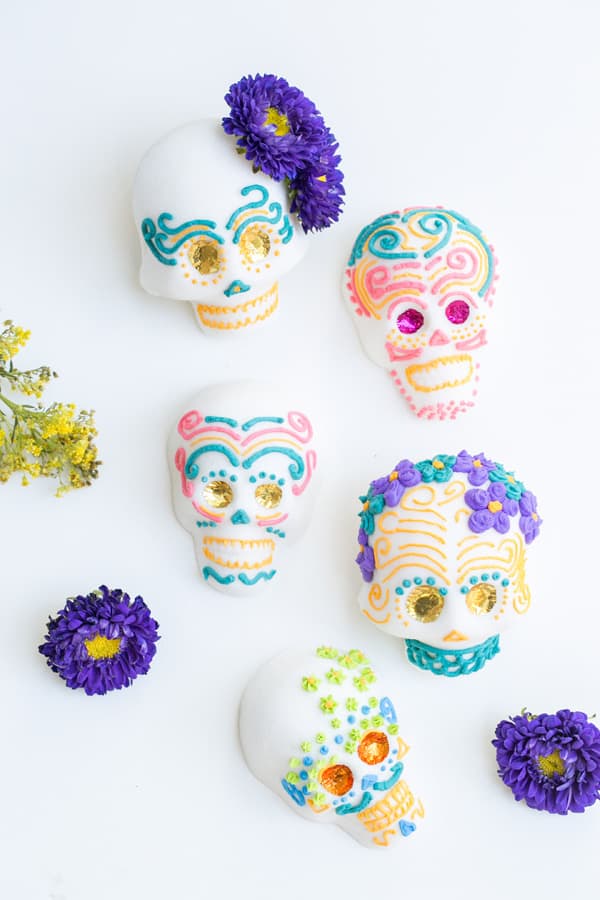 There is a wonderful site called Mexican Sugar Skull and they sell all of the supplies you need to make these from start to finish, including the original sugar skull molds! I ordered everything from them and followed their recipes and videos. Below is a list and links to the supplies I used, as well as the recipe and videos on how to make Mexican sugar skulls.
Mexican Sugar Skull Supplies:
Oaxaca Medium Sugar Skull Mold (this is the 2 sided one, so they can stand)
Original Medium Sugar Skull Mold 
8oz jar of meringue powder. Needs to be good quality, so this one (W3504) worked great.
Assortment of colored foil for the eyes.
Food coloring paste (do not use food coloring drops, as you won't get the right coloring). I used: Chartreuse, Royal Blue, Golden Egg Yellow, Purple, Teal and Royal Red. 
Disposable icing bags for each frosting
Decorating tips for each color. I went to a craft store and bought 6 of the smallest circles/holes I could find. I had a little variety, to make tiny lines and then some a little bigger for the flower elements.
Small pieces of cut cardboard for the sugar skulls to dry on.
You'll also need…. a bag of granulated sugar and 2 lb bag of powdered sugar.
Sugar Skull Recipe (makes about 10 medium sugar skulls)
8 cups sugar 
8 teaspoons meringue powder 
8 teaspoons water

Directions: Step by step video directions here.
In a large mixing bowl, combine all of the ingredients. Mix with a wooden spoon at first, then use your hands to thoroughly remove all of the clumps and to create a mixture that holds in your hand when you squeeze it. You will most likely need to mix for about 5 minutes, if not more.
Once the mixture can hold a shape, pack it down into the mold tightly. Then place the cardboard behind and gently flip it over to remove the sugar skull onto the cardboard.
Let the sugar skulls dry for 12 hours. If you're making the 2 part skulls, after about 4 hours you can scrape a hole in the back of each piece to remove some of the sugar inside. This way they won't be too heavy when you glue the back and front together with icing. Otherwise, they might slide apart.
Watch these videos for detailed instructions on how to make the paste.
Royal Icing Recipe 
7 cups powdered sugar
1/2 cup meringue powder 
2/3 cup water
In a stand-alone mixer, beat the ingredients for about 5 minutes until it appears to have a fluffy texture. This paste is extremely thick and dries quickly.
Have 6 bowls set out to divide the royal icing into equally. While you're adding food coloring paste to each of them, cover the others with plastic wrap to ensure they stay moist.
Add a good amount of gel coloring to each bowl, then mix until incorporated.
Cut the tip of the frosting bag and choose a tip you want to use to place inside before you add the frosting.
Once the frosting is added, roll down the opening of the bag to close it so the frosting doesn't dry.
While you're decorating, the frosting in the tips might dry, just use a small needle to unclog them.
Once you have all of the icings prepared and the sugar skulls are dried, you're ready to decorate! Have fun!