If you're wondering how you stick a gingerbread house together you've come to the right place! We're sharing tips for creating the best gingerbread house and the only recipe we use to stick it together. Gingerbread houses are one of our favorite Christmas traditions, so it's important they stick and stay together so we can enjoy them all season!
Have you ever hosted a gingerbread house party, where you have 20 kids trying to stick their gingerbread houses together and it's pure craziness as all the walls of the house fall? Well, let us spare you the disaster and learn from our tips on how to stick a gingerbread house together.
Also, see how we put together this incredible gingerbread tree too!
How do you stick a gingerbread house together?
Make Gingerbread Icing
Homemade gingerbread house icing is key to creating a house that sticks together. Forget the packaged frosting that comes in a gingerbread house kit. You MUST make your own fluffy icing that's almost like glue to keep the houses together.
The icing consists of powdered sugar, egg whites, and cream of tartar. These ingredients together create an amazing royal icing to hold the house together.
Something to Build On
Next, you'll need something to make the house on. A piece of cardboard, a large platter, or a cake stand.
Once you have the frosting made and in piping bags, follow the steps below:
Building a Gingerbread House
Pipe a thick layer of frosting on the back sides of the front and back of the house.
Hold the front of the house up and add both of the sides to the thick layer of frosting.
Add the back of the house to the sides, sticking them together where the glue is piped.
Give it a few minutes, then add icing to the tops of the front and back house.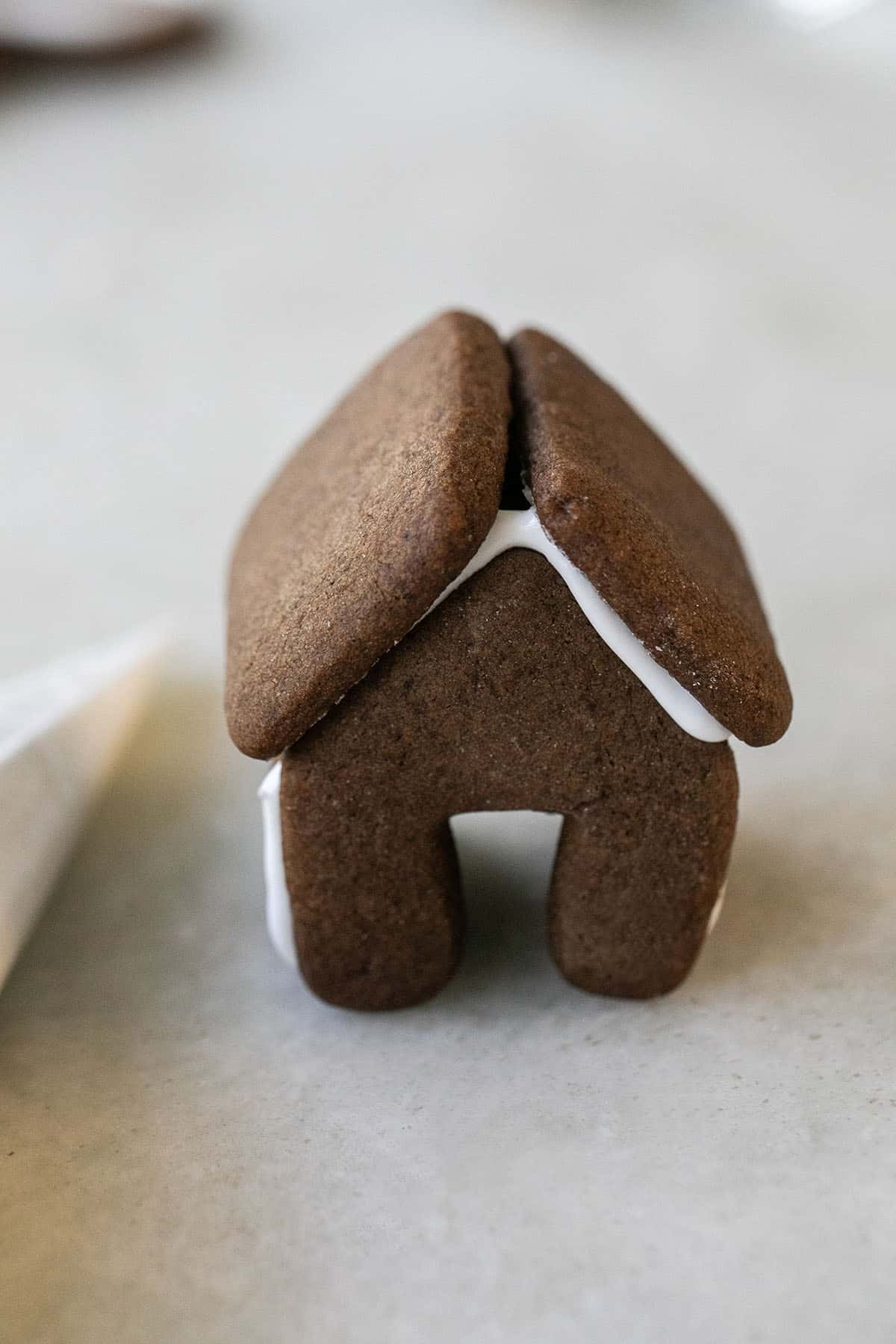 Add each side of the roof on and hold for 30 seconds.
Wait one minute to make sure the roof is secure, then decorate! Use the icing recipe to make little designs or glue on decorations like sprinkles and candy.
The icing recipe we use is so thick, fluffy, and sticky and is literally magic for making gingerbread houses stick together.
Tips for Making a Gingerbread House Stick Together
Make a homemade royal icing.
Don't put too much icing on the house, this will weigh it down.
Once the roof is on, give it a few minutes ot dry before adding the decorations.
Frequtnly Asked Questions
Can you use glue for gingerbread houses?
We do not recommend it using glue to stick gingerbread houses together. With our gingerbread icing, you won't need glue! This icing is incredibly sticky like glue but edible too. That way the entire gingerbread house is edible!
Why do gingerbread houses fall apart?
Gingerbread houses fall apart when you're not using the right icing. The icing that comes in gingerbread house kits is not sticky enough and does not have the right consistency. It also takes too long to dry, which causes gingerbread houses to fall apart. Use our gingerbread icing and tips to make sure your house stays together.
How do you keep a gingerbread house together?
You can get a gingerbread house to stay together by using thick, homemade icing that acts as glue. The icing is key to making a gingerbread house stay together. Even if you're using a storebought gingerbread house kit, you should make your own icing to use to assemble the house. This will ensure it stays together.
More Gingerbread Recipes You'll Love
Fluffy Gingerbread Buttercream
Gingerbread Moscow Mule Recipe
We hope you've learned some tips for making your gingerbread house stay together. To recap, the icing is what will make your gingerbread house stand or fall. Make sure you use our recipe so you can have a beautiful gingerbread house that you can enjoy all season!
You can also FOLLOW US on FACEBOOK, INSTAGRAM, and PINTEREST to see more delicious recipes, cocktails, desserts, and parties!