Classic Shortbread Cookies made with lemon and thyme and granulated sugar for a crisp, buttery cookie! Add a little lemon frosting and sea salt to the cookie for a melt in your mouth dessert!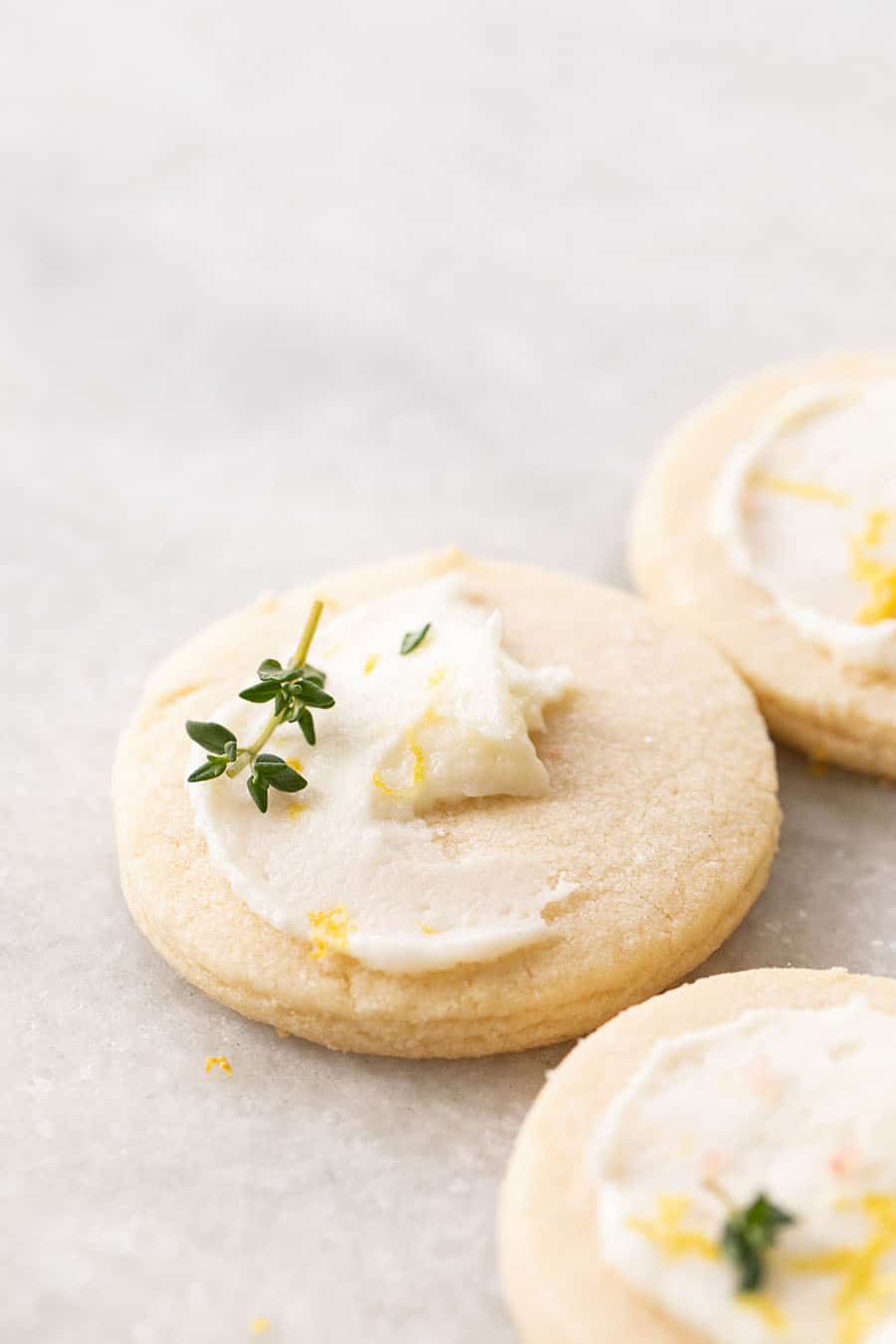 Shortbread cookies are buttery, soft but still have little crip to them. They're perfect for tea and if you want a cookie the isn't too sweet. They can be made all year long with different variations. Dipping them in chocolate, adding a frosting, different citrus extracts.
You can truly use this base recipe and then alter for a fun alternative! For these shortbread cookies we used lemon and fresh thyme and they're absolutely delicious!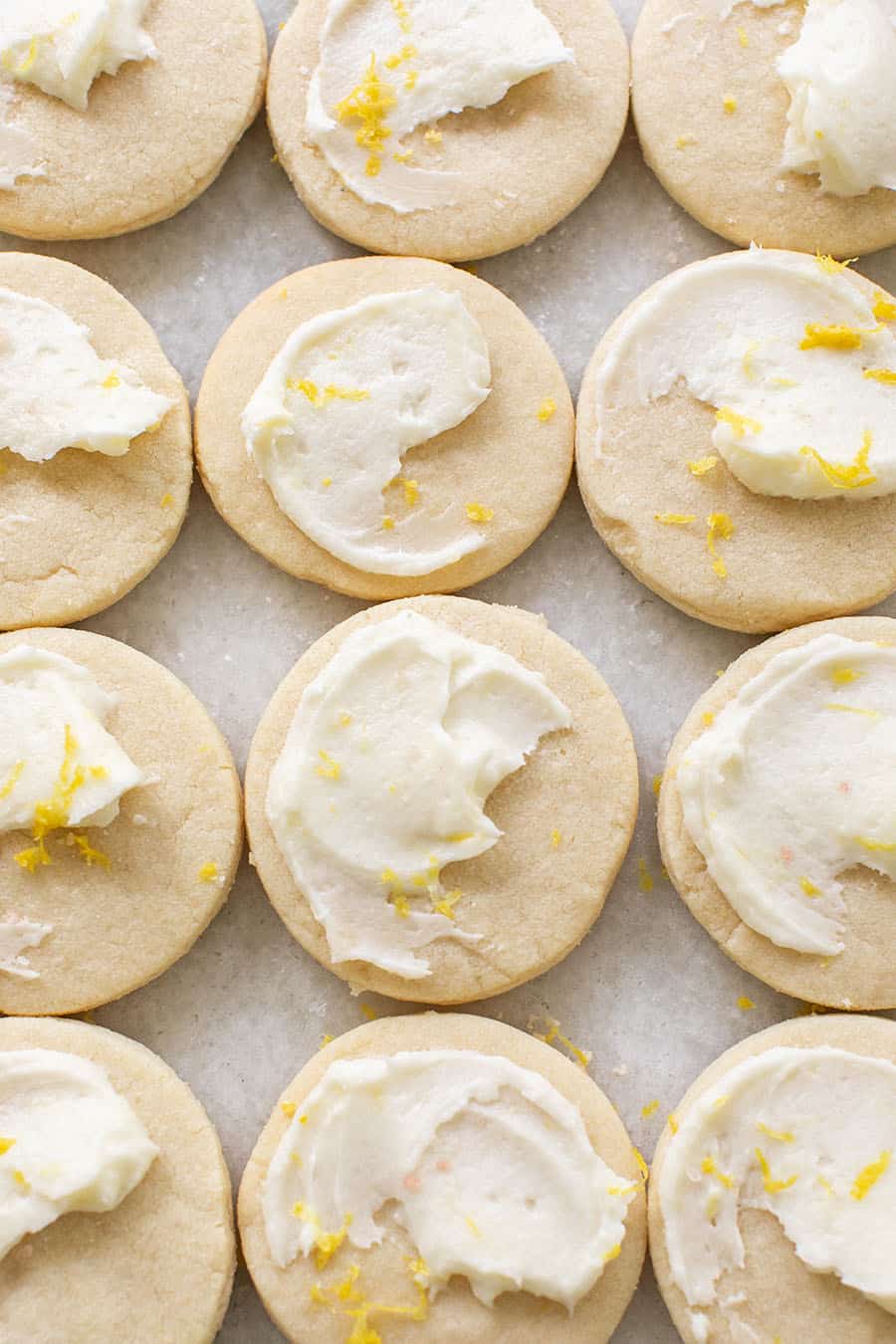 What is the difference between a shortbread cookie and a sugar cookie?
The biggest difference is the ingredients. Sugar cookies tend to have less butter and the recipe uses eggs, milk and other ingredients making it a soft, sweeter cookie.
Shortbread is typically made with just flour, sugar and butter. We add extract to ours, but it's always a simple recipe for a more biscuit, buttery type of cookie. Perfect for tea and coffee!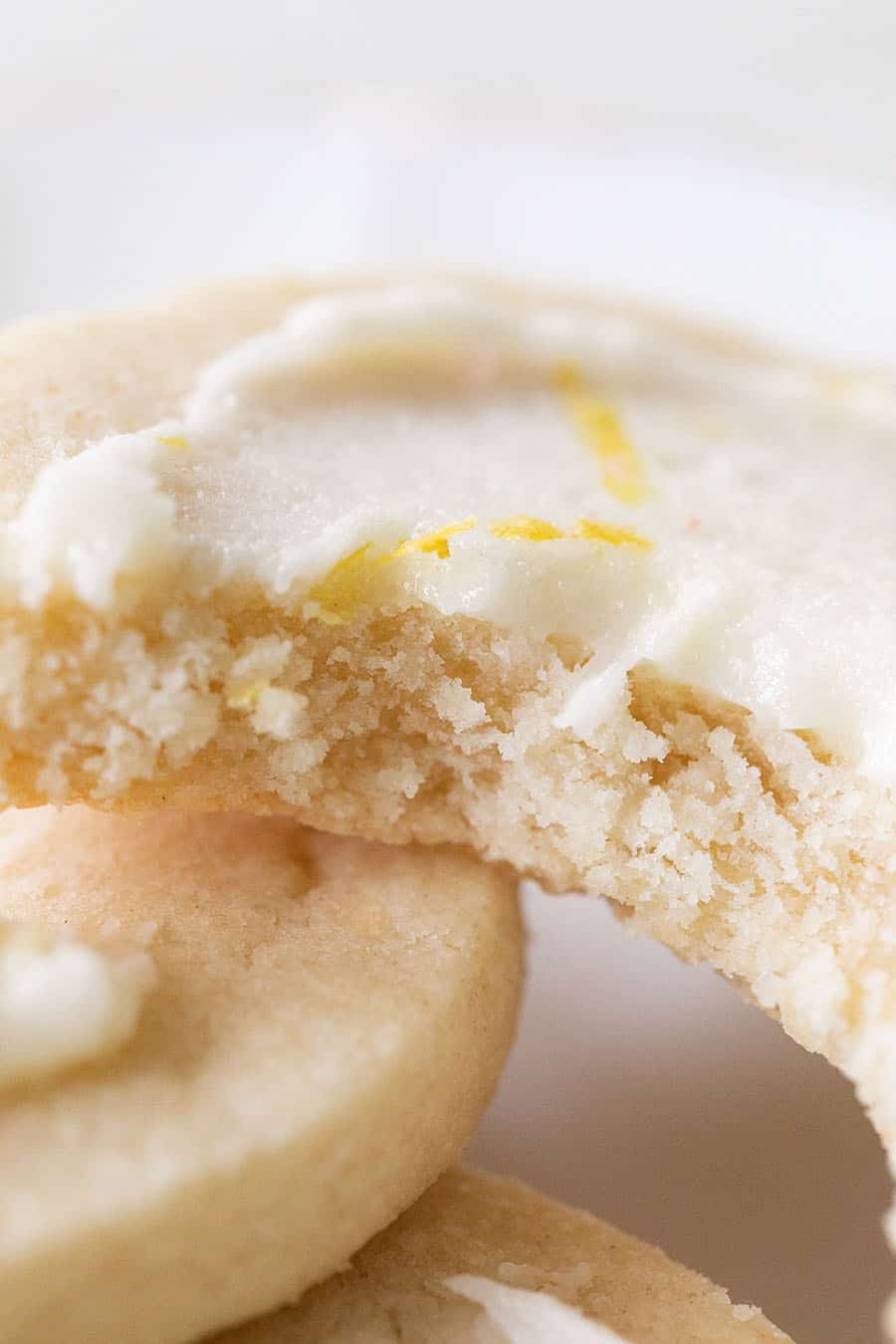 How do you know when a shortbread cookie is cooked?
The cookies are usually done baking once they begin to turn a light golden brown. I like to take mine out a few seconds before this happens or right when I see the edge of the cookie turn light brown.
If it's dark brown, you have cooked them too long.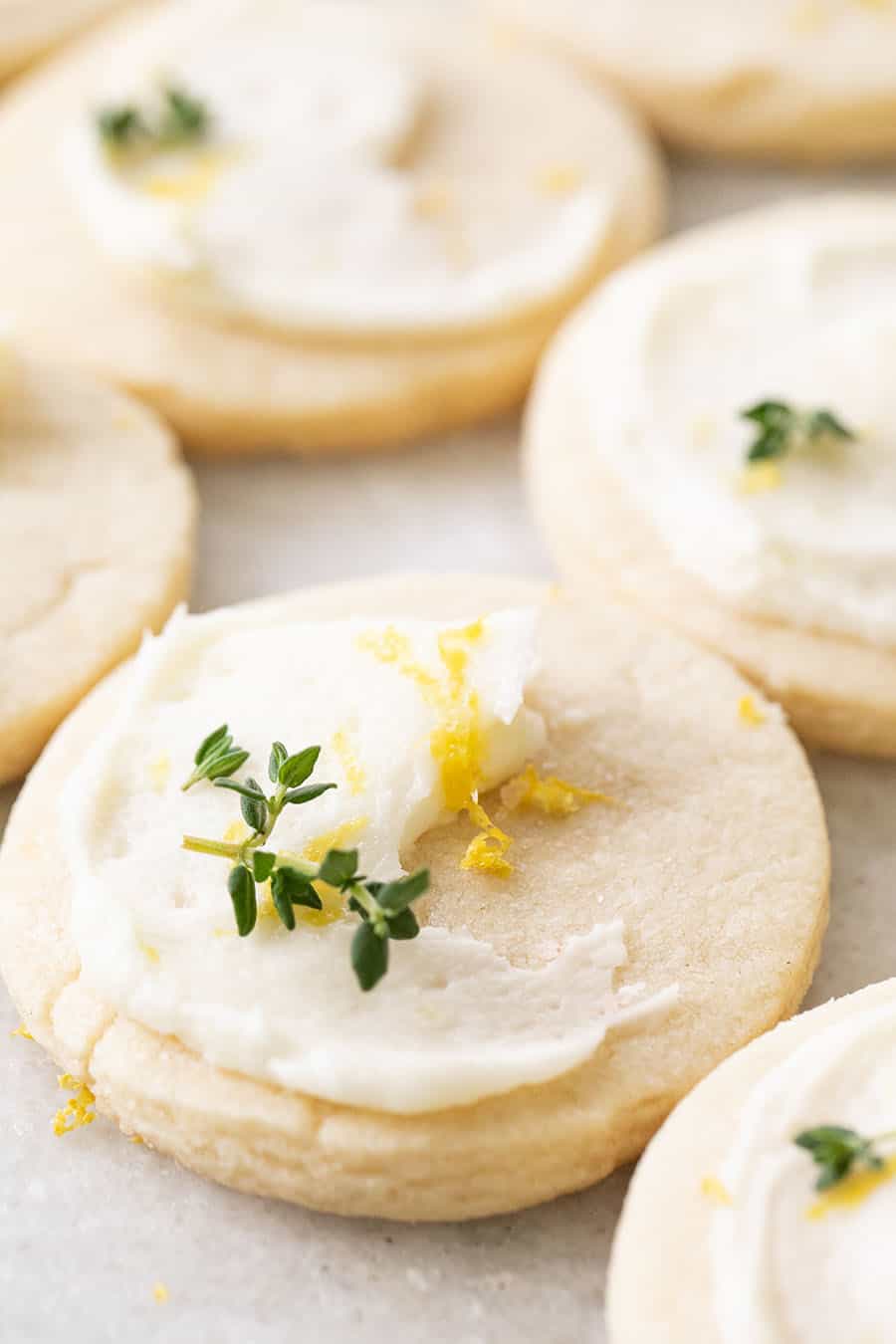 Do you have to refrigerate shortbread dough?
We recommend refrigerating the dough as it makes for a better cookie. You can also freeze the dough for up to 3 months.
Just remember to thaw overnight in the refrigerator before you roll it out.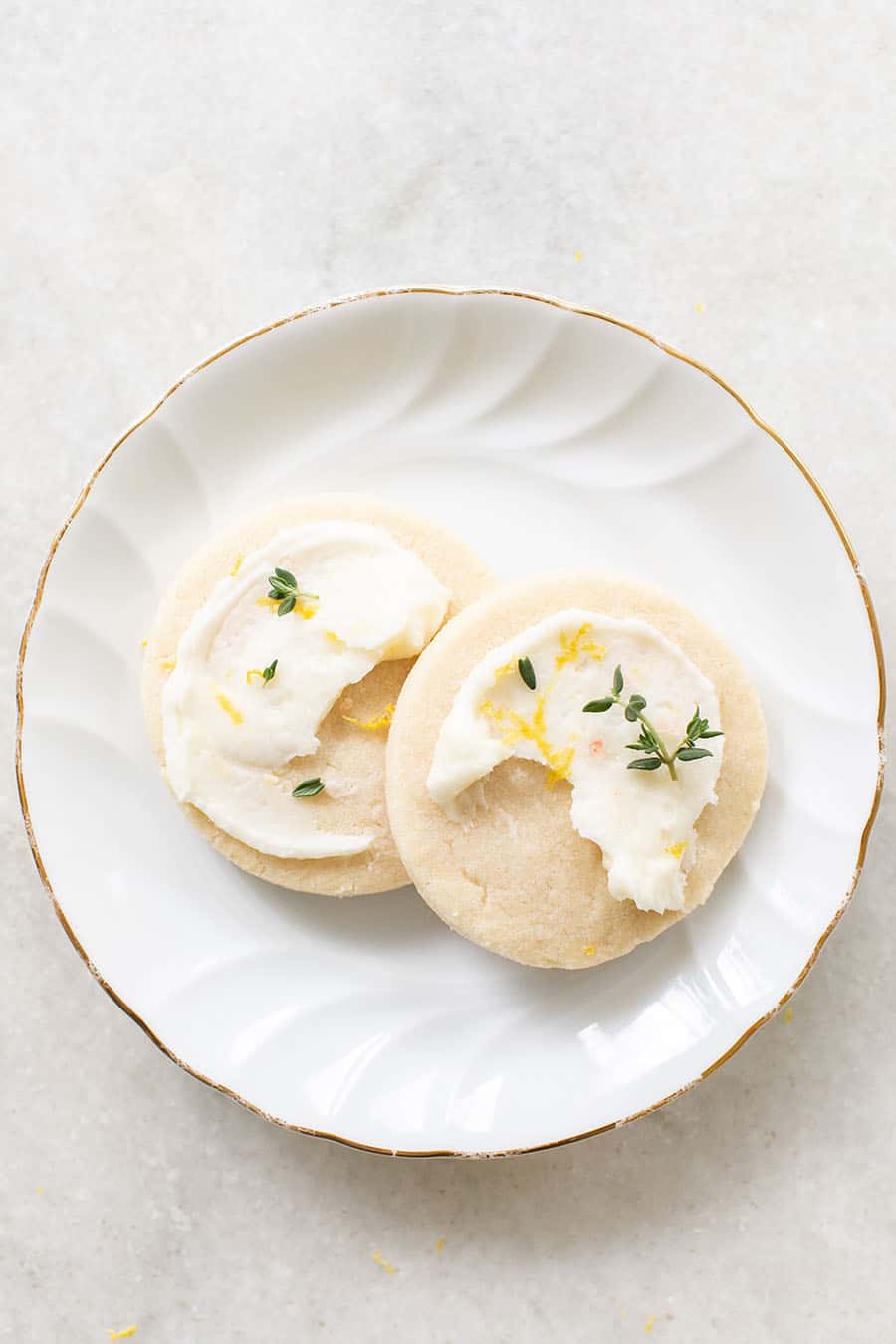 We added a little lemon frosting to the top of our cookies with thyme and pink sea salt. The frosting is simple to make and can be made while the cookies bake. It adds so much flavor and beauty to the cookie!
What type of sugar should I use to make shortbread cookies?
We use granulated sugar for shortbread cookies. It's common to use confectioners sugar (powdered sugar) but after making several versions and testing sugars, granulated sugar wins!
It just makes a better, buttery cookie and taste more like traditional shortbread.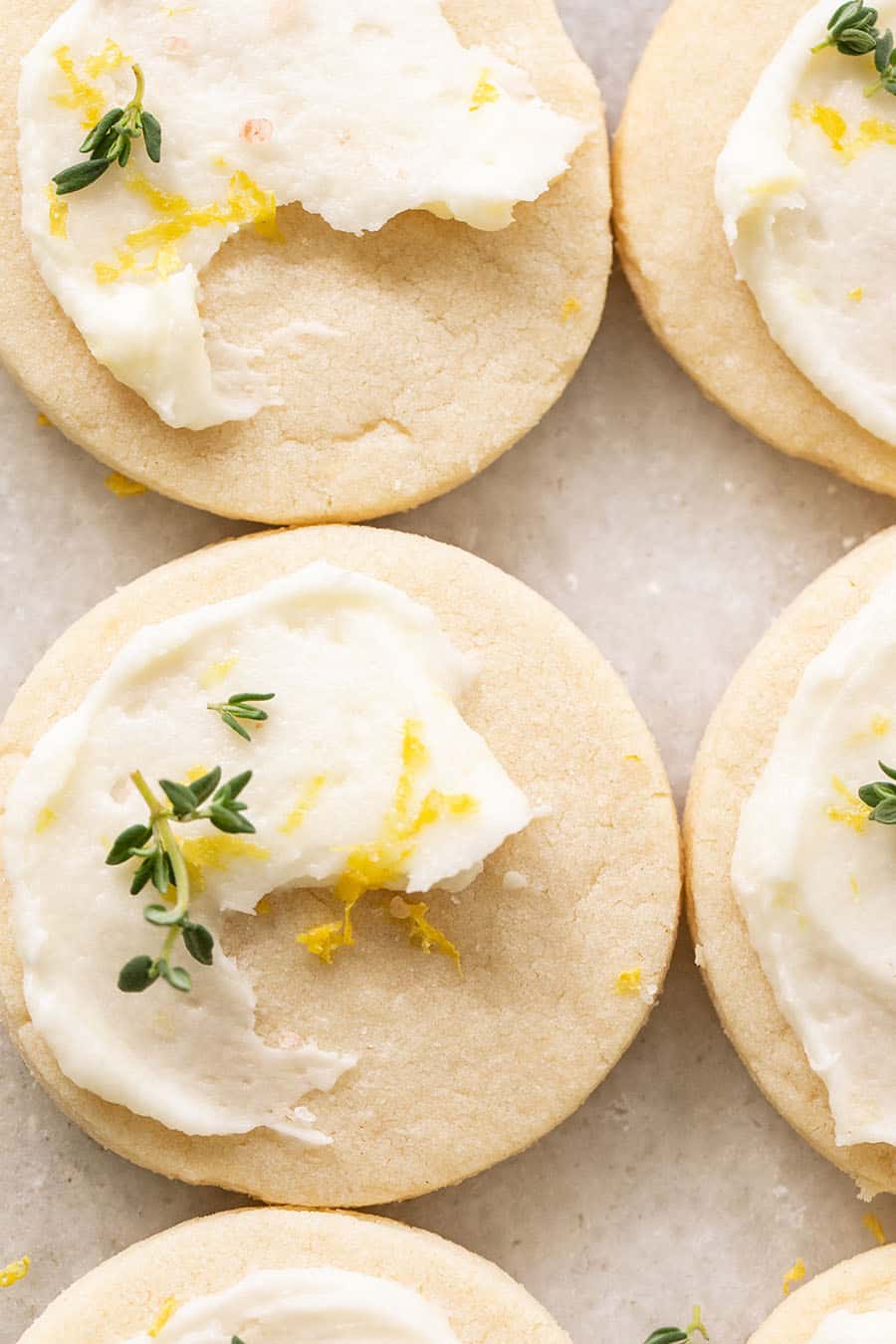 How to Make Shortbread Cookies
Infuse the sugar if you're using an herb by rubbing the herb in the granulated sugar. Then discard the herb. You'll be left with a sugar that smells amazing!
Beat the butter and sugar until combined.
Add in the extracts, flour and salt and beat on low speed until it all comes together.
Refrigerate the dough for about 30 minutes until dough is cold.
Roll the dough out about 1/2-1″ thick and use a round cookie cutter to cut a shape.
Bake in a 350 degree preheated oven for about 1-15 minutes until slightly golden brown.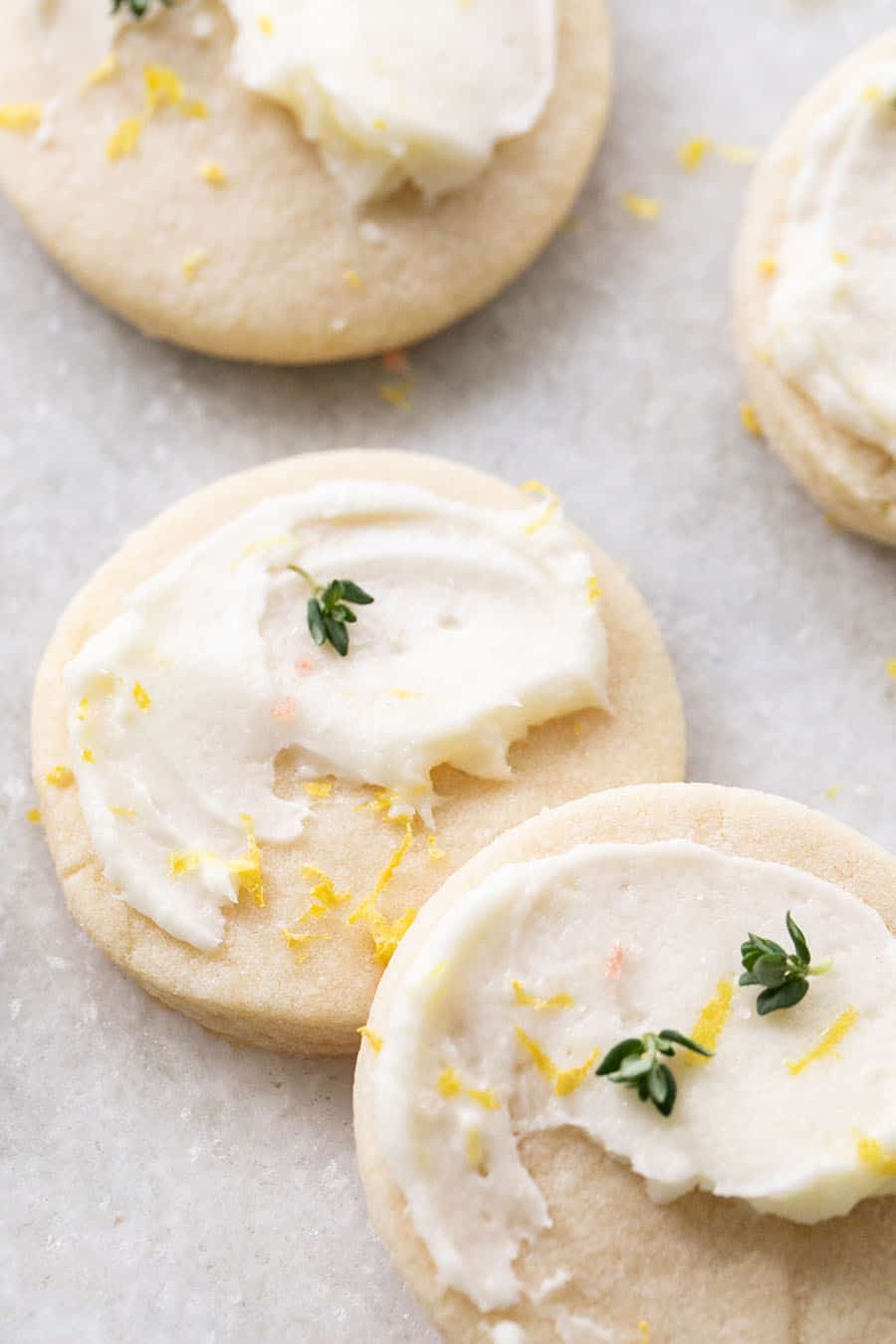 Add a little lemon frosting, thyme, lemon zest and a dash pink sea salt to the cookie. Aren't they so pretty?!
More Cookie Recipes
The Best Chocolate Chip Cookies
Cookie Page – All Recipes
We hope you enjoy these cookies and if you make them please leave a review and comment or tag us as on social (@sugarandcharm) as we love seeing what you make!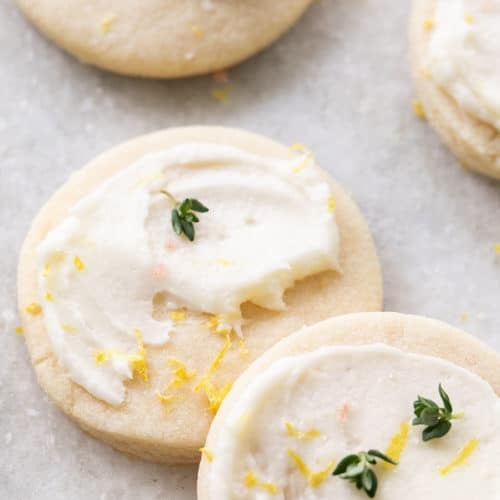 Ingredients
Shortbread Cookies
3

sticks

unsalted butter

,

must be room temperature

1

cup

granulated sugar

1/2

teaspoon

vanilla extract

1/2

teaspoon

lemon extract

3 1/4

cup

all purpose flour

1/4

teaspoon

salt

4

sprigs

fresh thyme
Lemon Frosting
1

cup

butter

,

room temperature

2

cups

powdered sugar

1/2

tablespoon

lemon zest

1/8

cup

fresh lemon juice
Instructions
Instructions
In a bowl, using your fingers rub the thyme in the sugar relaxing the oils from he thyme to fragrance the sugar. This process with infuse the sugar with the thyme scent and a little flavor.

In an electric mixer, beat butter and sugar until combined.

Add in the vanilla and lemon extract.

Add in the flour and salt and blend on low until incorporated.

Refrigerate the dough for about 30 minutes so it's cold, but not too hard to roll out.

Add the dough on a flour surface and roll out about 1/2-1″ thick. Use a cookie cutter, round or flower shape to cut the shapes.

Line a cookie sheet with parchment paper to bake the cookies on.

Bake in a preheated 350 degree oven for about 15 minutes until cookies are just about to turn golden brown. I like to take them out before they turn gold.
Lemon Frosting
While the cookies bake, make the frosting! Beat the butter and powdered sugar on high.

Add in the lemon juice and zest and beat until smooth.

Set aside until the cookies are ready to frost.

Add a tiny thyme spring on top!
Notes
You can use any shape for the cutout cookies.
Do not overcook the cookies!
Add a dash of sea salt on the top for even more yumminess!
Make sure butter is always room temperature and soft.