We've created this Mother's Day gift guide to honor motherhood. Motherhood in every form and what it means to each of us individually. We're celebrating all moms… friends, aunts, sisters, mothers-in-law, and our own mothers.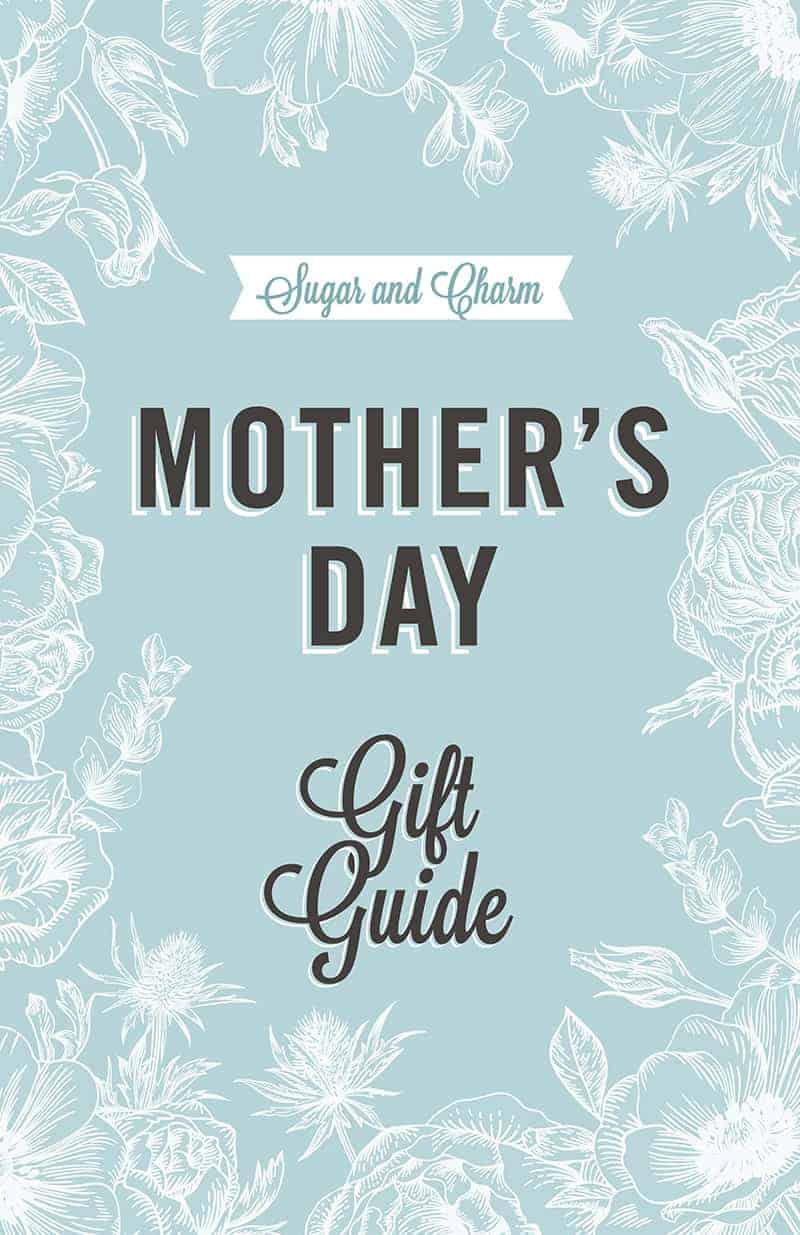 We started our Mother's Day Gift Guide in 2012 and it continues to be full of charming gift ideas for the special mother, wife, and friend in your life. We update this list every year with new items.
These are gifts that come in a variety of prices, experiences and items that we personally love and think you will too.
Use this guide and create your own gift boxes. We love the idea of combining items like a beautiful jogging set and with some Moon Juice Dream Dust. Furthermore, for the mom who likes to bake gift a gorgeous pie dish and new cookbook all tied together with a giant bow.
Some good examples of fun gift boxes are our bubble bath gift box or a themed box like our lemon gift box filled with all things lemon!
Also see our suggestions on what to get for mom's who have everything!
A Charming Mother's Day Gift Guide
Self Cleaning iPhone Charging Station also check out this one too.
East Fork Serving Bowl – They have become one of our favorite pottery studios.
Gray Whale Gin or Woodford Reserves for Whiskey Lovers.
Railroad Lantern Battery or Rechargeable
Staub Enameled Cast Iron Round Dutch Oven 
Moore and Giles Leather Wash Kit
Winc Wine Club or check out Martha Stewart's – we gave this as a Christmas gift for 4 months.
Rattan Bucket Bag – This is perfect for a mama, sister or friend who shops Farmers Markets often.
Best Gifts for Mother's Day
We also recommend purchasing gift cards from local restaurants and shops to support small businesses too.
Gift cards for massages and spas are also a great idea for a Mother's Day gift.
DIY Mother's Day Gifts!
Now that you have a mother's day gift, here are a few DIY gift ideas for mom! DIY gifts are meaningful Mother's Day gifts that will always be special to mom.
Simple Flower Cupcake Bouquets
Charming DIY Lavender Sachets with Photos
What to get the mother who has everything?
For the mother who has everything, give a thoughtful gift that's personalized, something she buys often (like wine) or an experience you can enjoy together. Here are some ideas:
Sorry Worth – This is an amazing gift for a Mother. Via Story Worth you (and whoever you invite) can asks questions and your mother will answer them. After one year of writing her stories, they will print it as a book. It's a pretty special gift!
Spa Day
Concert Tickets
Gift Card to her Favorite Restaurant
Nice bottle of Wine or Spirit.
Personalized Photo Album from Artifact Uprising
Charming Ways to Celebrate Mom
Another way to celebrate all the moms in your life is by experience. Host a beautiful Mother's Day party, maybe a picnic or a spa day, or treat them to a tea party! The memories will last forever.
Backyard Mother's Day Tea Party
Make Her an Edible Flower Garden
What are some of your favorite gifts to give to mom? Or what is one of the best gifts you've received? We'd love to know, so leave a comment below!
You can also FOLLOW US on FACEBOOK, INSTAGRAM, and PINTEREST for delicious recipes, cocktails, desserts, and parties!