Single or not, inviting a few girlfriends over for a Vday "Galentine's" party is always a good idea! We don't really need an excuse to get together, but holidays provide an instant party theme and fun excuse to celebrate friendship!
I asked a few girlfriends to come over for an afternoon of sweets, modern art-making, Valentine's Day crafts, and floral cocktails! It was a great day and everyone loved getting creative and painting!
Painting Party for Valentine's Day
I wanted to have a few fun activities to do and I think painting can be so therapeutic so we all brought out our inner modern artists!
We painted on canvases with different shades of pink acrylic paint. I loved seeing the creative ideas everyone came up with.
Supplies for Painting Party
Valentine's Day Card Making Party
Another fun idea for Valentine's Day is a card making party! Order a kit and have different supplies set out to make cards and labels. An easy idea but, but also a fun way to make a few homemade cards to give to teachers, coworkers, and friends all while enjoying the company of your friends!
Valentine's Day Desserts
Keep it simple and make this a cocktail and dessert party! Here are some ideas for Valentine's Day desserts:
Decadent Chocolate-Covered Strawberries
Valentine's Heart Cookies
Sweet Popcorn
Also, fun to have rose petals around for instant decor! They're so soft and pretty and you just want to toss them in the air!
VALENTINE'S DAY COCKTAILS
Serve a Berrylicious Floral Cocktail your Valentine's Day party! It's made with strawberries, muddled edible flowers, lemonade and some elderflower cordial.
Furthermore, we've rounded up 14 perfect Valentine's cocktails here! So many delicious options!
Tips for Making Valentine's Day Cocktails
If it's a shaken cocktail, make it ahead of time in the cocktail shaker. Wait to add ice, then right before serving, add the ice and shake, shake, shake! Then strain! This way you can prep all of the ingredients and measurements ahead of time.
Add a charming detail like pink ice cubes! They're naturally colored with hibiscus flour and easy to make.
If you're serving wine, check out our wine serving tips and then show off your skills!
Use edible flowers to garnish your Valentine's Day cocktail. You can even make your own edible flower garden! If not, find edible flowers in the fresh herb section at Whole Foods.
VALENTINE'S DAY CRAFTS
We love the idea of a painting party, creating beautiful art pieces to decorate your home with. Furthermore, it's an art that many people don't take the time to do, so hosting a party with all of the supplies is such a wonderful idea!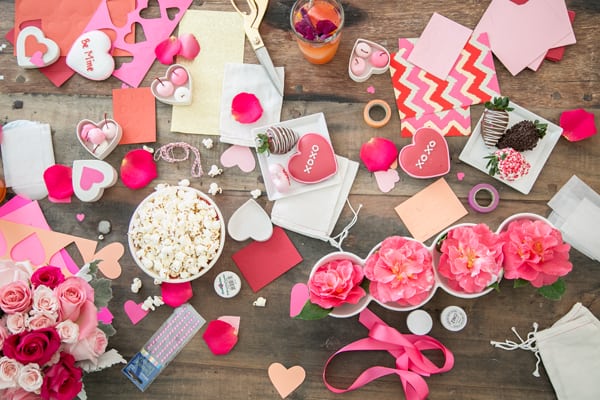 See even more of our favorite Valentine's Day craft ideas below!! These are all fun projects and gifts you can make at your party! Set up a craft station and get crafting!
Valentine's Day Card Making Party is a fun idea to get your friends together and make cards for coworkers, teachers and friends!
DIY Mini Cake Stands – These are so charming and a fun Valentine's Day Craft and Gift!
DIY Essential Oil Candles are a great Valentine's Day craft idea!
Lavender Lip Balm DIY! With a printable Valentine's Day label! They're adorable and great for kids to make too.
I'm Donuts Over You printables!
Valentine's Day Embroidery Wine Bags
Check out these Charming Valentine's Day Printables too!
Valentine's Day Decorations
For the décor, I had my friend Erin of White Fig Designs create the most stunning floral heart EVER! Honestly, it was so incredibly beautiful and I'll get to enjoy it for Valentine's Day! Here are more ideas!
Flowers
Streamers
Rose Petals
Confetti
Balloons
Valentine's Food Ideas
Here are some of our favorite dishes to serve for a girls' Valentine's Day!
Cheese and Charcuterie Platter