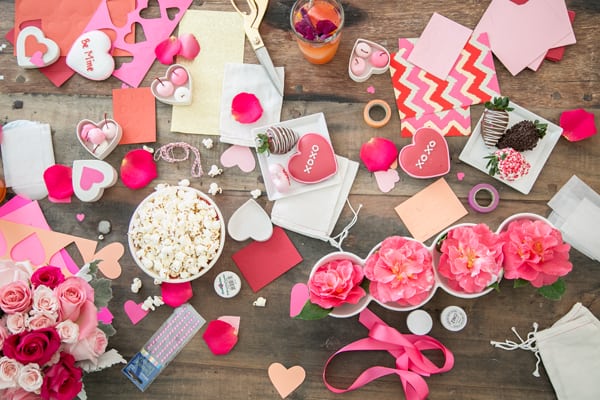 Single or not, inviting a few girlfriends over for a Vday "Galentine's" party is always a good idea! We don't really need an excuse to get together, but holidays provide an instant party theme and fun excuse to celebrate friendship! I asked a few girlfriends to come over for an afternoon of sweets, modern art making, Valentine's Day crafts and floral cocktails! Details below!
For the décor, I had my friend Erin of White Fig Designs create the most stunning floral heart EVER! Honestly, it was so incredibly beautiful and I'll get to enjoy it for Valentine's Day.
I wanted to have a few fun activities to do and I think painting can be so therapeutic so we all brought out our inner modern artists! We painted on canvases with different shades of pink acrylic paint. I loved seeing the creative ideas everyone came up with.
I also ordered a Valentine's Day card making kit from Paper-Source and had different supplies set out to make cards and labels. Again, effortless was key to this party!
We snacked on decadent chocolate covered strawberries, Valentine's treats and popcorn. Easy and sweet!
Obviously, it's not a party without a signature cocktail! To keep the theme girly, I made ice cubes with frozen edible flowers inside of them. Those little details really make for one charming party! Stay tuned for the cocktail recipe post later!
Photos by Zan Passante