Fall is officially here, meaning apple season is in full swing! This delicious apple upside-down cake recipe is a great way to celebrate my favorite season! The cake is super moist and tender, with the most perfect flavor. It's one of my fall desserts to make.
We recently went apple picking and I came home with bags of fresh apples from the apple orchards! The farm had the most beautiful Granny Smiths that were juicy and full of flavor. I used them to make this upside-down apple cake and they worked perfectly!
The fall season is my favorite time to bake. I can't get enough of the spices and warm flavors. I love making my apple cake, coffee cake and apple cider cocktails during the fall.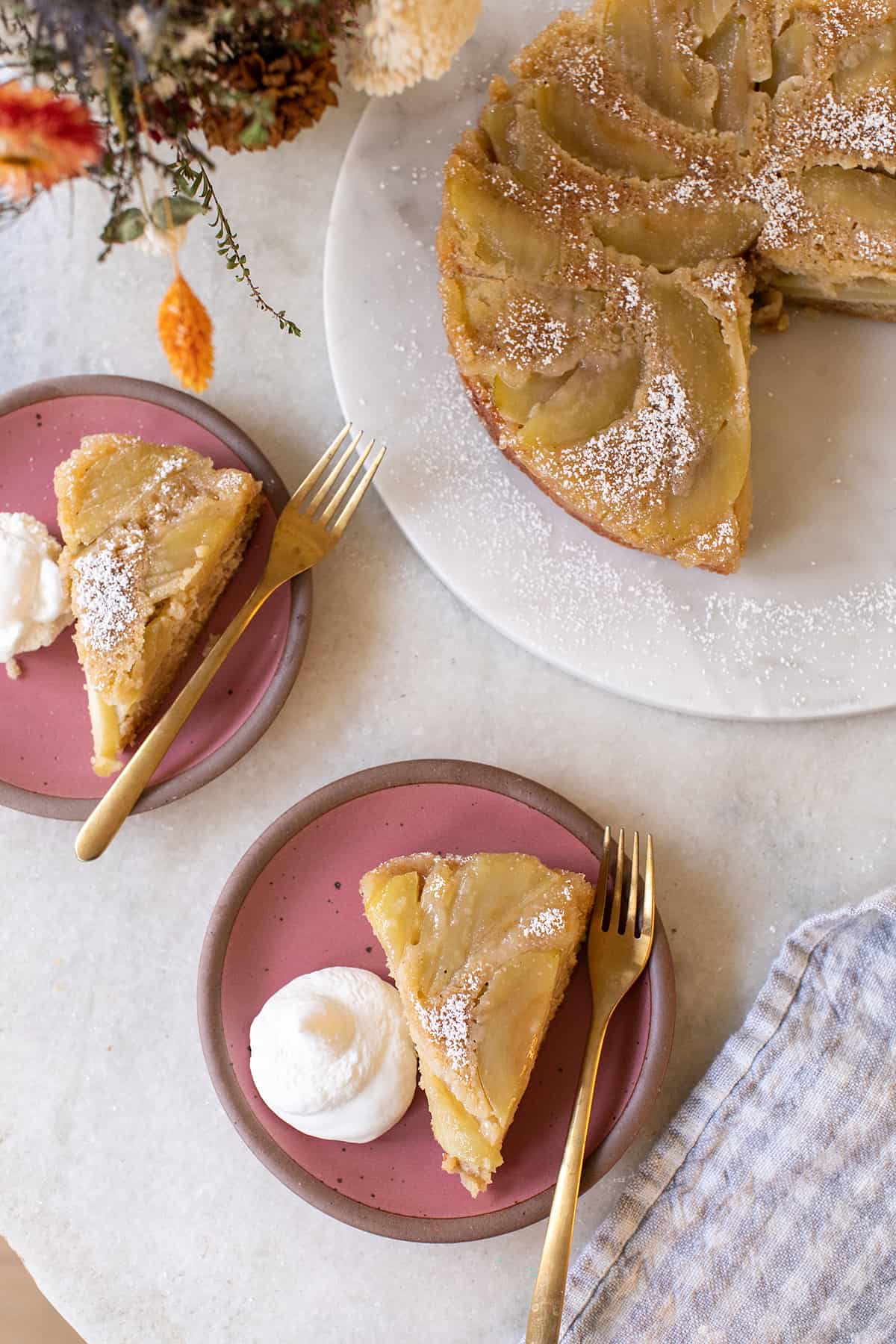 This is an incredibly flavorful, super moist, tender cake. A mixture of melted butter and sugar is poured into the pan before placing the sliced apples down, making them extra tender and buttery! This cake is worth peeling and slicing apples! My entire family loved it!
What is an upside down cake?
An upside-down cake is a cake that is baked with the topping on the bottom and then flipped over so that the topping becomes the top. The most popular version is the pineapple upside-down cake. However, apples and peaches work wonderfully too!
These cakes are often thinner that a traditional fluffy cake. They're always really moist as they're made with a lot of delicious butter.
Our recipe is filled with spices and sweetened brown sugar and honey. It's a dense cake with an incredibly moist texture. It's the perfect cake to serve if you're having a small gathering or just want something sweet!
How to Make an Apple Upside Down Cake
Recommended Tools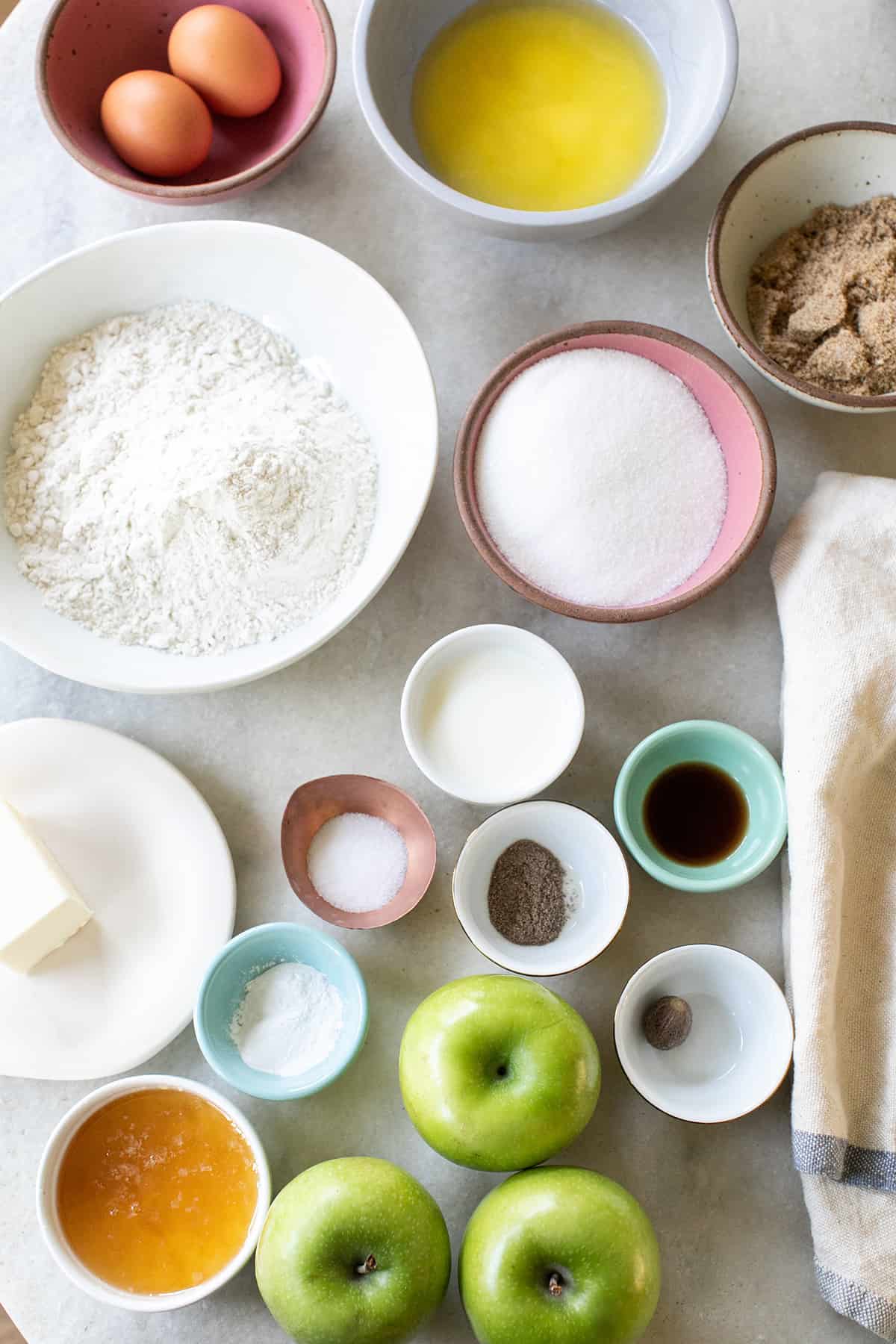 Ingredients
All Purpose flour – I used all-purpose flour, but you can use gluten-free flour or whole wheat pastry flour.
Baking Powder & Salt – Baking powder acts as a leavening agent for the cake and the salt adds and enhances the flavors. I always recommend checking the date on the baking powder to make sure it's fresh.
Cardamom – This spice is optional, but I love the flavor it adds! It's my favorite spice to add to my fall recipes!
Nutmeg – This spice adds a nutty flavor to the cake and it is commonly used in fall recipes. I like to use the whole spice and grate it into the batter.
Granulated Sugar – Use granulated white sugar for this cake.
Brown Sugar – I use dark brown sugar but light brown sugar will work too. Brown sugar is a mixture of molasses and granulated sugar. It adds a lovely flavor to the cake!
Honey – I used honey for this recipe because it gives even more flavor and adds to a gooey texture. I love using local honey in my recipes.
Eggs – You'll need two large eggs for this recipe. The eggs add structure to the cake and make it nice and fluffy. Use organic eggs when possible.
Butter – Use unsalted, pure butter when making this recipe. The butter adds so much flavor and keeps the cake moist. It also prevents the cake from sticking to the pan so you can flip it upside down!
Whole Milk – The milk adds richness and a lovely flavor. You could also use almond milk or oat milk if you prefer. It will have a different taste though.
Vanilla Extract – Always use pure vanilla extract when baking! It's so much better than imitation vanilla.
Apples – You want to use an apple that is firm, crisp, and tart. I used Granny Smith apples for this cake because they're tart and have a firm texture. They worked perfectly.
Directions
Prep – Preheat the oven to 350 degrees F and prepare the 9″ baking pan by greasing it with cooking oil or butter. I used a round cake pan but you could also use a square or rectangular pan.
Peel and Slice Apples
Combine Dry Ingredients – In a medium bowl whisk together the flour, baking powder, cardamom, nutmeg, and salt. Set this mixture aside.
Combine Wet Ingredients – In a small bowl whisk together the 1/2 cup sugar, 1/2 cup brown sugar, honey, milk, melted butter, and eggs in another bowl.
Slowly add the wet ingredients into the flour mixture, whisking as you go. Be careful not to over-mix the batter.
Heat – In a small saucepan, combine the remaining 1/2 cup sugar and 3 tbsp water. Bring to a simmer over medium heat until the sugar has dissolved. Then add in the extra 5 tbsp butter and mix until everything is melted.
Arrange Apples – Pour the melted butter mixture into the bottom of the cake pan and arrange the sliced apples over the top. Spread the batter over the apples evenly.
Bake – In a preheated oven, bake for about 35-40 minutes or until a toothpick comes out clean.
Cool – Let the cake cook for 15 minutes and then flip it over onto a serving plate.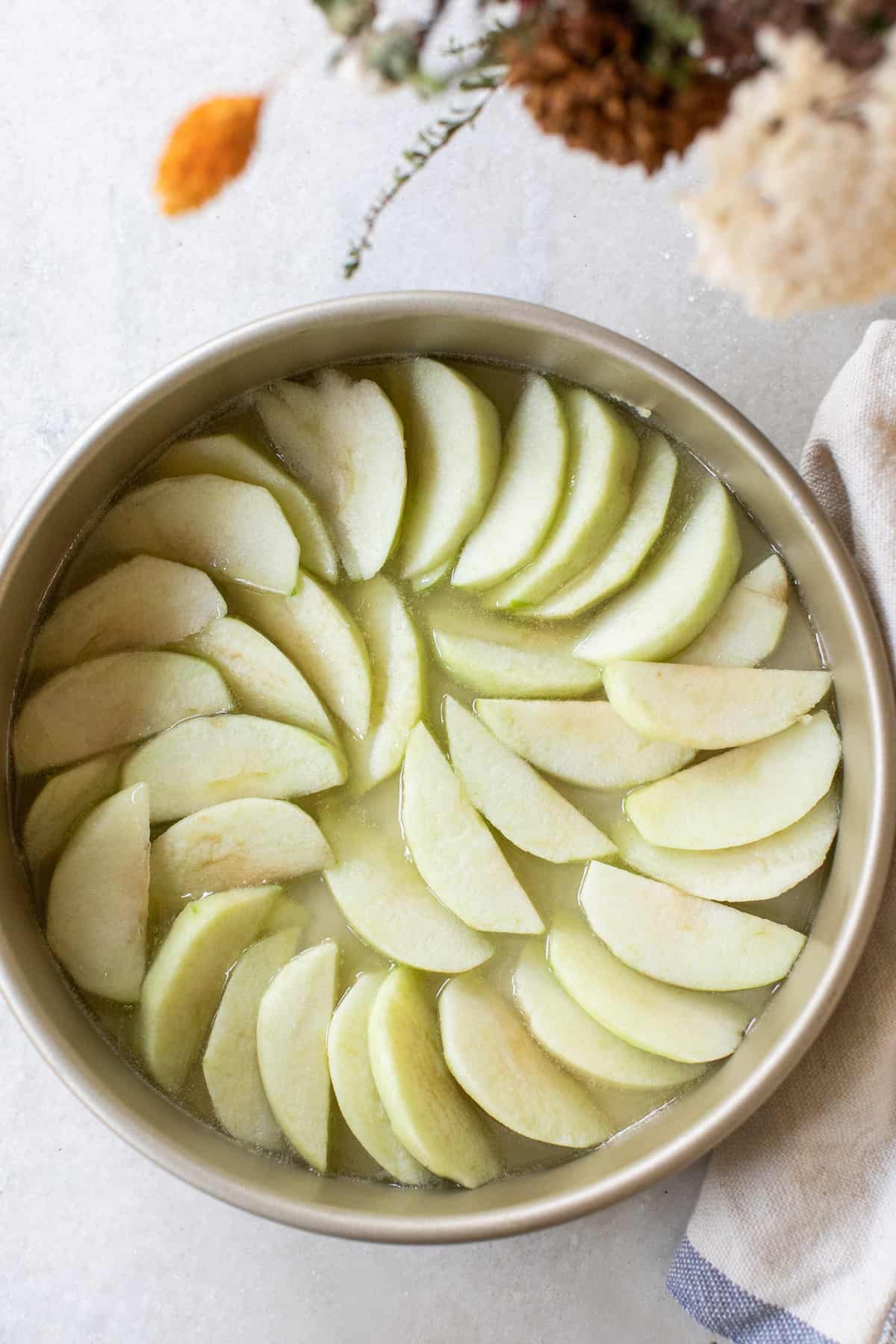 Recipe Notes
Upside cakes are not anything like traditional, fluffy cakes. They are made to have a dense, moist texture, not a fluffy texture.
This cake doesn't need any frosting. Once the cake is flipped onto a cake plate the apple garnishes are there! It looks really pretty. We do however love adding a drizzle of caramel sauce over the top!
Refrigerated items should be at room temperature when making this cake.
Baking times will vary, so check the cake after 30 minutes and see where it's at.
Best Apples for Baking
There are several varieties of apples that are perfect for baking cakes and pies! In order to keep them from being mushy, you want to use an apple that has a firm texture and a tart flavor. Here are some common apples that you can find at your local grocery store that are the best for baking:
Honeycrisp – These apples are incredibly crisp with a slightly sweet flavor. They hold up well in baking and make a delicious pie!
Granny Smith – As I mentioned, these are my favorite apples to use in baking. Granny Smith is a tart apple and has a firm texture that keeps them from getting mushy.
Pink Lady – They have a tart flavor but are just as crunchy as Honeycrisp apples.
Golden Delicious – These have a mild flavor and hold their shape well. You can also mix them with any of these other apples to give the cake some variety.
Braeburn – These apples are perfect for pies because they don't turn to mush when cooked.
Fuji – These are other apples that are perfect for pies! They're incredibly crisp and have a slightly sweet flavor.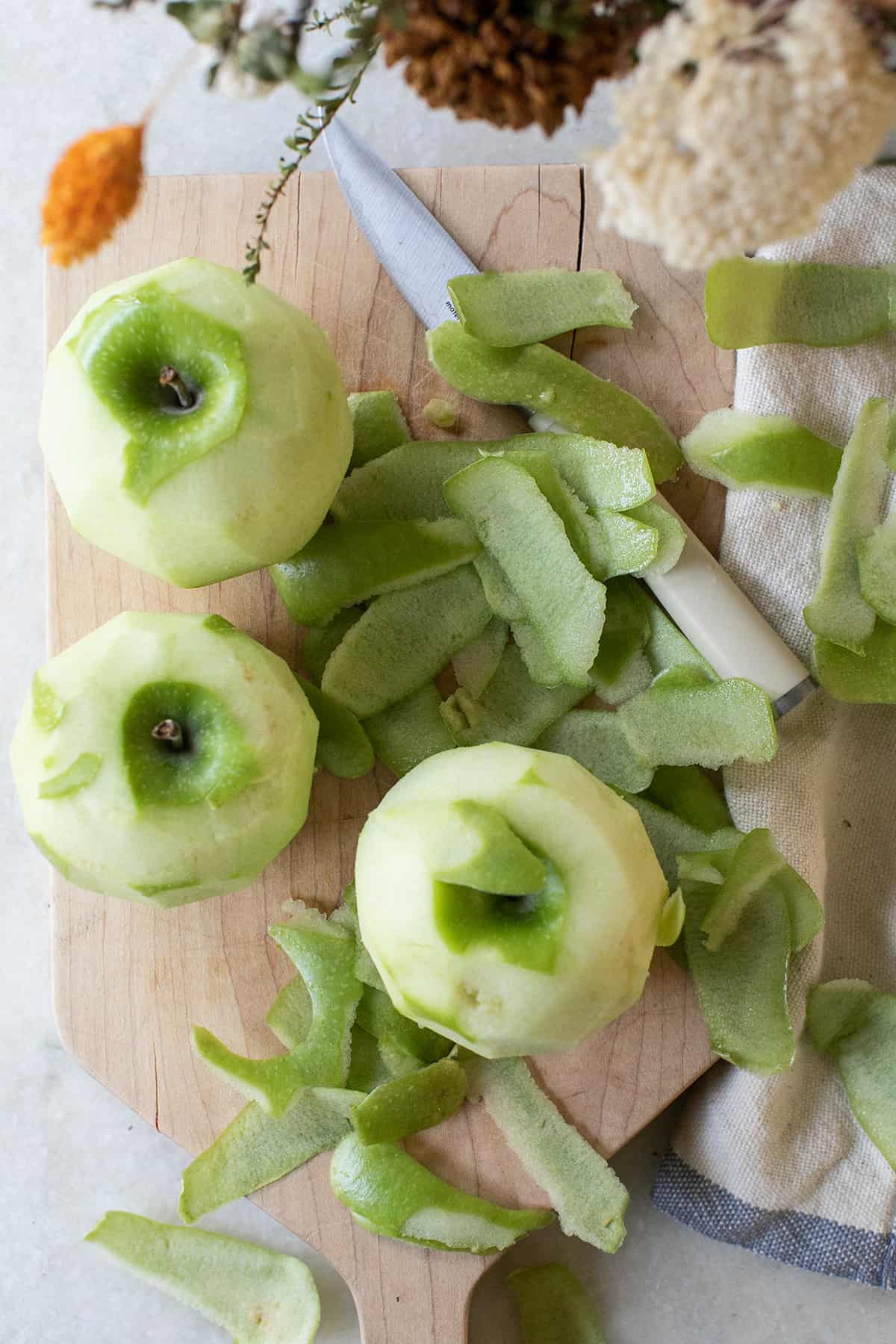 How to Prep Apples for Baking
Peel – Using a vegetable pairing knife or a peeler. We prefer a peeler for this step. Start from the top and make long strings down the apple.
Core and Slice – You can use an apple corer, but many people don't have one of these. So instead, you'll slice the core of the apple out by cutting it in half, laying it flat on the board, and then diagonally cutting the center out. Then cut the apple into slices. I like to cut mine about a 1/4-inch thick.
Lemon Juice – If the apples are going to sit for a long period of time while you measure the other ingredients, add a little lemon juice over the top and lightly toss them. The acid in the juice will prevent the apples from turning brown.
Tips for Making This Cake
Always use pure, organic ingredients when you can. The quality of the ingredients does make a difference in the flavor and texture of the cake.
Be careful not to over-mix the batter. Mix just until the ingredients are combined. Over-mixing will result in a tough cake.
If you want a little extra apple flavor, add a teaspoon or two of apple pie spice to the batter.
Let the cake cool for at least 15 minutes before inverting it onto a plate. If you try to invert it too soon, the cake will fall apart.
Dust the top with powdered sugar once it's cooled. You can also drizzle caramel sauce over the top.
Add a little orange zest into the batter if you prefer!
How to Store
This cake is best served warm, but it's also delicious at room temperature. If you have leftovers, store them in an airtight container at room temperature for up to three days.
Freeze – You can wrap the cake tightly in plastic wrap and freeze it for up to two months. Let the cake thaw overnight in the refrigerator before serving.
Reheat – If you want to reheat a slice of cake, pop it in the microwave for 15-20 seconds.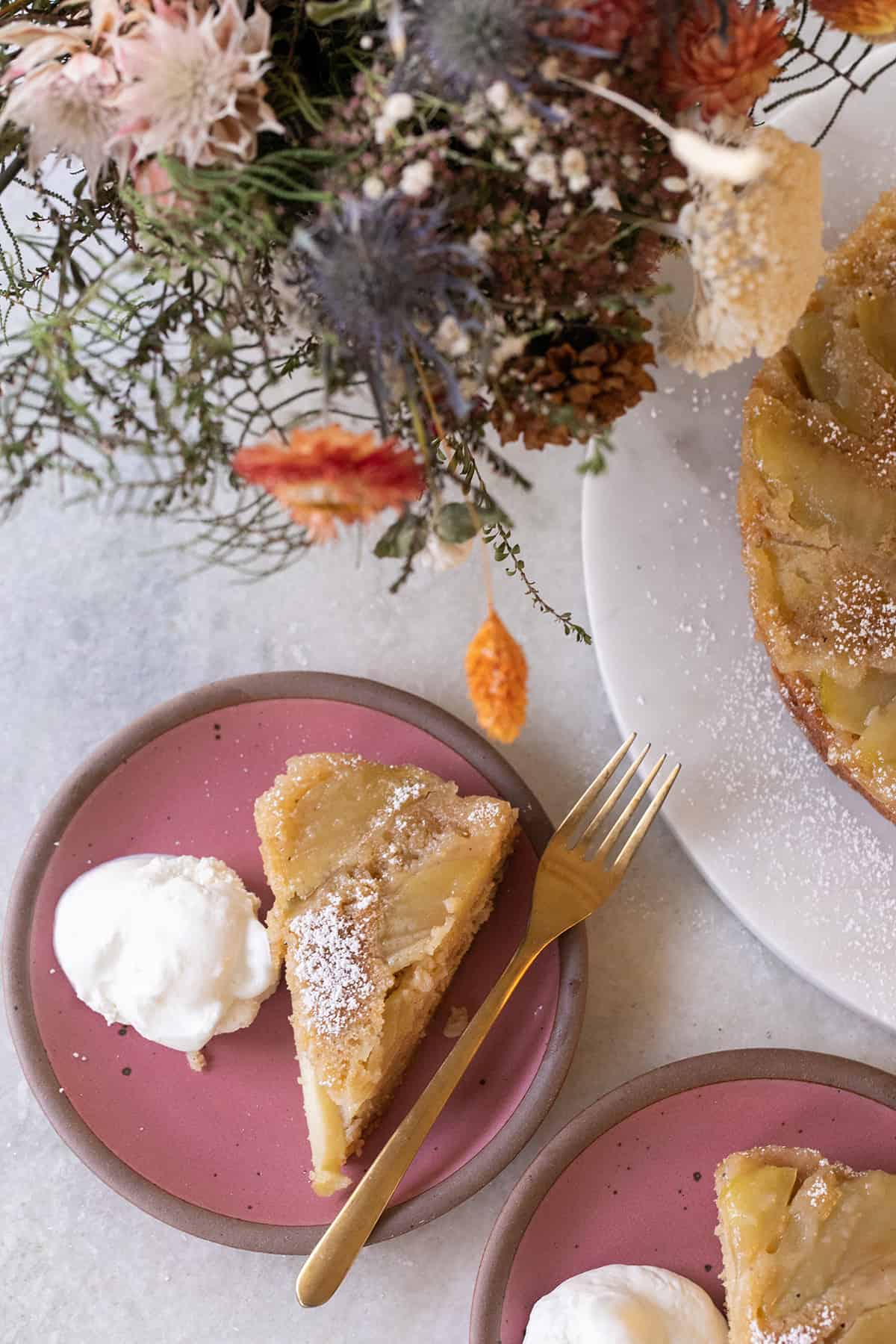 When to Serve Apple Upside Down Cake
This apple cake is perfect for any fall occasion! Here are a few ideas for when you can serve this delicious apple cake:
What to Serve with Upside Down Apple Cake
This cake pairs wonderfully with whipped cream and a scoop of vanilla ice cream. You can also serve it with a delicious cup of coffee too!
Frequently Asked Questions
What is the upside-down cake method?
The upside-down cake method is a technique where the fruit is placed on the bottom of the pan and the cake batter is poured over the top. Once the cake is baked, it's inverted onto a plate so the fruit is on top.
Why do they call it upside-down cake?
The cake got its name because you invert it onto a plate so the fruit is on top. It's technically flipped upside down and the top of the cake becomes what the bottom was.
What is the best apple for apple cake?
There are a few different types of apples you can use for apple cake. We prefer Granny Smith apples because they're tart and have a firm texture. Other good options are Pink Lady, Golden Delicious, Braeburn, and Fuji apples.
When was upside-down cake invented?
In America, the first upside-down cake was made with pineapples and was created in the 1920's. Dole Pineapple company sponsored a contest for pineapple recipes and revied thousands of inverted cake submissions. From then on upside-down cakes gained popularity and have been a classic cake recipe ever since. You can make this recipe with a variety of fruit!
More Apple Desserts You'll Love
Have a basket full of apples you need to use? We've got you covered! Here are some of our favorite apple recipes!
Also, check out all of our delicious homemade cake recipes!
Let us know what you think!
Let us know if you make this delicious upside-down cake by leaving a comment and review below! We love to know your thoughts!
You can also FOLLOW US on FACEBOOK, INSTAGRAM, and PINTEREST to see more delicious recipes, cocktails, desserts, and parties!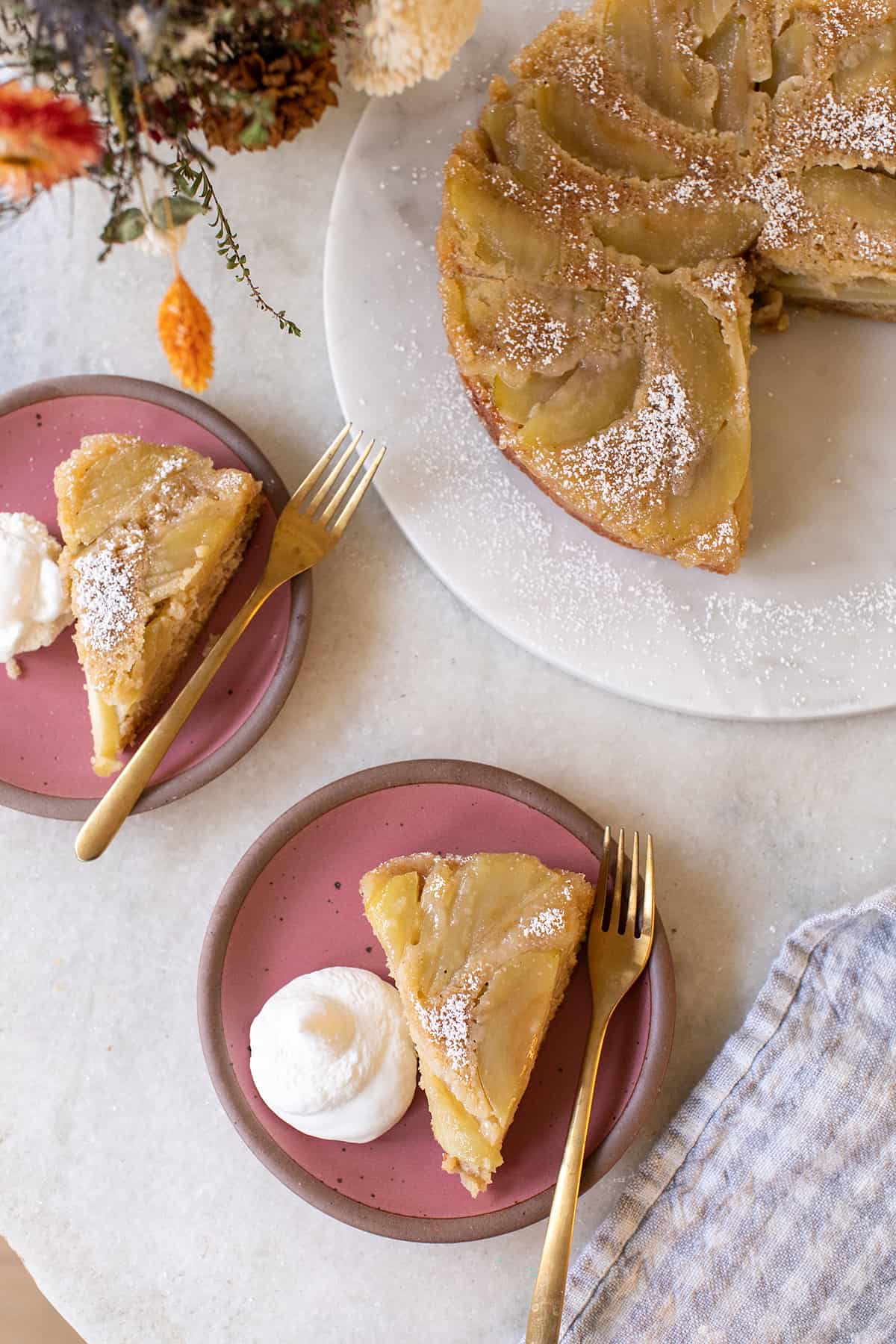 Apple Upside Down Cake
 This delicious apple upside-down cake recipe is a great way to celebrate the fall season!
Print
Pin
Rate
Ingredients
3

large

apples

,

Granny Smith, peeled and sliced.

1 1/2

cups

all-purpose flour

1 1/2

tsp

baking powder

1

tsp

cardamom

1/2

tsp

nutmeg

1

tsp

salt

1

cup

sugar

,

dived to 1/2 cup each

1/2

cup

brown sugar

1/8

cup

honey

2

large

eggs

13

tbsp

unsalted butter

,

8 tbsp melted (this is 1 stick butter) and 5 tbsp cold.

1/4

cup

whole milk

1

tsp

vanilla extract
Instructions
Preheat the oven to 350 degrees. 

Prepare a 9" round cake pan with cooking oil and parchment paper.

In a medium bowl whisk together the flour, baking powder, cardamom, nutmeg, and salt. 

Whisk together the 1/2 cup sugar, 1/2 cup brown sugar, honey, vanilla, milk, melted butter, and eggs in another bowl.

Whisk the egg mixture into the flour mixture. 

In a small saucepan combine the remaining 1/2 cup sugar and 3 tbsp water and simmer for 5 minutes.

Stir in 5 tbsp butter and pour the hot mixture into the cake pan. 

Decorate with even layers of apple wedges. 

Spread the cake batter over the apples. 

Bake for 35-40 minutes until the top is golden brown.

Let the cake cool for about 15 minutes. Then flip it onto a cake platter and remove the parchment paper.
Notes
Oven temperatures and cooking times vary. Check the cake after 30 minutes to see where it's at. 
Parchment paper isn't required, but we do like to use it to ensure and easy flip. 
Use any type of baking apple you want. Or mix and match! 
Nutrition
Calories:
483
kcal
|
Carbohydrates:
73
g
|
Protein:
5
g
|
Fat:
20
g
|
Saturated Fat:
12
g
|
Polyunsaturated Fat:
1
g
|
Monounsaturated Fat:
5
g
|
Trans Fat:
1
g
|
Cholesterol:
96
mg
|
Sodium:
320
mg
|
Potassium:
250
mg
|
Fiber:
3
g
|
Sugar:
52
g
|
Vitamin A:
694
IU
|
Vitamin C:
4
mg
|
Calcium:
76
mg
|
Iron:
2
mg