If you like coffee as much as we do, you'll love these 15 delicious coffee drinks you can make at home! We're sharing unique flavors and combinations with ingredients you use at home!
When I was 16 years old, I was a barista at a little drive-thru coffee shop in my small northern California town. I would wake up at 5 am, open the shop, and serve coffee to our regulars. I memorized all the fancy drinks and learned how to pull a good shot. It was one of my favorite jobs ever!
Fast forward, many years later, we developed teamed up with our friends at Dunkin' and developed 24 coffee recipes using their coffee and easy ingredients accessible to people at home. We love Dunkin' Donuts, however, you can use your favorite brand for any of these recipes!
There are a lot of positive benefits from drinking a cup of coffee too. Here are 13 Health Benefits.
So if you have a favorite brand of coffee or K-Cups, these recipes will still work for you! You can also make your own cold brew, use the Dunkin' packets (which I LOVE) or buy artisan cold brews at most grocery stores.
If you're interested in changing up the way you brew coffee, check out these 6 ideas!
We're also answering some of your frequently asked questions about at the end, so scroll through to the end!
15 Delicious Coffee Drinks
Caramel Brownie Coffee Recipe
This delicious caramel brownie coffee has crumbled brownies in it and is packed with chocolate flavor. It's a next-level drink that's easy to make and will warm up those winter mornings!
Easy Cold Brew with Fig and Lavender
This delicious, fragrant, and refreshing cold-brew drink is made with fig and lavender syrup! It's so flavorful and perfect for hot summer days!
New Orleans Cold Brew Recipe
This cold brew recipe creates the perfect summertime drink, with a wonderfully strong and distinct flavor. Mixed with some lovely homemade syrup and a hit of chicory, you can't go wrong!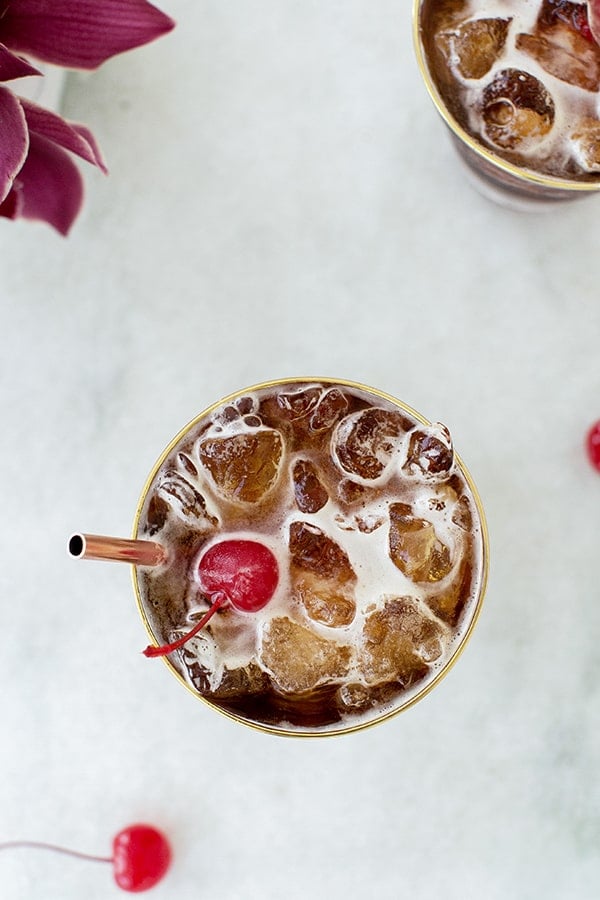 How to Make a Coffee Tonic
Learn a simple way to make your own coffee tonic at home! Using cold brew coffee, tonic water, and a little cherry syrup.
Cinnamon S'mores Coffee
Move over kids, we're enjoying S'mores in a new way and that's in our coffee! This Cinnamon S'mores Coffee is one of our favorites! It has a graham cracker rim, toasted marshmallow syrup, and chocolate syrup!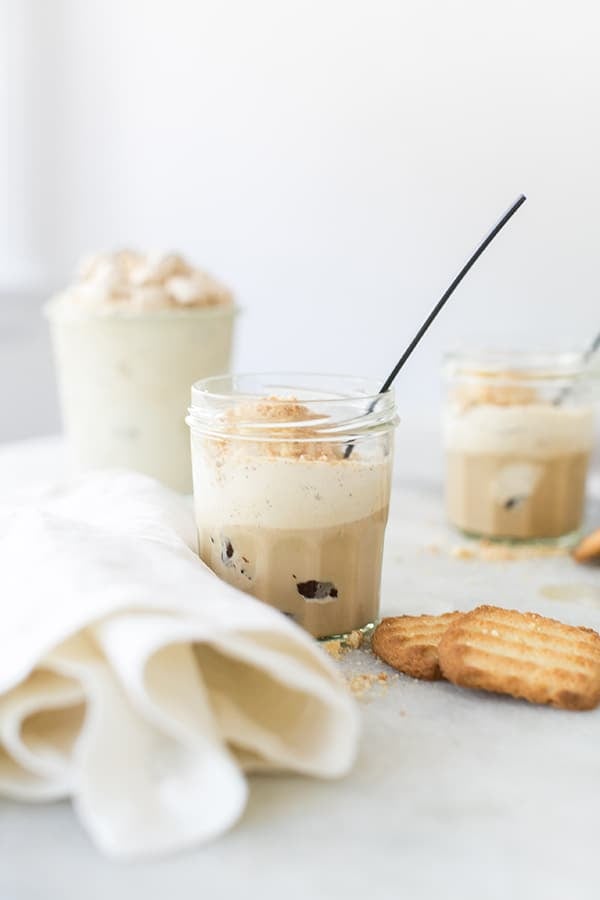 Tiramisu Coffee Drink
The easiest and most delicious tiramisu coffee recipe! It's made with creamy coffee ice cream and crushed biscuits. A simple, yet perfect dessert!
Almond Joy Coffee Recipe
We all know the yumminess of an Almond Joy and those flavors are so perfect in a coffee! Make an Almond Joy recipe using ingredients like coconut creamer, vanilla, and almond syrup!
Chocolate Hazelnut Coffee
An easy, chocolate hazelnut coffee recipe made with our favorite Nutella, and a little hazelnut cream! It's absolutely delicious and can be served as a dessert too!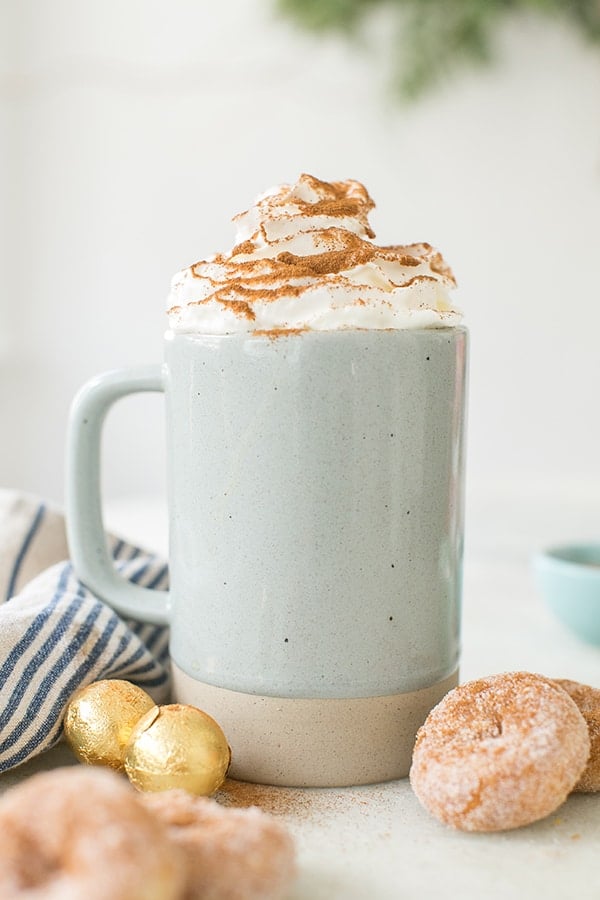 Snickerdoodle Coffee Recipe
This snickerdoodle coffee recipe contains cinnamon, french vanilla creamer, and a touch of nostalgia! It's easy to whip up and perfect for a delicious little treat. It really does taste like a snickerdoodle in a mug!
Cold Brew Floats
Cold-brew floats are super easy to make and a perfect, quick dessert for summer! See how we made this delicious chocolate floats below!
White Chocolate Peppermint Mocha
This white chocolate peppermint mocha will have you smiling like a kid on Christmas morning! Perfect for the holiday season, it's really the best peppermint mocha!
Pumpkin Spice Affogato Recipe
The easiest dessert to make for fall is this pumpkin spice affogato recipe!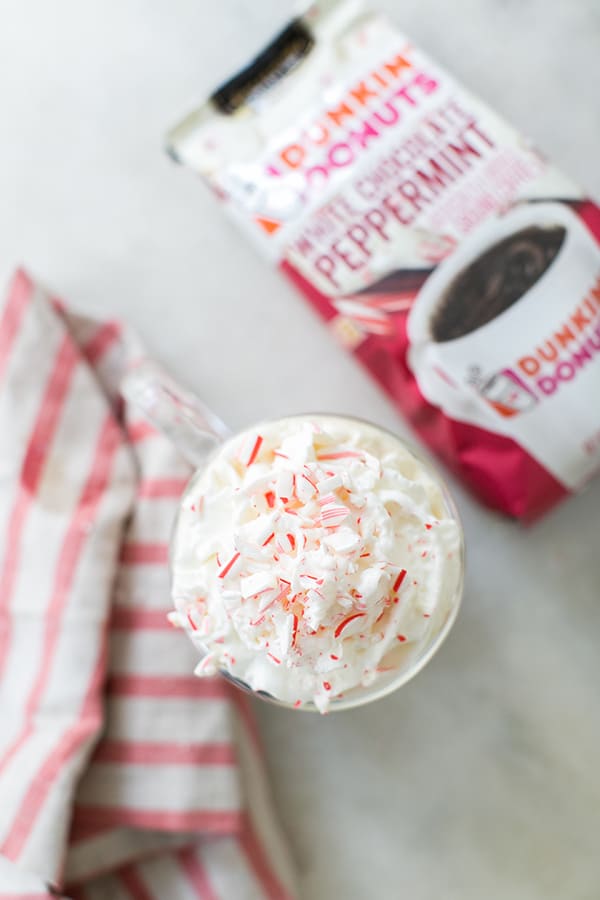 Peppermint White Chocolate Eggnog Mocha
If you are craving your eggnog fix, then this peppermint white chocolate mocha with eggnog is perfect for you! Whether you want to sup on a great Christmas drink.
Creme Brûlée Coffee Recipe
This creme brûlée coffee is so delicious and it's such an easy recipe to make. Mixes the sweet and creamy flavors of the classic creme brûlée dessert with a rich and smooth coffee.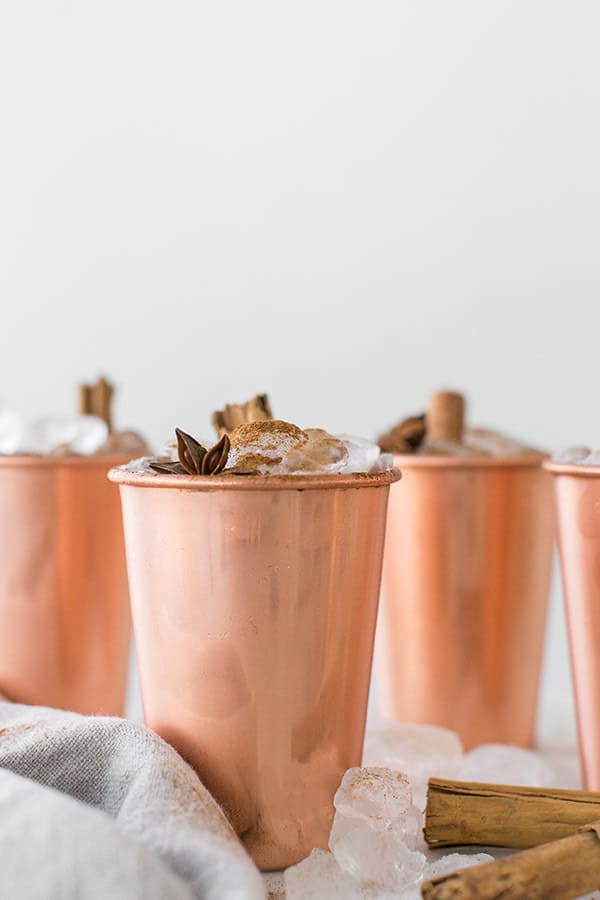 Chai Tea Cold Brew
This chai tea cold brew recipe is so smooth and refreshing, plus it's so easy to make! IT can chill in the fridge overnight for a deeper brew – delicious!
What are different coffee drinks?
There are so many different coffee drinks you can make at home. Here are a few of the classic ones:
Mocha
Latte
Cappuccino
Macchiato
Affogato
Brewed
Espresso
Iced Coffee
Cold Brew Coffee
For those of you who don't have an espresso maker at home, you can substitute brewed coffee for these drinks.
What Alcohol goes well with coffee?
You can add a splash of alcohol or liqueur to any of your coffee drinks. These are fun to serve during the fall and winter. Some even prefer a spiked coffee after dinner. Here are some of our favorite spirits:
Baileys Irish Cream
Whiskey
Bourbon
Kahlua
Did you know you can also make coffee ice cubes? They are so fun to use in iced drinks!
Let us know if you make any of these drinks and leave a comment below!
You can also FOLLOW US on FACEBOOK, INSTAGRAM, and PINTEREST to see more delicious recipes, cocktails, desserts and parties!