If you're headed to Stowe Vermont this winter, you must check out our favorite places to visit! Stowe is one of the most charming towns we've ever visited and we're sharing all the fun places to visit, eat and shop!
We couldn't resist our wanderlust this holiday, and took a magical trip to Stowe, Vermont for New Years! It was the winter wonderland I've always dreamt about and more, and the perfect way to ring in the new year.
I actually contemplated bearing their 6 months of winter to live there… that's how charming Vermont is! Of course, we decided home is where the heart is, but I mean it was a close call, I tell ya!!
Everywhere you looked, there was a charming home covered fluffy, white snow or another picturesque photo op. It was Romeo's first time playing in "real" snow and we reaped the benefits by having giant snowballs thrown at us every few seconds! He was enthralled with the snow!!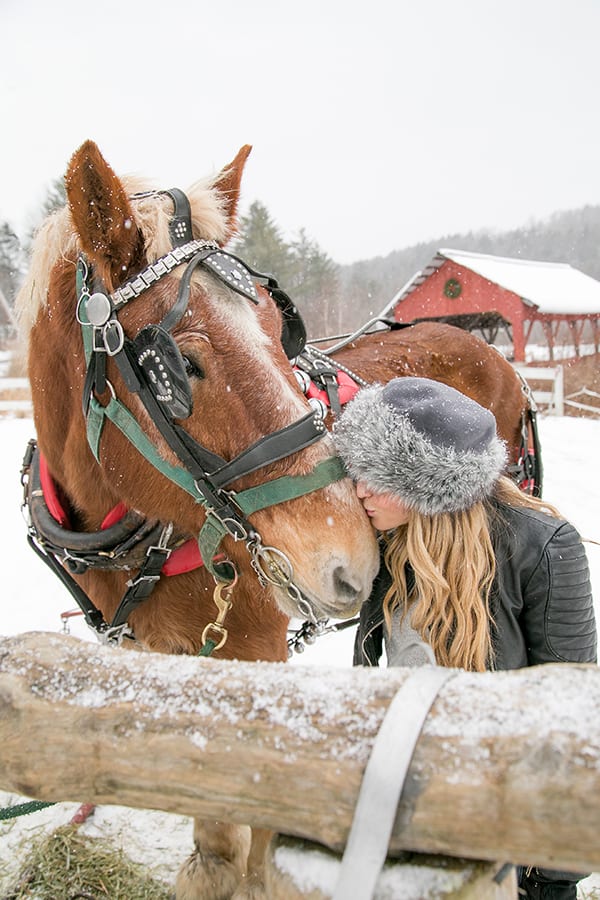 We stayed at the Green Mountain Inn, in the storybook town of Stowe. I absolutely loved this hotel since it was perfect for families and located in the center of the town. We walked to dinner, coffee and to the little shops on the main street.
We visited Ben and Jerry's ice cream factory, went on a sleigh ride, rented sleds, swam in the hotel's outdoor heated pool and hot tub in 28 degree weather! Giant, beautifully-shaped snowflakes were falling down, it was amazing. We had a few beers at Hill Farmstead Brewery!! It was rated one of the best breweries in the world and it was by far some of the best beer I've ever had.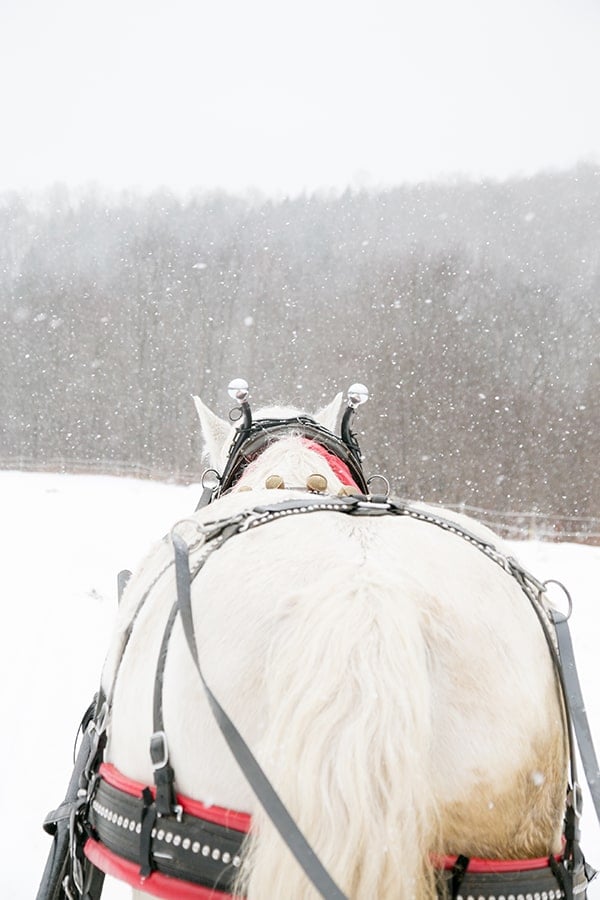 It was one of my favorite family vacations so far and I dream of the day we can return to Vermont! I've heard the spring, summer and fall are just as beautiful. Here's a little guide to what we did below.
Where to Eat in Stowe Vermont
Plate – My favorite restaurant for dinner.
Michael's on the Hill – Fine dining and very charming atmosphere!!
The Whip Bar and Grill – We sat at the bar and had dirty martinis and appetizers. Romeo, of course, had buttered noodles, haha!
Piecasso Pizza – Very yummy pizza and great drinks. We loved this place for lunch after our sleigh ride. Not the most charming decor, but fun atmosphere.
Black Cap Coffee – Latte's and breakfast sandwiches were delicious.
Where to Shop in Stowe Vermont
Stowe Mercantile – My favorite store on Main Street! So much fun stuff to browse from old fashioned candy, toys to unique kitchen items! Also, great selection of cheese and wine to make your own cheese plate for a night in!
Cold Hollow Cider Mill – Some of the best cider I've ever tasted. Cider donuts are yummy too… not too sweet and just right.
What to Do in Stowe Vermont
Gentle Giant Sleigh Rides – Independently owned, great service and a fun sleigh ride.
Sledding – Rent them from Shaw's General Store and sled behind the elementary school!
Trap Family Lodge – Skiing for the family!
Ben & Jerry's Factory Tour – Take a 30-minute factory tour, then walk up to the ice cream graveyard (haha), and a few scoops at the scoop shop. They also have snowshoe tours, which we didn't do but seemed very cool!
Hill Farmstead Brewery – about a 45-minute drive, but worth it if the roads are good. The beer is SO good and you can only buy it there. If you're able to drive home (we obviously had to fly) I would bring a cooler and stock up!
Snowmobiling – We didn't get to do this because we were traveling with a toddler, but I LOVE snowmobiling and I can only imagine how amazing it is in Vermont!!! If anyone does this, let me know!!
The houses in Stowe Vermont are storybook homes! They are stunning and when covered in a blanket of fresh white snow, you feel like you're in a snowglobe!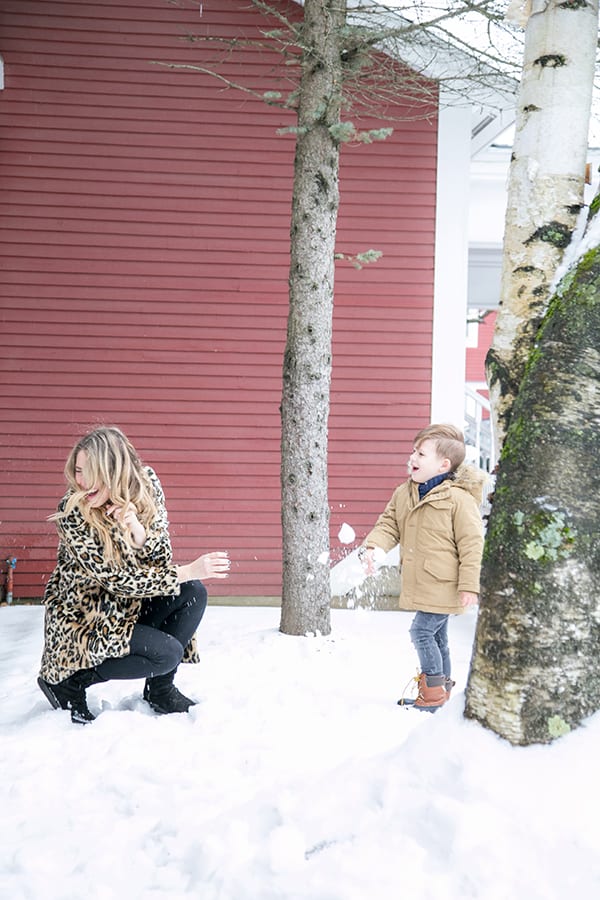 Snow fights were a common occurrence with our little boy! I didn't mind, we had such a wonderful time!
I still DREAM of the beer we had at Hill Farmstead Brewery. Unfortunately, you can't buy the beer anywhere but the tasting room! So it's worth the drive and make sure you stock up!! Already dreaming of our time back where we can load up on beer to bring home!
Visiting Ben & Jerry's is a must if you're in Vermont!
More Charming Travels You'll Love!
What to Do with One Day in Big Sur
10 Reasons to Visit Carmel By the Sea
Charming Travels to Scandinavia
Charming photos by Zan Passante for Sugar and Charm