The best Mexican dessert recipes for a Cinco de Mayo celebration, taco Tuesday, or a Mexican-themed party! These are popular Mexican desserts that can be made at home. From decadent cakes to easy fruit platters. We're sharing all of the Mexican dessert ideas and recipes you need!
We're diving into the wonderful world of Mexican desserts. We've got a real love for Mexican food, and this of course extends to authentic Mexican desserts. If you're a frequenter of Mexican restaurants, then you might already be familiar with some of these, and if not, you're in for a real treat.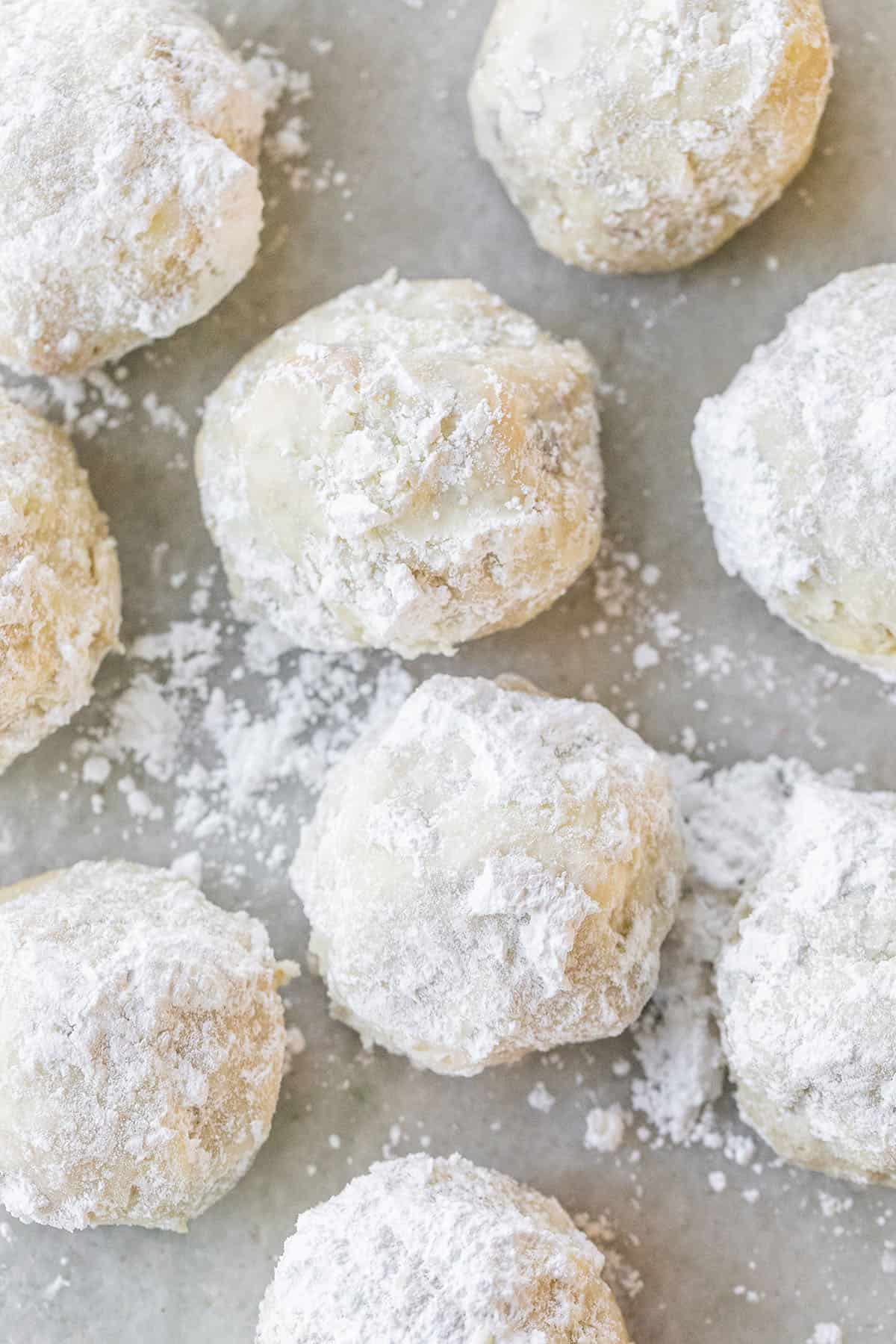 These Mexican dessert recipes are perfect for all of you out there with a sweet tooth, because they're mostly rich and sugary. These desserts would be perfect if you're attending a special occasion, want to give someone a homemade gift, or celebrating Cinco de Mayo.
Over 20 of The Best Mexican Desserts to Make
From fried ice cream and caramel flan to sopapillas and traditional churros, there's a tasty Mexican treat for everyone!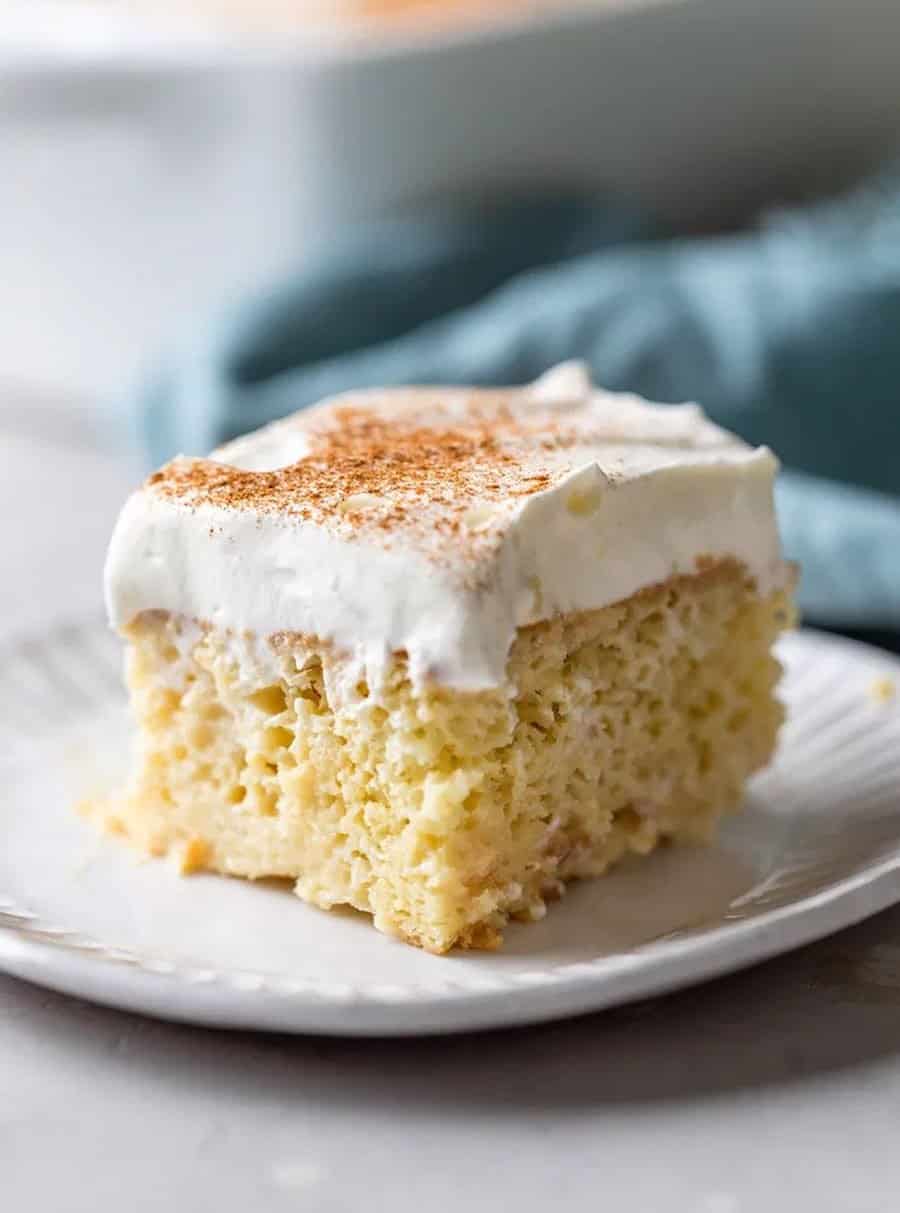 Tres Leches Cake (not to be confused with dulce de leche cake) is a sponge cake you soak in three kinds of milk. Hence the name tres leches! The kinds of milk you'll be using are evaporated milk, condensed milk, and heavy cream.
Here are two more popular tres leches cake recipes and authentic tres leches cake to make for a party.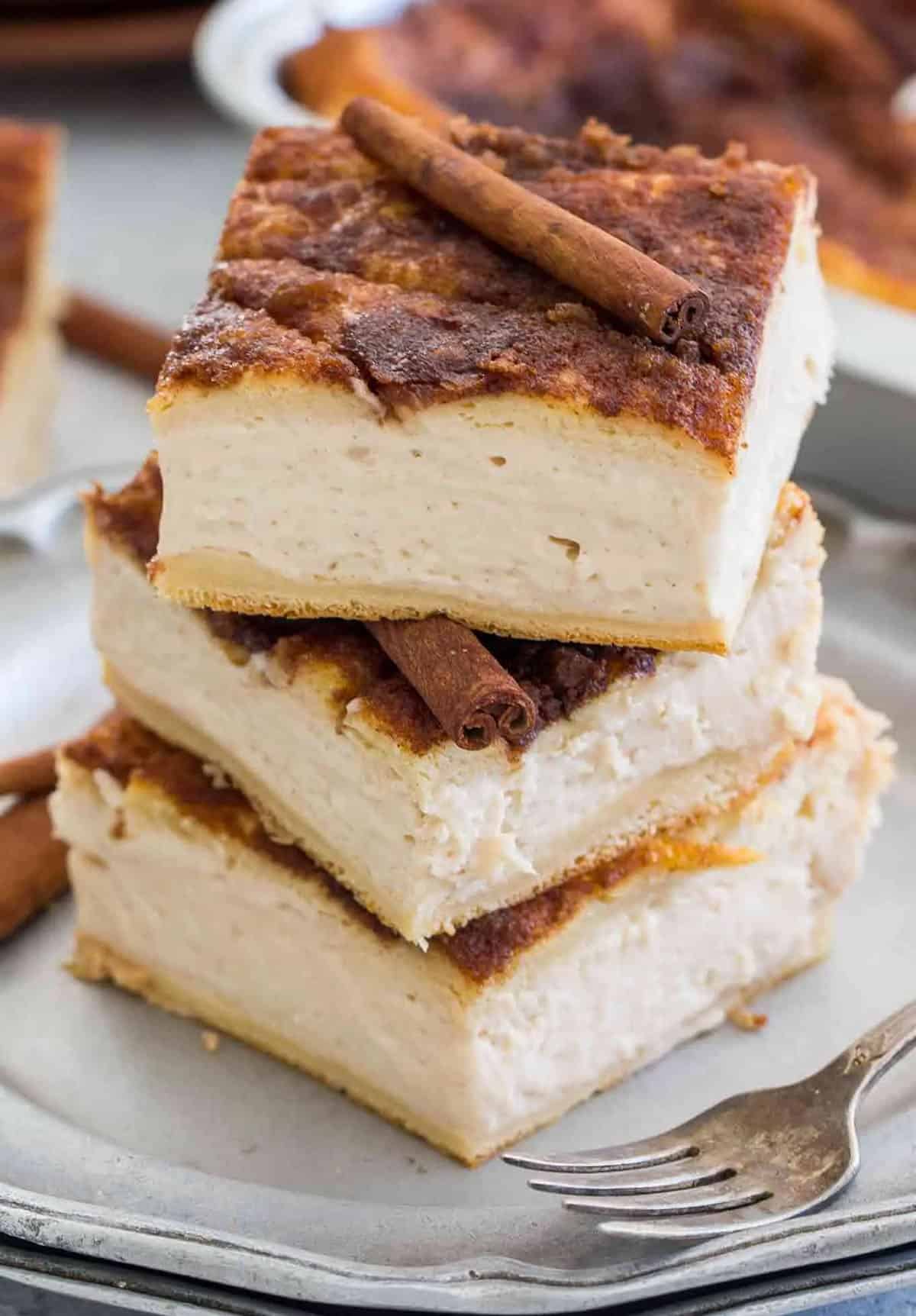 Sopapilla is a deep-fried dessert that's the perfect mix of sweet and crunchy. It can take many different forms, but these cheesecake bars are one of my favorite ways to use sopapilla. You can use either honey or agave to sweeten this dessert, just be sure to use a lot!
Here is another Sopalilla cheesecake recipe that you will love.
Reciep and Image via Sweet & Savory Meals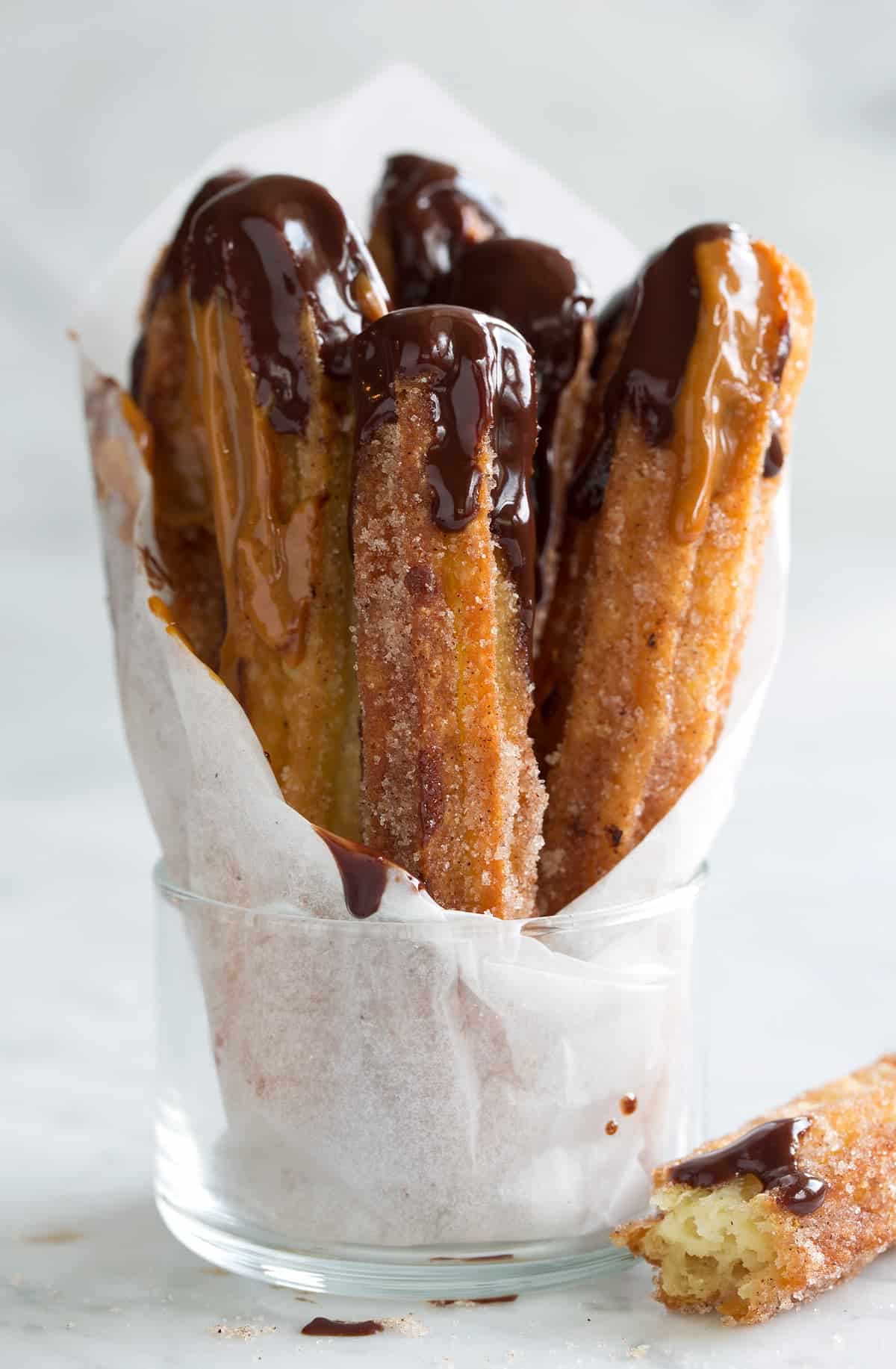 Churros are a fried pastry, similar to a donut but in the shape of a long tube. They are crispy, tender, buttery, and coated with cinnamon and sugar.
The surface of a churro is ridged due to having been piped from a bag into the hot oil. Churros are can come in different shapes such as straight, curled, or spirally twisted.
Image and recipe via Cooking Classy.
In Spanish: pastel de elote, this is a super easy recipe. This sweet Mexican corn cake is distinct from American cornbread. This cake is loaded with fresh corn and sweetened with condensed milk.
Recipe and image via Muy Delish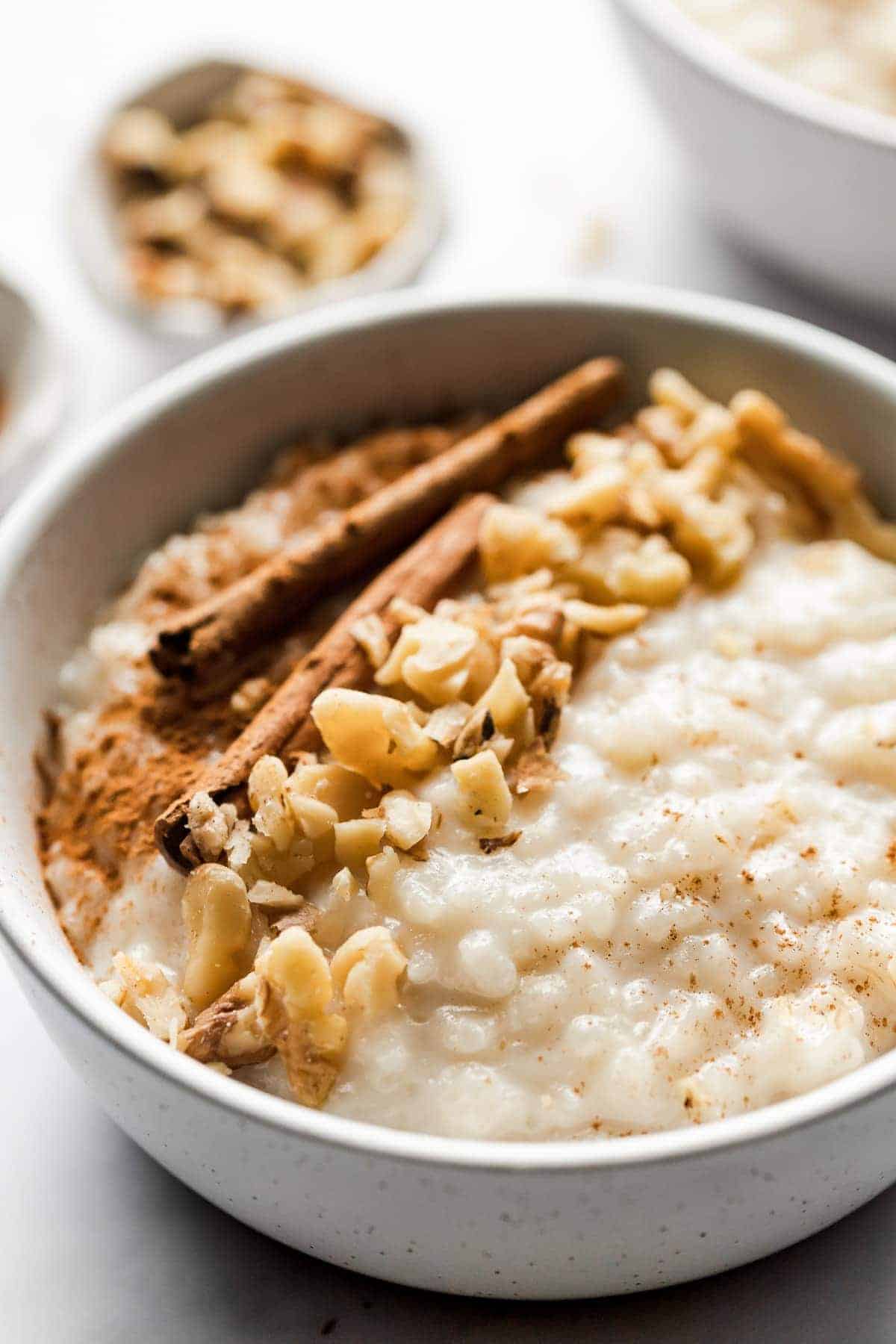 Arroz Con Leche (also known as Mexican rice pudding) is a super popular dessert in Mexican homes. It can actually either be a sweet treat or a savory meal. When it's being served as a dessert, sweeteners such as sugar and spices such as cinnamon (or cinnamon sugar) are commonly added.
For this pudding, you'll need milk, sugar, rice, and cinnamon.
Recipe and image via Isabel Eats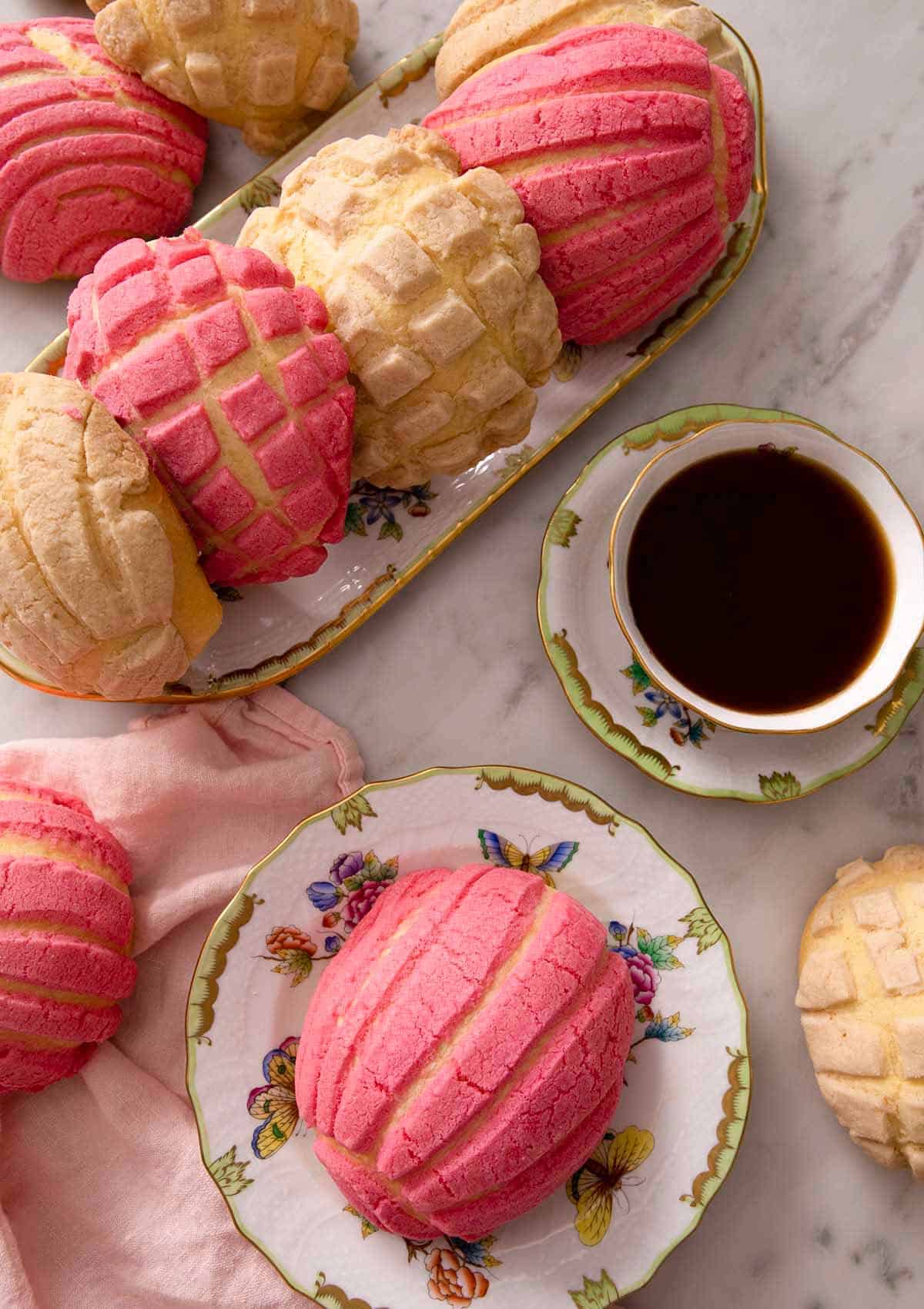 Mexican sweet bread is something you'll find in any typical Mexican grocery store. It's also called a concha, and it's a staple in Mexican households. Conchas are usually topped with sugar frosting and sometimes even have sprinkles.
We love Preppy Kitchen's pink Pan Dulce. It's so colorful and is perfect for Mexican baby or bridal shower.
Here is another Pan Dulce recipe to try!
Image and Recipe via Preppy Kitchen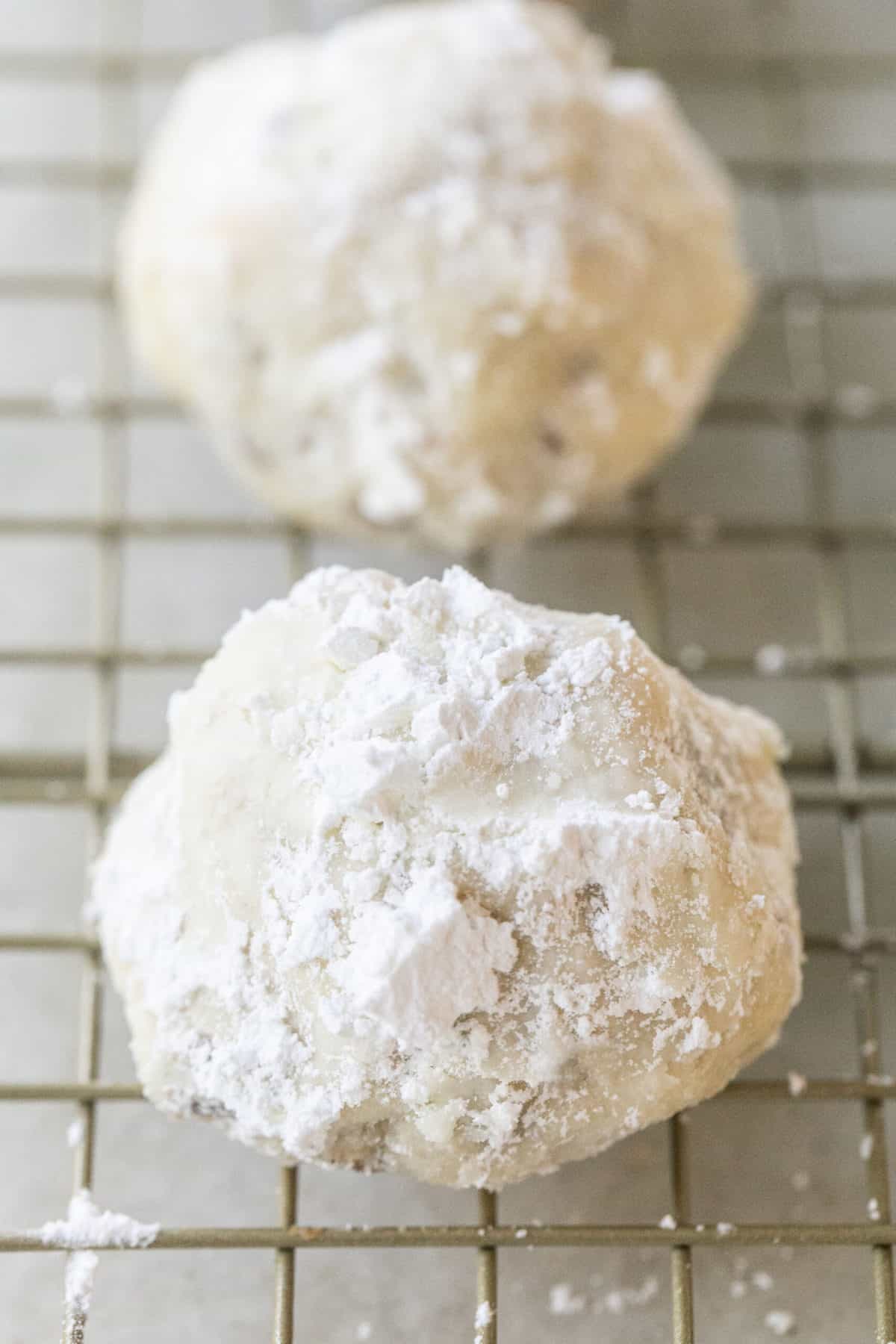 These cookies are made with a unique type of dough that contains no egg. The main ingredients are butter and sugar. They'll also always feature some type of nut, usually either pecans or walnuts.
These cookies are also called polvorones, snowballs, and butterballs. They are dainty cookies that are sweet and buttery.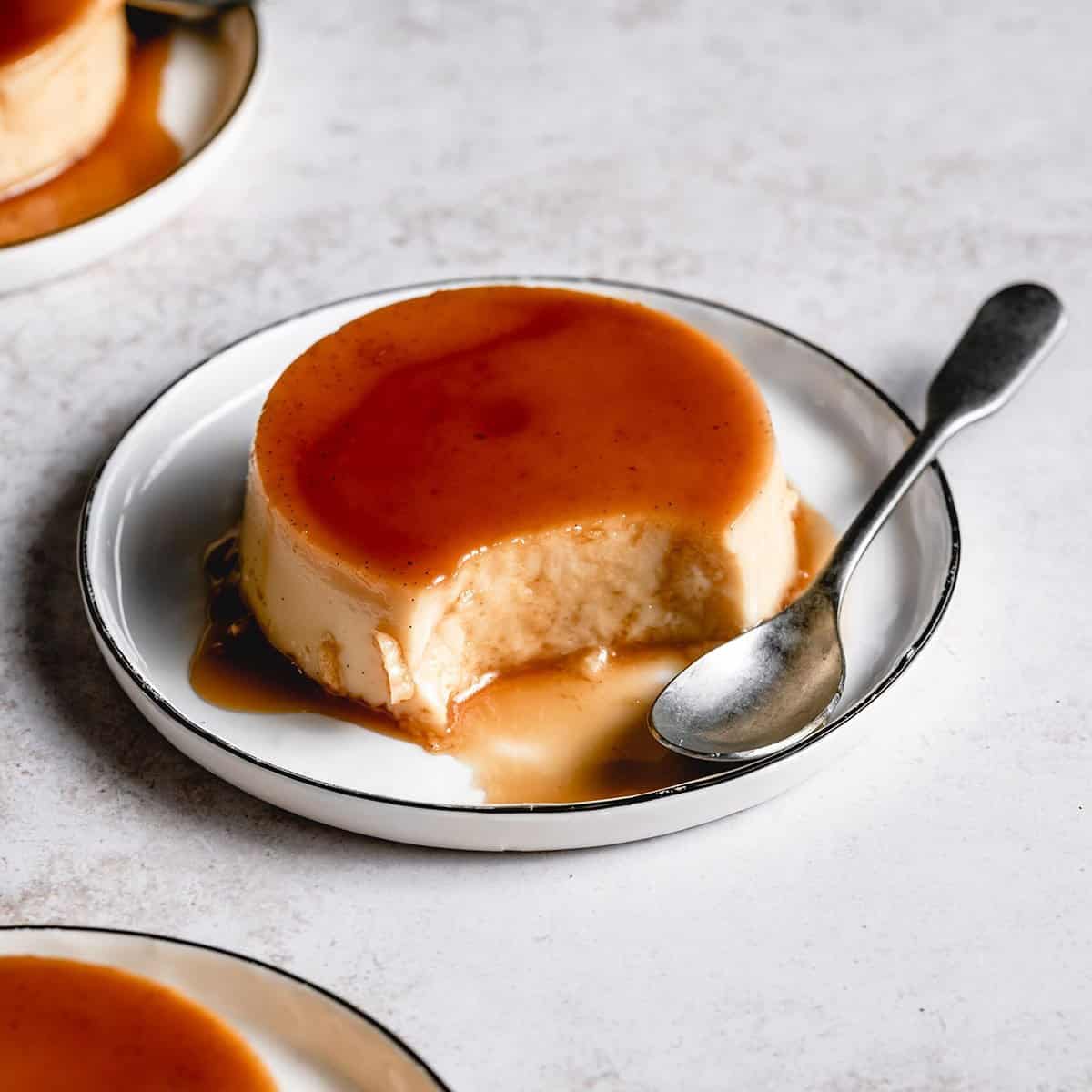 Mexican flan is a delicious, soft, and sweet cake made using whole eggs, condensed milk, and evaporated milk. Variations of this recipe sometimes use cream cheese or coconut milk. The whole cake is then topped off with delicious sugar syrup. A caramel flan is one of our favorite Mexican desserts!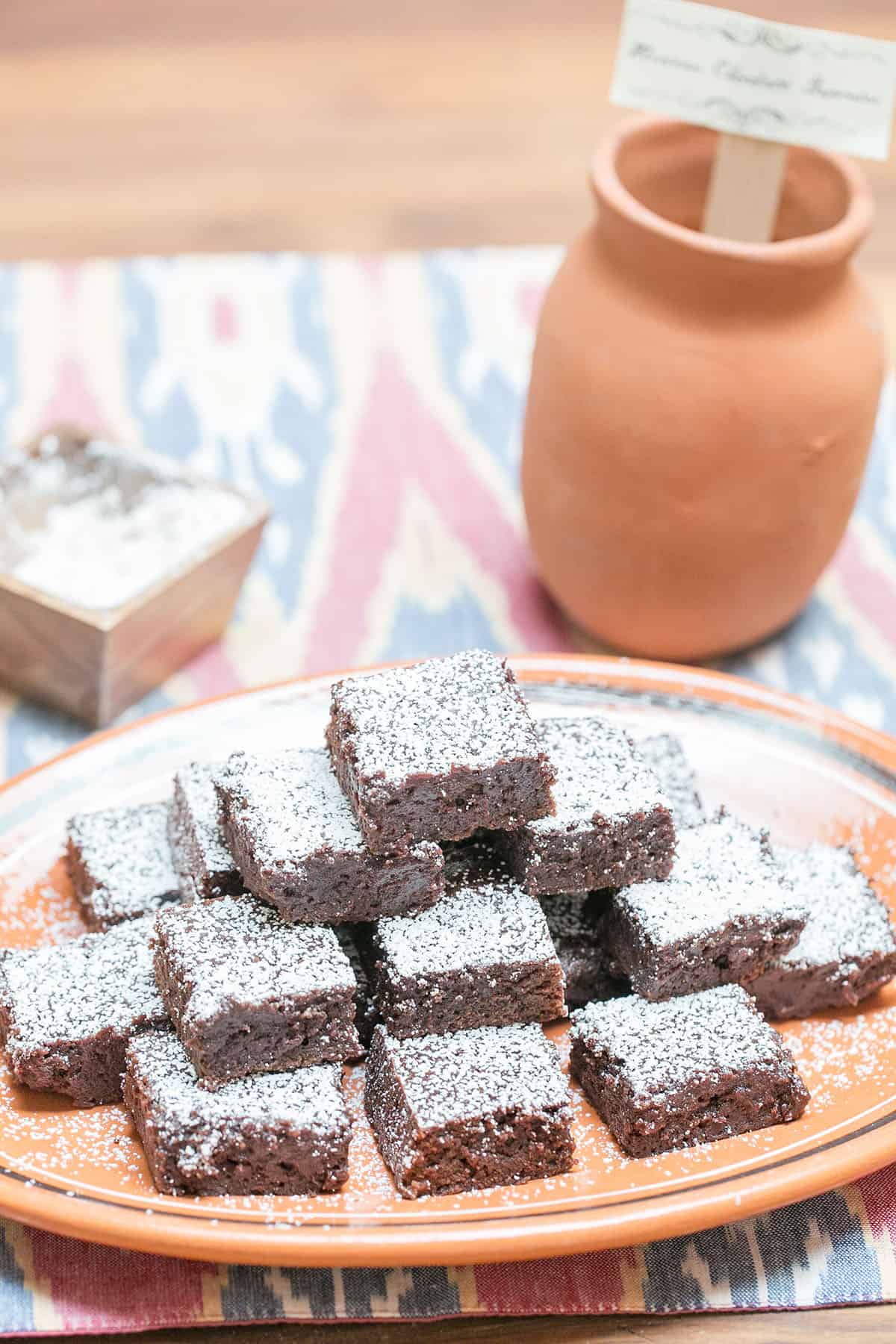 This is one of our favorite Mexican brownie recipes. Filled with spices and cocoa, these brownies are super moist and incredibly flavorful. Serve them with horchata for a fabulous afternoon snack or party dessert.
Mexico has a long and fascinating history with chocolate. Of course, I couldn't make a list of my favorite Mexican sweets without including Mexican hot chocolate. One of the key ingredients in Mexican hot chocolate is chili powder which cuts the richness of the chocolate a little bit and adds in a much welcome kick.
These Mexican Hot Chocolate marshmallows would go well with the hot chocolate.
Since cacao was first cultivated by the indigenous peoples of Mexico, chocolate sauce is a popular dessert in Mexico. This sauce is perfect for dipping churros or other sweet Mexican desserts. Mexican chocolate has flavors of cinnamon and chilis.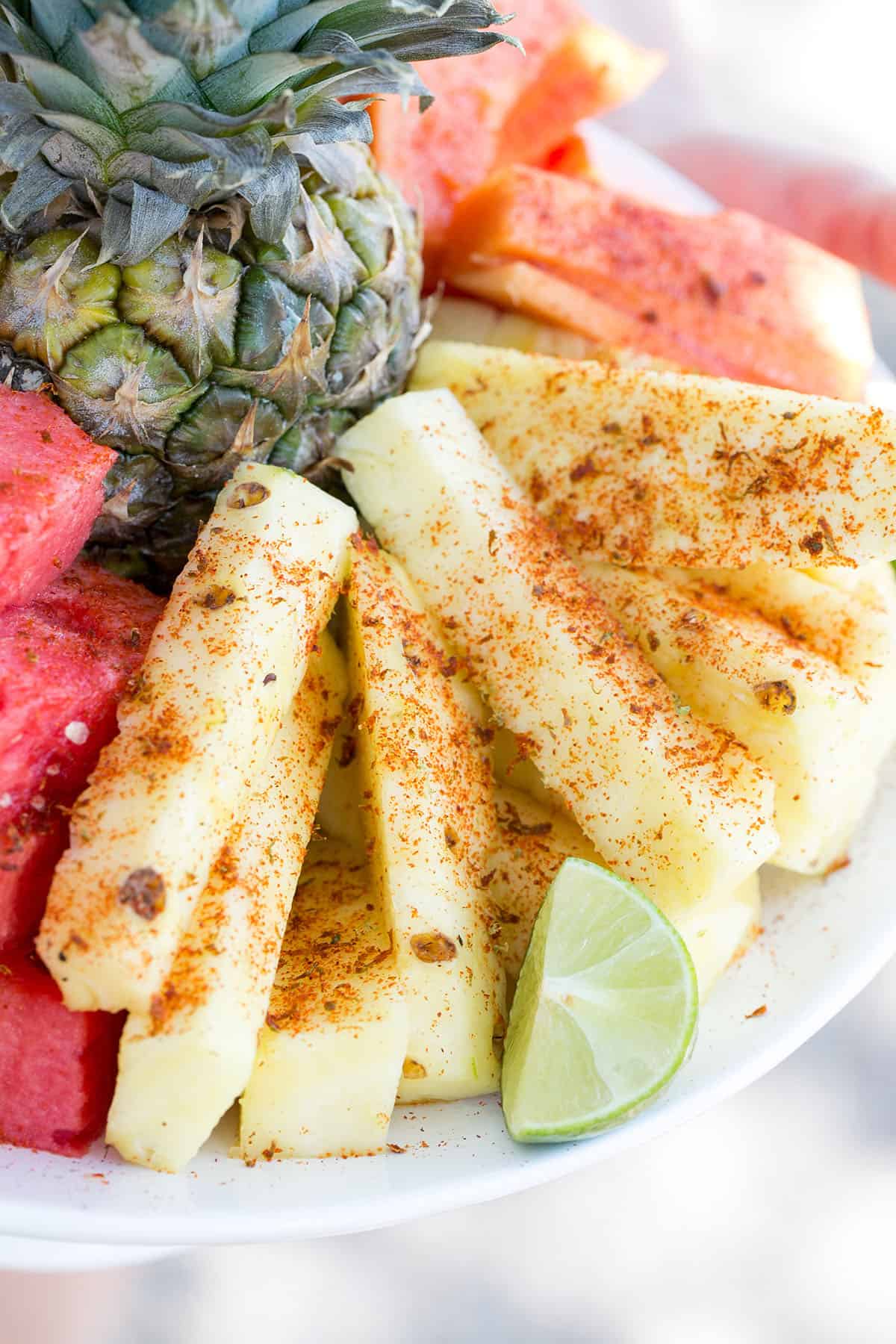 If you're looking for a healthy Mexican dessert, serve a beautiful fruit platter. Fresh fruit is commonly served in Mexican homes. Its bright and sweet flavor satisfies a sweet tooth and is refreshing on a hot summer day. We add a special spice to the fruit to give it a traditional Mexican flavor.
Mexican bread pudding, also known as Capirotada, is made in a baking dish with layers of bread, bananas, raisins, spices, and sweetened condensed milk. It's baked and served warm with a traditional drink. This incredible dessert is perfect for brunch and traditionally served during Easter.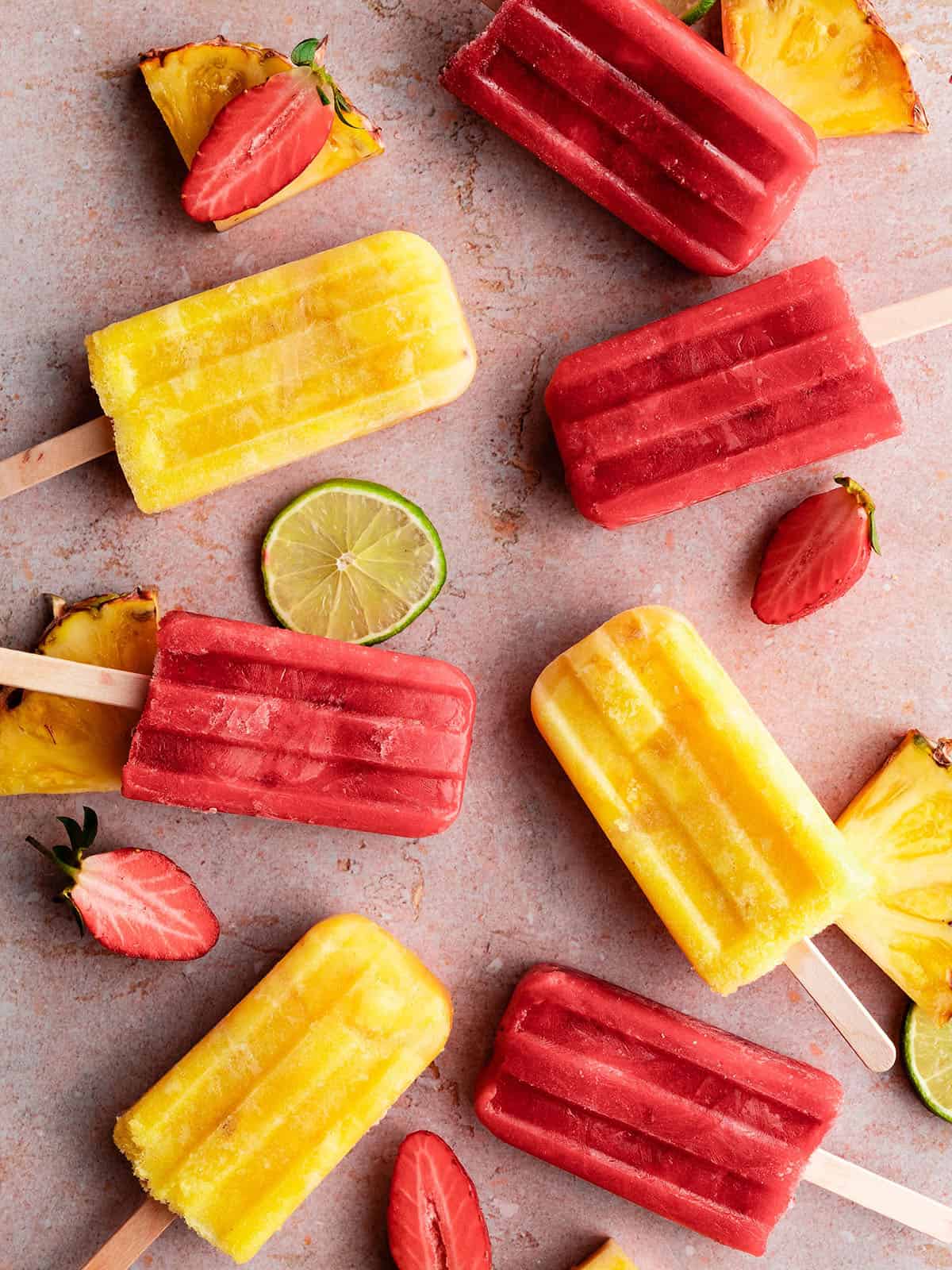 Paletas are ice pops, similar to popsicles. They are made with fresh fruit and frozen on a stick to enjoy. There are hundreds of recipes for Paletas made with all different types of fruit. They are great summer desserts to serve when it's super hot outside!
Check out these mango paletas too.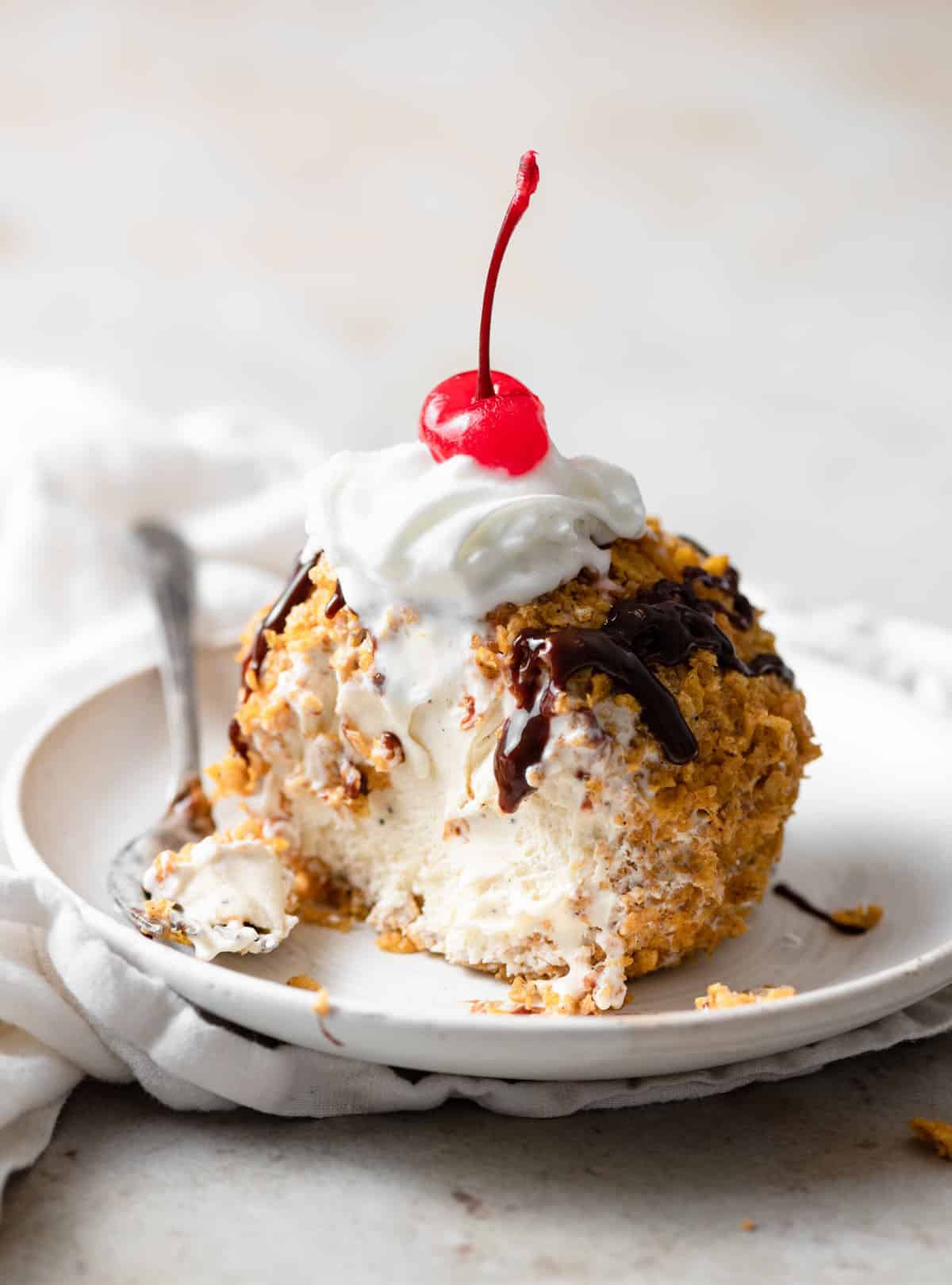 This is more of an American-Mexican dessert that is served at Mexican restaurants in the United States. It's a scoop of vanilla ice cream with a layer of cornflakes, which is then quickly fired. The crunchy texture and sweet flavor of ice cream make this a really delicious treat to enjoy.
Also, try this cornflake fried ice cream recipe.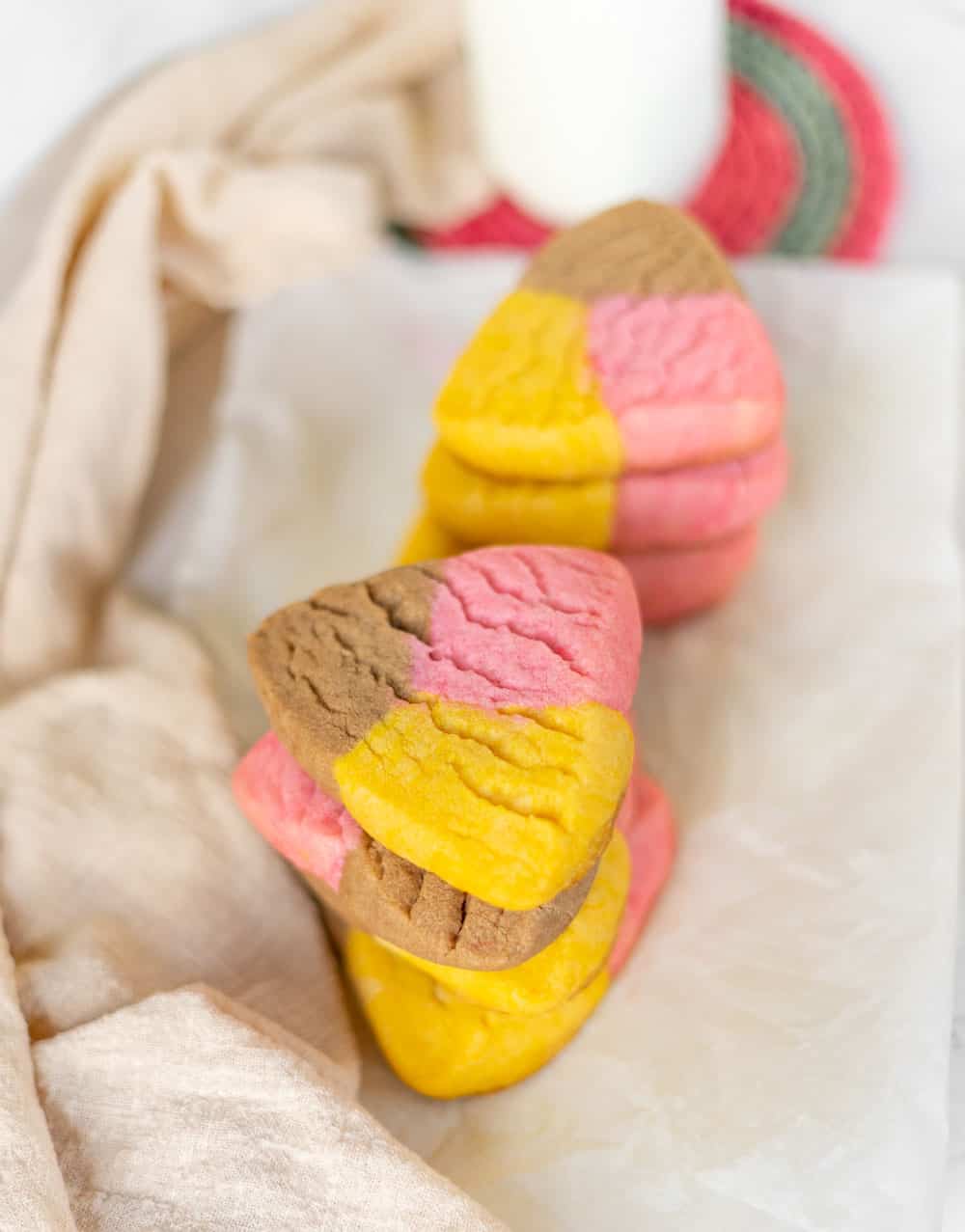 Polvorones – Traditional Colorful Mexican Cookies
These adorable, tri-colored cookies are essentially Mexico's version of a sugar cookie. They're a type of heavy, soft, and very crumbly shortbread made of flour, sugar, shortening, and milk.
Empanadas are usually a savory dish, however, sweet empanadas are one of our favorite desserts! They have a sweet, fruit filling and a wonderful buttery flaky crust.
Make them at home and enjoy switching out the filling. You can also fill them with chocolate sauce, yum!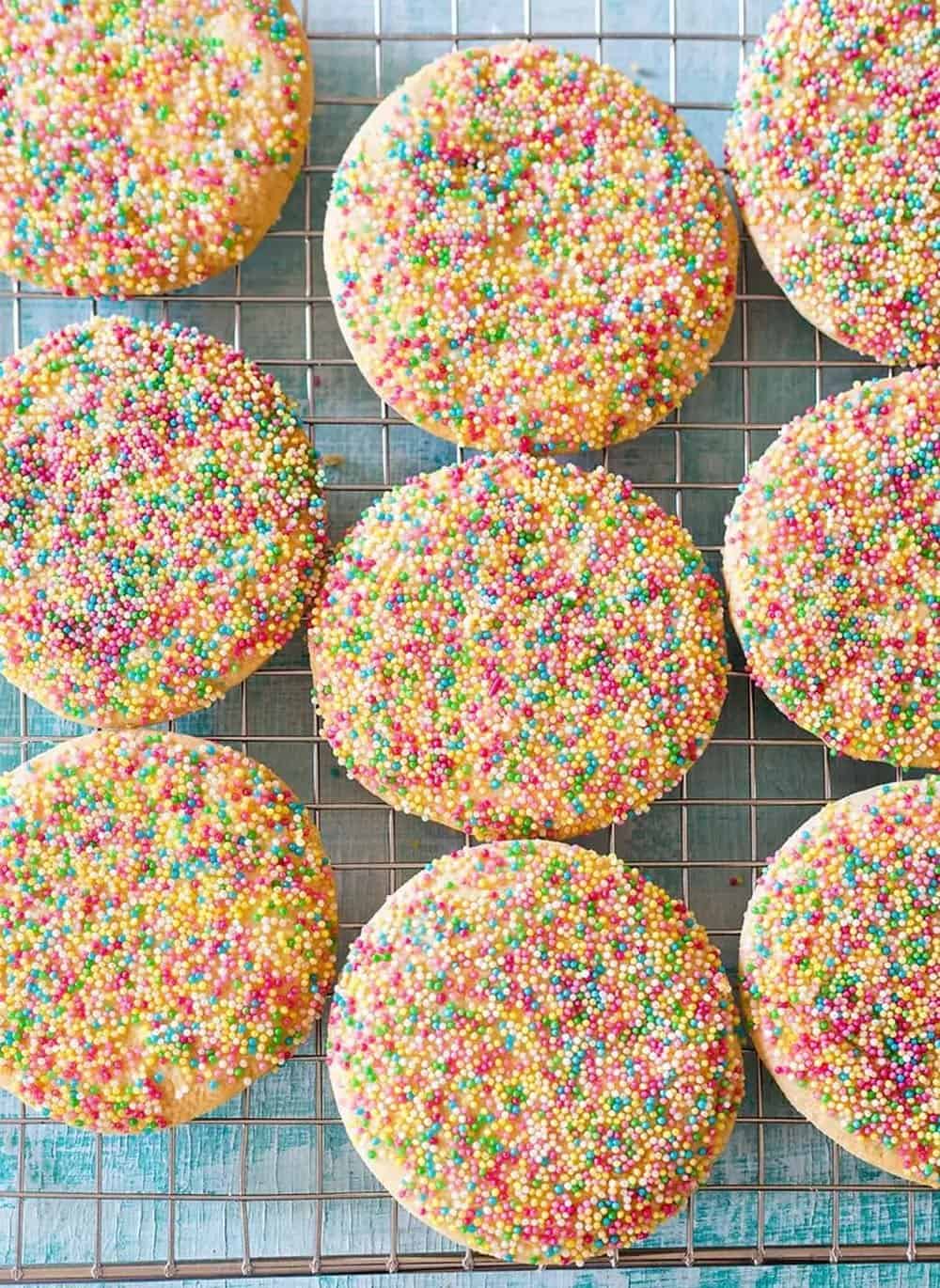 These cookies make us smile! Covered in sprinkles, you'll often find stacks of Mexican sprinkle cookies when you walk into a Mexican bakery. They are also known as polvorones and have a buttery cookie texture.
Image and recipe via M.A. Kitchen
A buñuelo is a fried dough fritter found that is popular in Latin America. They are light and airy with a nice crunch. They are served with powdered sugar and are perfect for parties or as a holiday treat.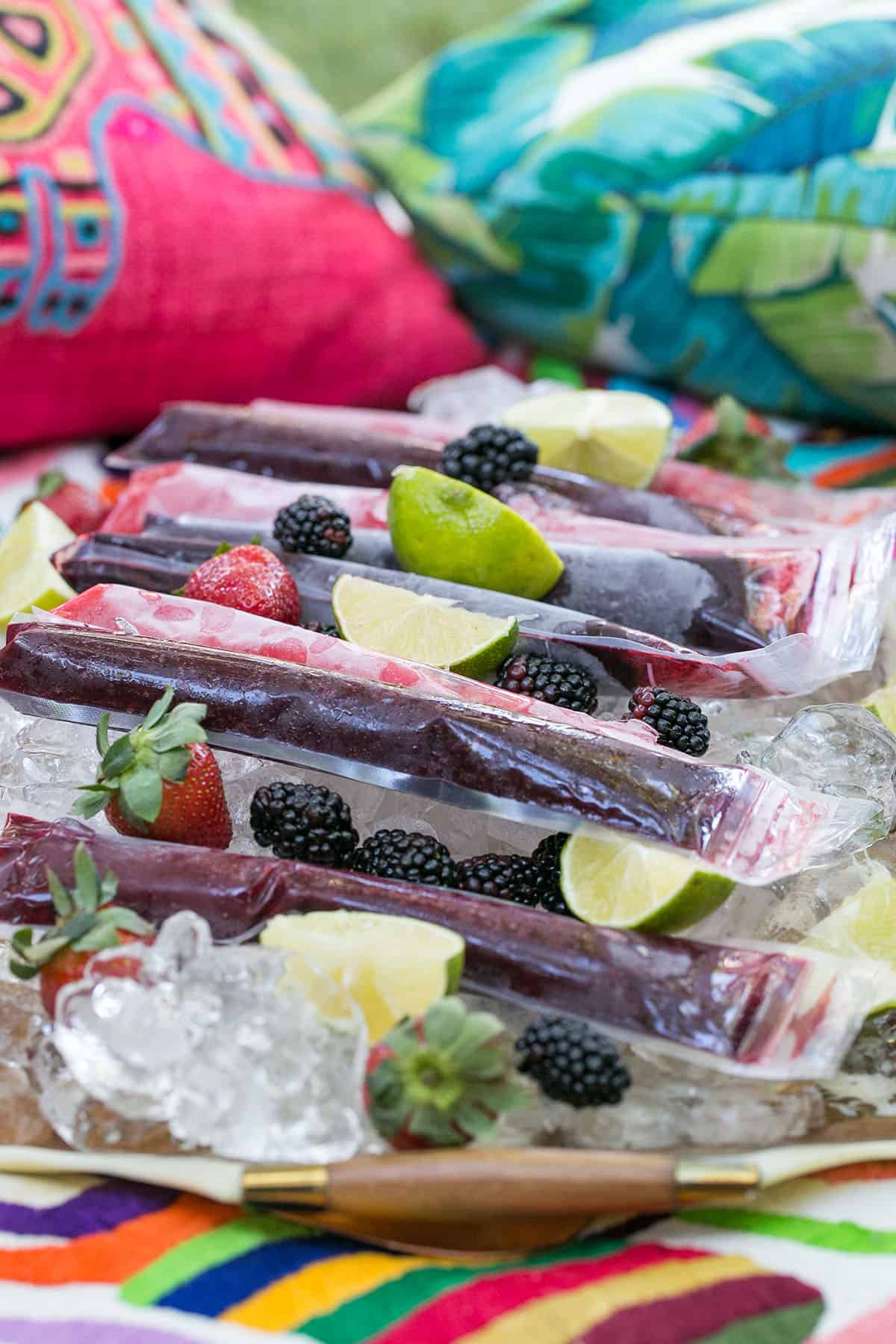 This is a fun twist on the classic margarita, but turned into a boozy dessert! Although not a traditional Mexican dessert, we love making these boozy margarita ice pops for summer parties. They're fun to make and serve and you can be creative with the flavors!
Horchata is a very popular Mexican drink made with rice and cinnamon. You can also turn this refreshing drink into ice cream! We've had horchata ice cream several times and it's always such a hit.
When to Serve Delicious Mexican Dessert Recipes
These classic Mexican desserts are great for parties or if you're serving Mexican cuisine and want something sweet. Here are some ideas for when you can serve traditional Mexican desserts:
Mexican Wedding Celebration
Mexican feast
If you're hosting a Mexican party and need a fun activity, try making sugar skulls. They are made with sugar, molded into skulls, and decorated with frosting.
What to Serve with Mexican Desserts
When serving Mexican desserts, it's also nice to serve some drinks and fruit. Here are some of our favorite recipes to serve with Mexican desserts:
Agua Fresca – A hydrating drink made with water, fruit, and sugar. Serve this in large pitchers for a party.
Horchata – A rice milk drink with cinnamon and sugar.
Margarita – Sip on some margaritas while enjoying a classic dessert.
Fruit – A festive fruit platter always goes well with dessert.
Tequila Cocktails – Serve any of these refreshing tequila cocktails with these desserts.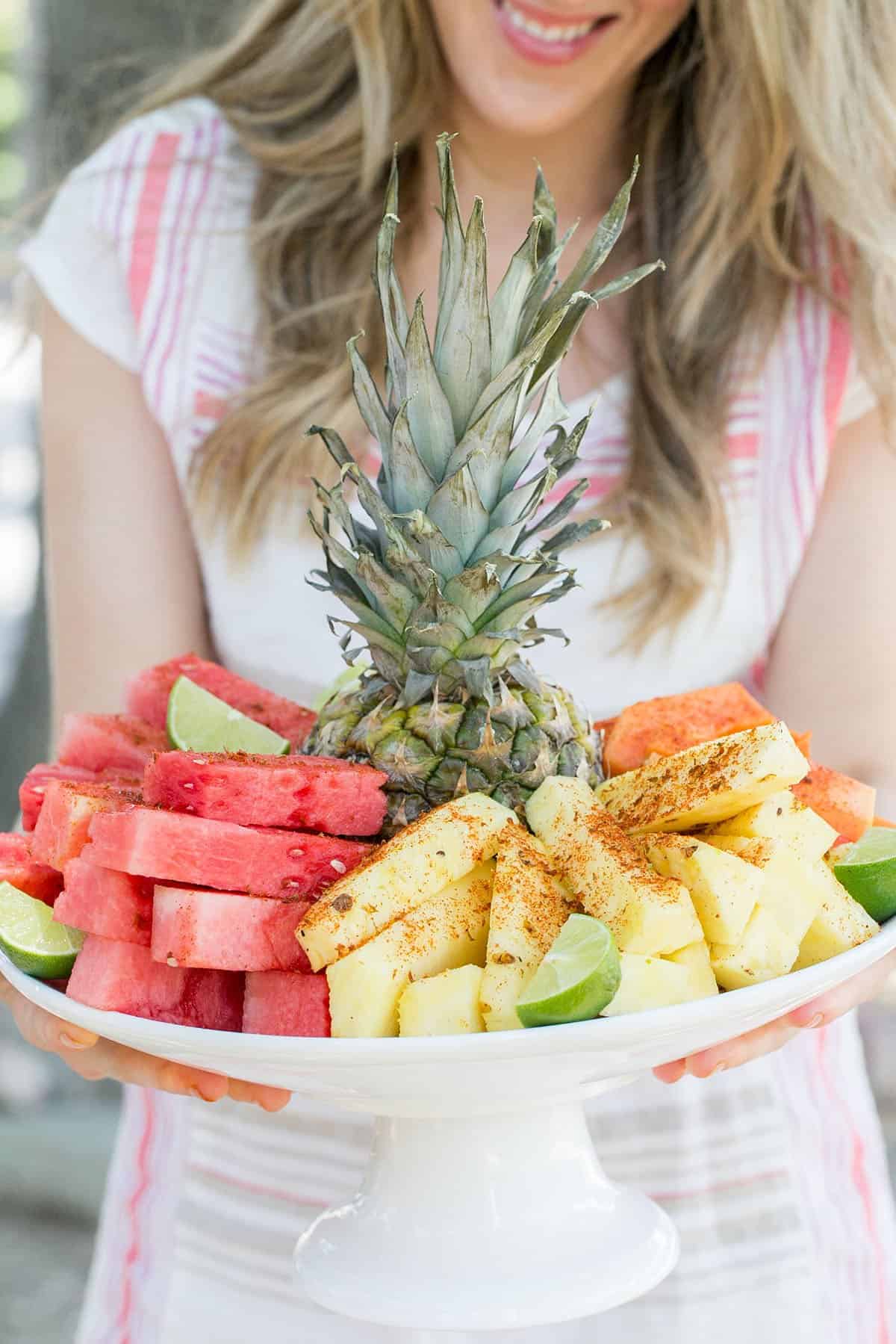 Frequently Asked Questions
What is a popular dessert in Mexico?
Here are six popular traditional Mexican dessert recipes:
Flan
Paletas
Tres Leches Cake
Mexican Wedding Cookies
Cocada
Pan Dulce
What are Mexican treats?
Mexican treats are homemade desserts or sweet candy from the store. If you've ever walked into a Mexican grocery store, it's filled with fun treats! From candy to pastries that fill a bakery.
Check out The Ultimate Guide to Mexican Snacks for more information on fun Mexican treats.
Mexican Desserts
The above are just a small fraction of our all-time favorite Mexican desserts. The truth is if we were to name them all, we'd be here all day! I hope these recipes have inspired you to cook your own at home.
We hope you make these desserts for your next gathering and bring the flavors of Mexico into your home. Leave a comment and review below and let us know which one you love the most!
You can also FOLLOW US on FACEBOOK, INSTAGRAM, and PINTEREST to see more delicious recipes, cocktails, desserts, and parties!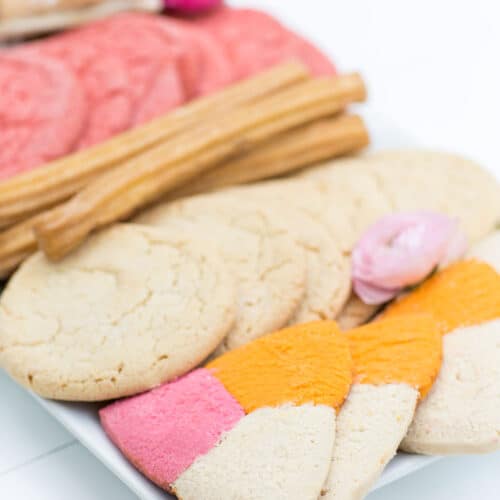 Mexican Desserts – Cookie Platter
Now that you have a good list of the best Mexican desserts, here's an easy one if you're hosting a quick party and don't have time to bake!
Print
Pin
Rate
Ingredients
10

Polvorones

10

Mexican Wedding Cookies

10

Churros

10

Mexican Sprinkle Cookies

1

cup

Mexican Chocolate

4

Mexican Conchas
Instructions
You can buy these cookies and desserst at your local Mexican grocery store.

Place the cookies on a large platter.

Add the mexican chocolate in a small bowl on the platter too.
Notes
If you don't have time to bake a Mexican dessert, head to your local Mexican bakery and buy traditional Mexican cookies. They're colorful, flavorful and make a wonderful platter!