A rich and creamy hokey pokey ice cream recipe with chunks of homemade honeycomb. We use one of our favorite ice cream bases and then stir in a delicious homemade honeycomb!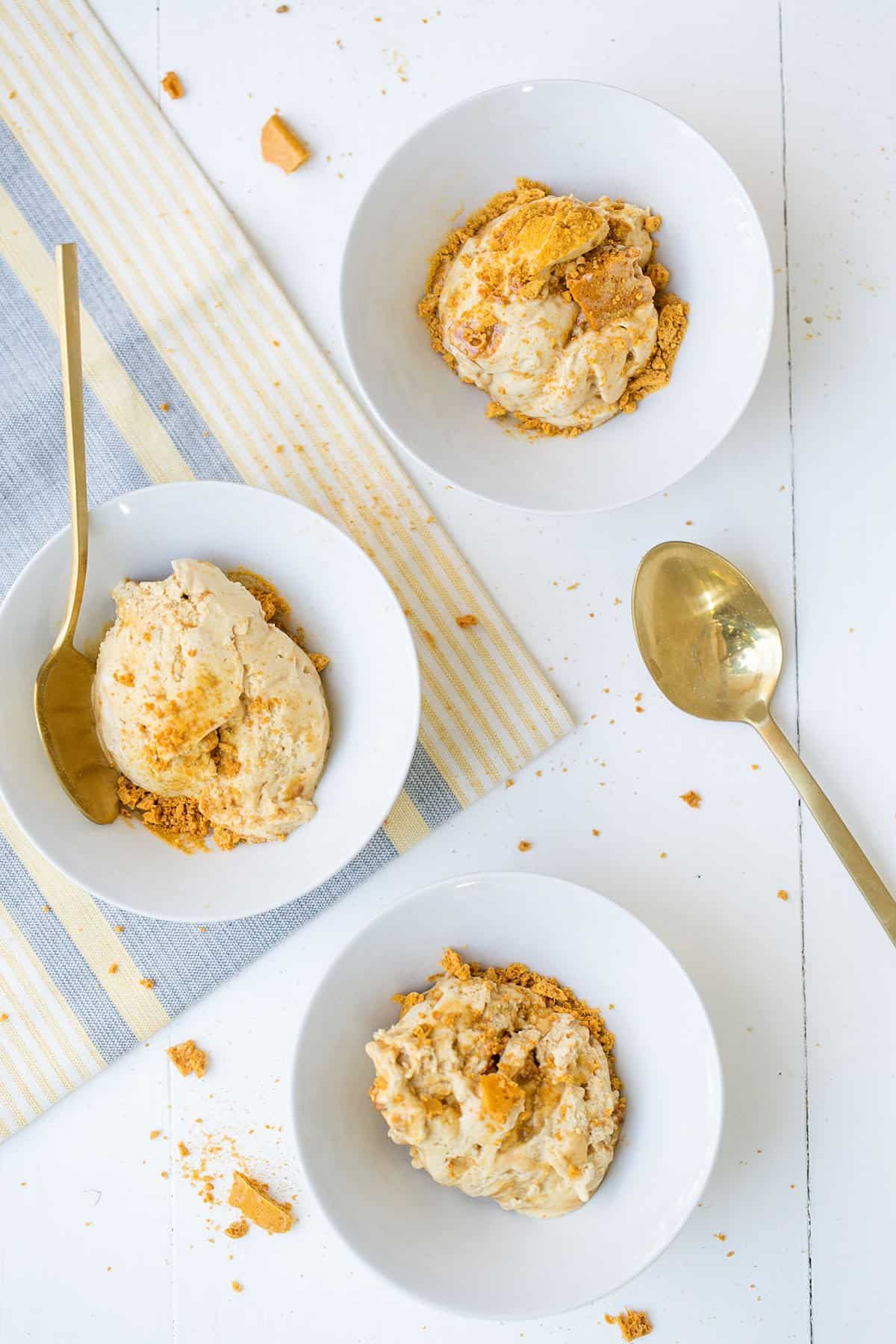 Known for its kind hospitality, very friendly people, crystal clear blue waters, and lush green mountains, New Zealand has been on my travel list for a while.
It's been on my husband's because they shot the breathtaking Lord of the Rings Trilogy there! After watching this absolutely gorgeous video, I know I need to see it in person one day soon.
I would love to spend a few days eating, shopping, and exploring the metro areas of Auckland and Wellington and then off to the countryside to take it ALL in.
What a beautiful world we live in, right? And not to take away from the vast scenery of New Zealand (because really what compares?!), but I heard of a very popular flavor of ice cream in New Zealand called Hokey Pokey.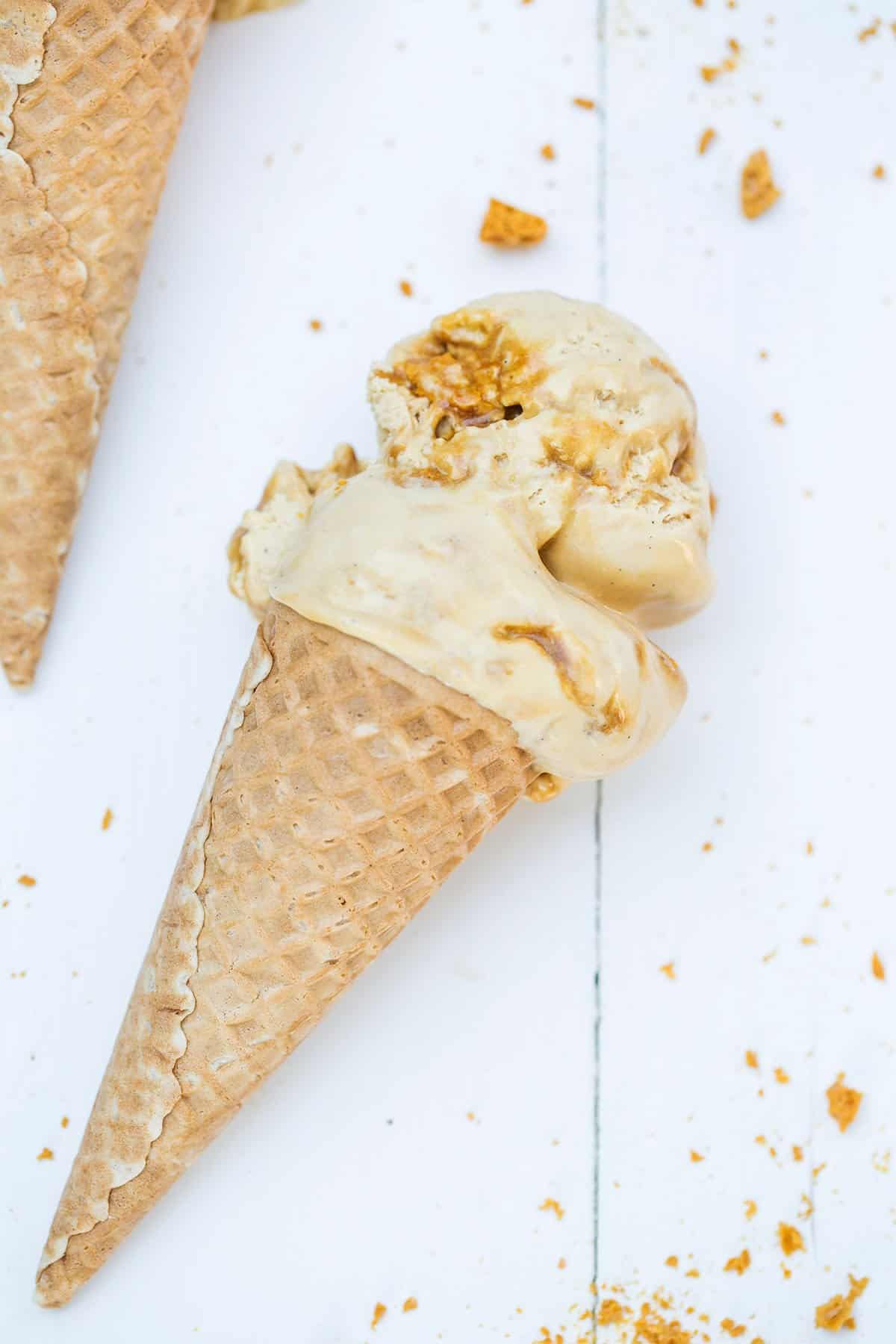 Pretty much everything I've read and what people have said is that it's a staple flavor at every ice cream shop in New Zealand and it's something you MUST try when you're there.
I am one of those people who search for the local faves when traveling, especially sweets! So in honor of New Zealand and my future vacation there (not booked, but fingers crossed!), I decided to make a homemade Hokey Pokey ice cream recipe and OH MY GOODNESS is it AMAZING! It makes you want to do the Hokey Pokey, turn yourself around, and eat more!
Hokey Pokey Ice Cream
The photos don't even do it justice. It's a super creamy vanilla-based ice cream that I used from Jeni's recipe and it's mixed in with a homemade honeycomb. The honeycomb creates a delicious, rich caramel taste with a light crunchy texture.
When the honeycomb is mixed into the ice cream, some of it melts and creates the most delicious swirl throughout the ice cream. I really can't tell you all enough how much you need to make this recipe!
I promise you won't be disappointed! New Zealand, I'm coming for you and your Hokey Pokey.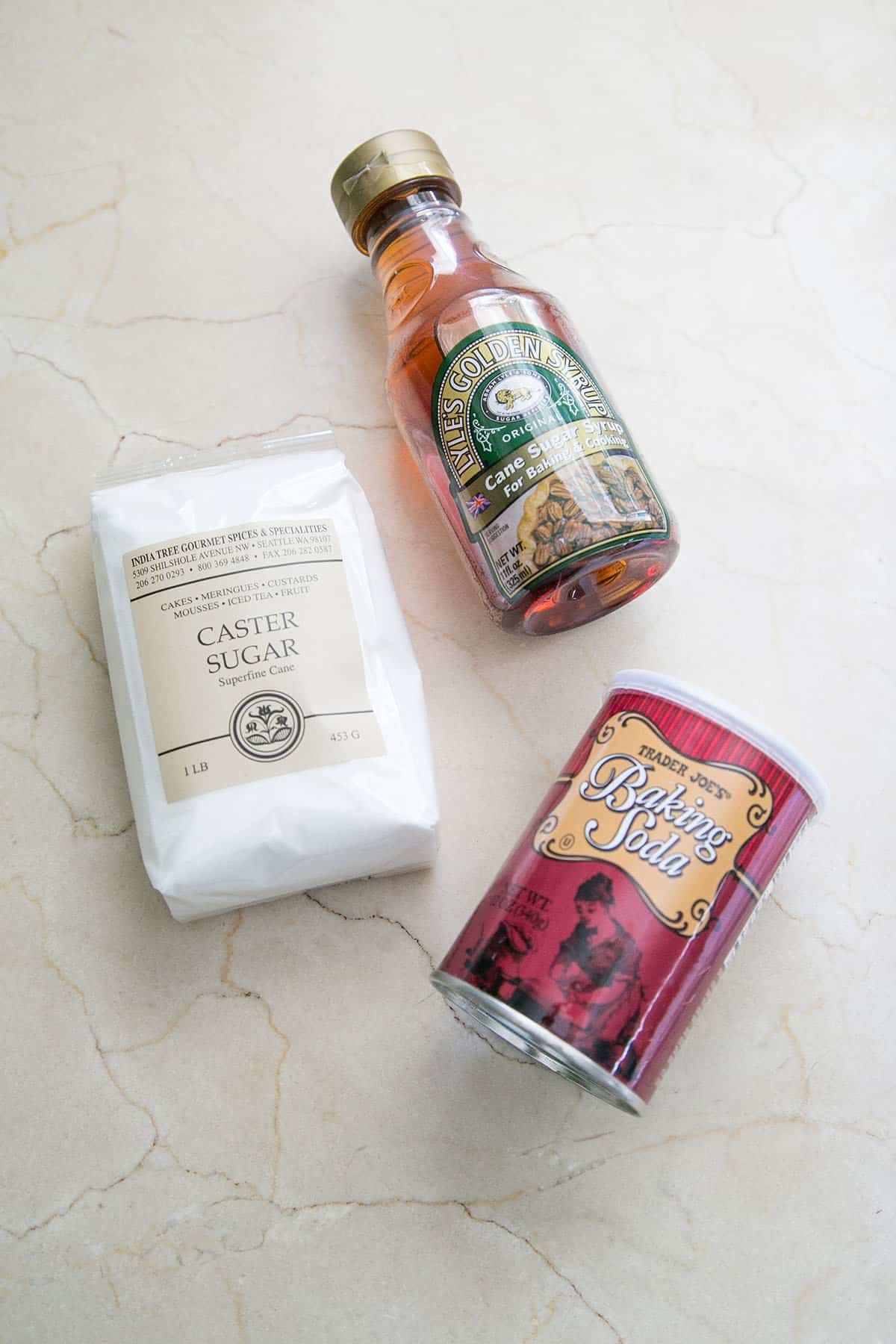 Ingredients
To make the honeycomb you'll need the following ingredients:
When to Serve This Dessert
Ice cream is a fun dessert to serve all year! Here are some of our favorite occasions to serve it:
Birthday Party it's also perfect for a last-minute birthday party!
After Dinner Treat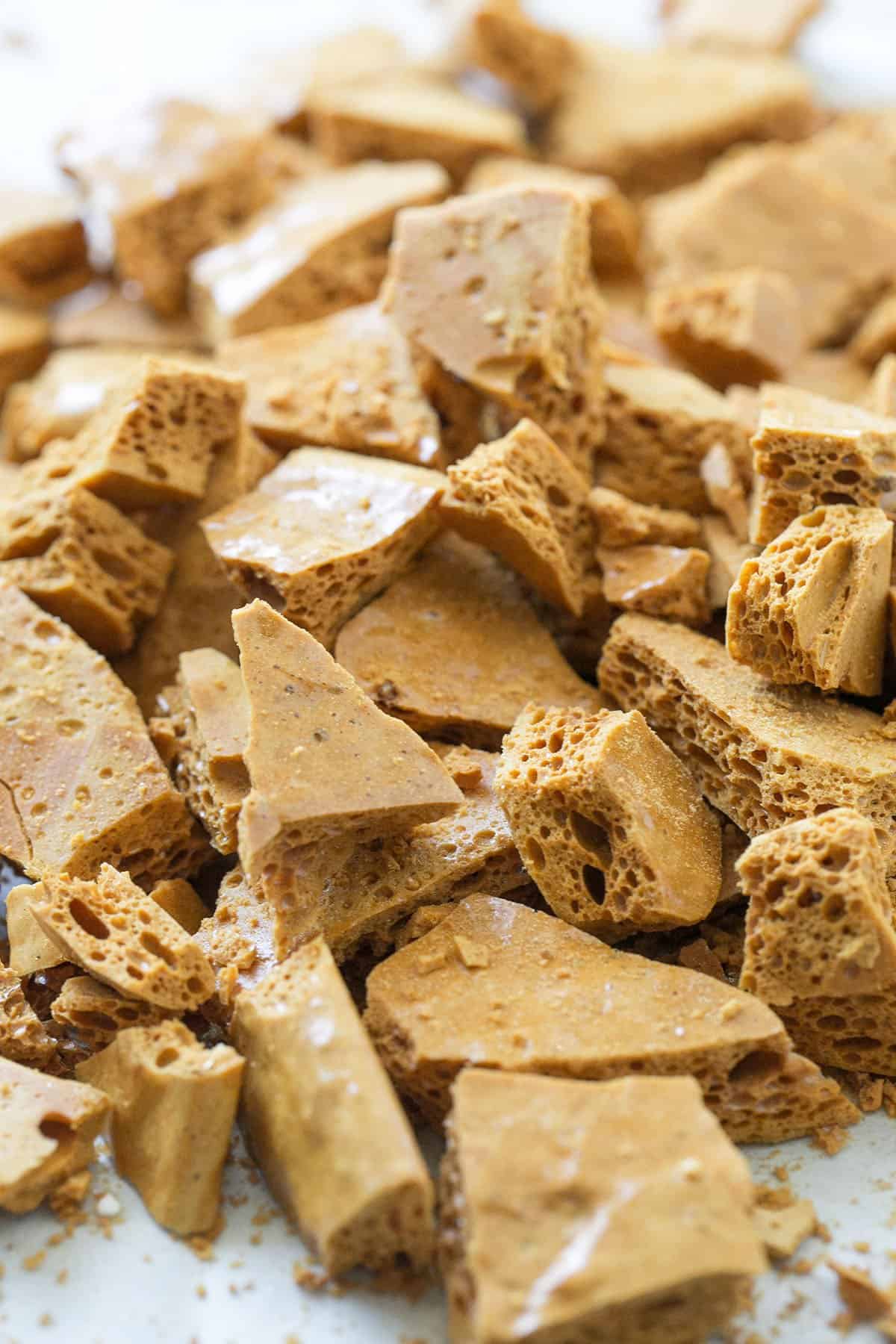 Frequently Asked Questions
Where did hokey pokey ice cream originate?
Hokey pokey ice cream first originated in New Zealand in the late 19th century. Ice cream factory owner Brian Simon combined classic vanilla with small pieces of honeycomb toffee. Upon its distribution, the flavor quickly rose to peak popularity within the country. Now, it's distributed all around the world for people to enjoy, and remains a staple of New Zealand cuisine. 
What kind of ice cream is hokey pokey?
Hokey pokey ice cream begins with a base of classic vanilla. Small, bite-sized pieces of honeycomb toffee are added to the ice cream as it churns for a sweet, caramel-like crunch. While packed with flavor, the honeycomb toffee is made using only caster sugar, golden syrup, and baking soda. With just a few ingredients, anyone can enjoy this fun, innovative ice cream flavor.
Why is it called hokey pokey ice cream?
The name derives from several sources. Since the late 19th century, New Zealand's classic honeycomb toffee has been known as hokey pokey, although the origins of this name are currently unknown. Additionally, "hokey pokey" was also a slang term used to reference ice cream during this time, with ice cream vendors often known as "hokey pokey men." Etymologists have concluded that this term likely originated from an old Italian phrase, as many of these vendors were of Italian descent.
What countries have hokey pokey ice cream?
While hokey pokey ice cream is most popular in its native New Zealand, the treat has fans all around the world. It's imported in large quantities to neighboring Australia, as well as to the faraway United States and United Kingdom. The flavor is also imported to Asia—particularly Japan—where it sees much popularity.
What is hokey pokey ice cream in Australia?
Though this dessert has seen popularity in many countries outside of New Zealand, it often goes by an entirely different name. For instance, in Australia, the ice cream is generally known as "honeycomb ice cream" in reference to the toffee inside. While these names are slightly different, the ice cream remains the same indulgent treat that is loved by dessert fans internationally.
What is the flavor of hokey pokey ice cream?
The signature honeycomb toffee makes hokey pokey ice cream an indulgent treat. Made mainly from sugar, the honeycomb toffee is seriously sweet and offers a satisfying crunch. This sweetness is tempered by the mellow creaminess of the vanilla ice cream as it cuts through the bold honeycomb and rich golden syrup. The result is a caramel-like flavor that perfectly balances texture and sweetness for a memorable treat.Ask about order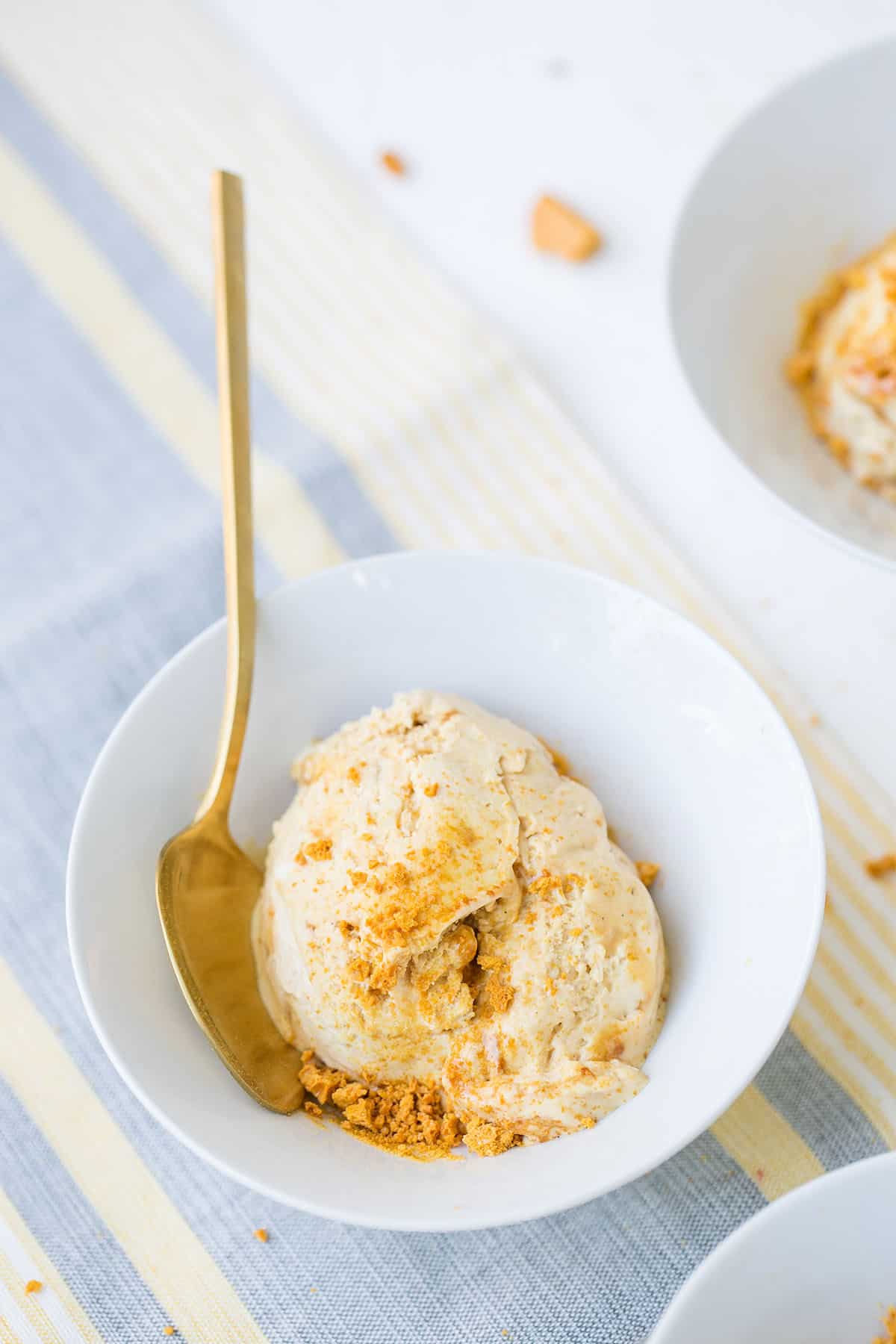 More Desserts You'll Love!
Cereal Ice Cream with Lucky Charms
Raspberry Swirl Cheesecake Ice Cream
Snickerdoodle Ice Cream Sandwiches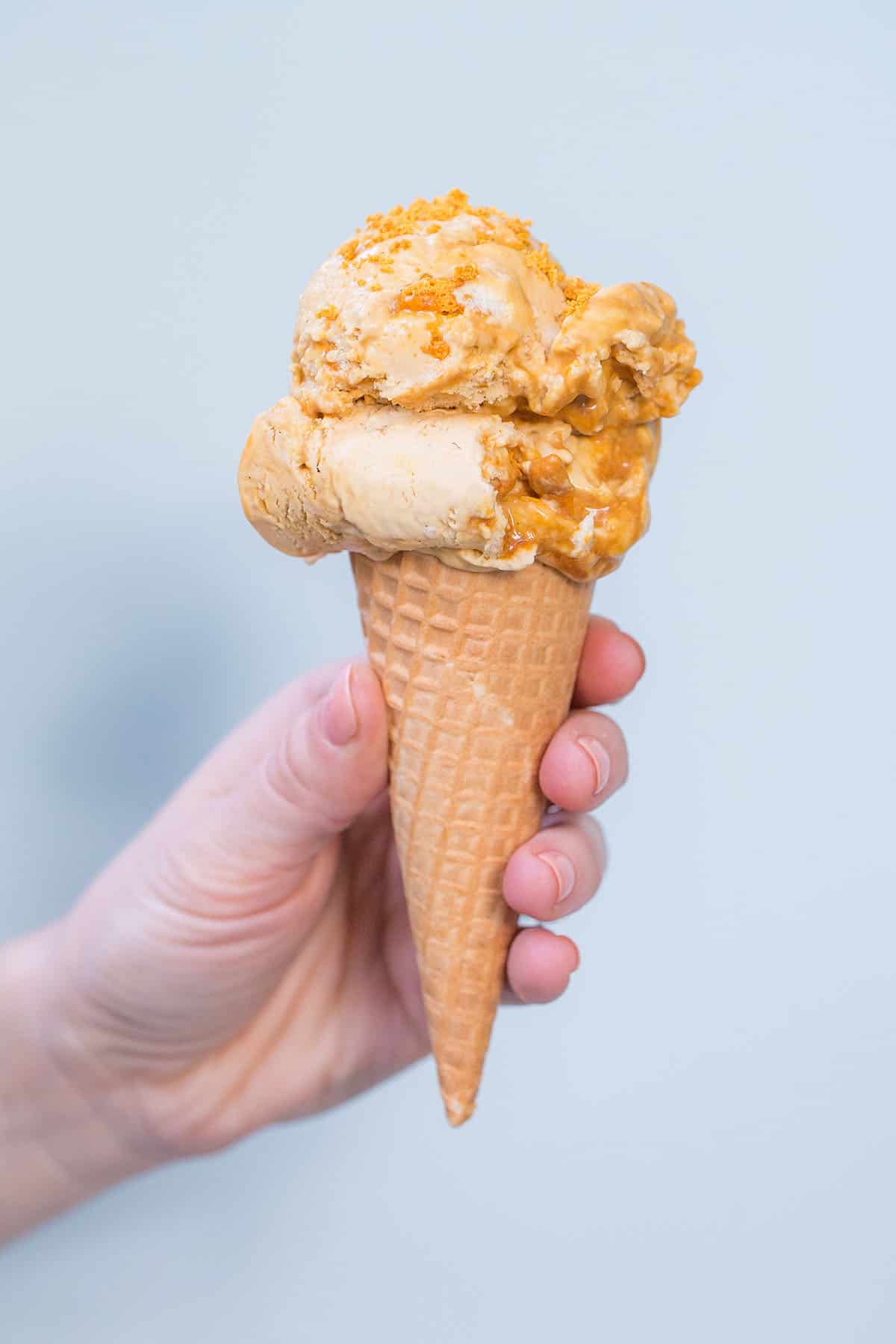 Let us know if you make this recipe by leaving a comment and review below!
You can also FOLLOW US on FACEBOOK, INSTAGRAM, and PINTEREST to see more delicious recipes, cocktails, desserts, and parties!
This post may contain affiliate links. Please read our disclosure and privacy policy.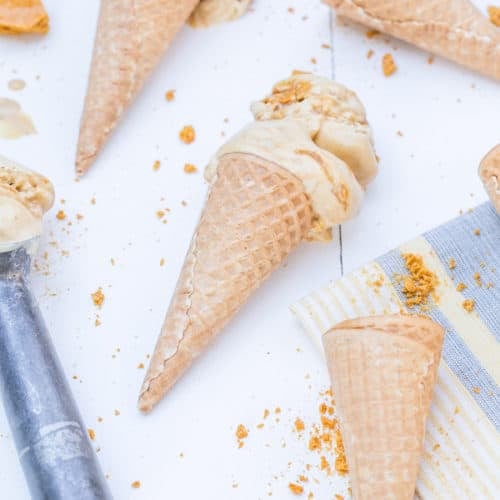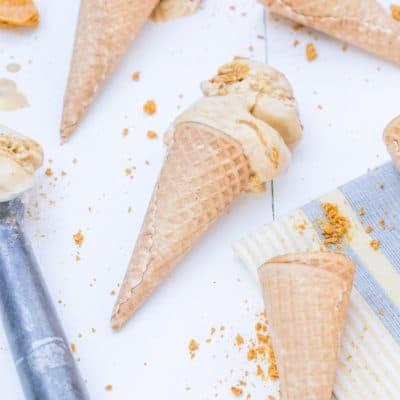 Hokey Pokey Honeycomb Recipe
Honeycomb gives a delicious texture to creamy ice cream!
Print
Pin
Rate
Ingredients
Homemade Honeycomb
1

cup

caster sugar

,

super fine sugar

1/2

cup

golden syrup

,

find this at Whole Foods or online

3

Tbsp

baking soda
Instructions
Prepare a baking sheet with parchment paper and set closely to the range where you'll be melting the sugar and syrup.

Place the sugar and the syrup in a medium sauce pan and stir until the mixture melts. It will become thick first, but as it heats it will melt into a gooey syrup. It takes about 5 minutes.

Once the mixture is bubbling and richer in color, like a dark golden brown add in the baking powder and whisk quickly. Immediately pour the mixture on to the parchment paper while it's still fluffy.

Let it sit for about 15 minutes then bash it to pieces! The inside will resemble a honeycomb.

Make the vanilla ice cream and add the homemade honeycomb to the base about 5 minutes before the ice cream is done in the ice cream maker.

Leave some thicker ones for an extra crunchy ice cream texture! AND a few to sprinkle over the top.
Notes
Here is the recipe for Jeni's homemade vanilla ice cream. We love it! 
This honeycomb recipe works with any vanilla ice cream base, so use your favorite! 
To make it easier, hand mix the honeycomb into a store-bought ice cream. Leave some to sprinkle over the top.
Nutrition
Calories:
219
kcal
|
Carbohydrates:
55
g
|
Protein:
0
g
|
Fat:
0
g
|
Saturated Fat:
0
g
|
Cholesterol:
0
mg
|
Sodium:
1641
mg
|
Sugar:
55
g