This coconut mojito recipe is full of coconut flavor! It's a twist on our classic mojito recipe but made with cream of coconut. A perfect summer cocktail and great for parties, like our tropical party! 
We love cocktails made with coconut. It gives the most delicious, tropical flavor and sweetness. They are festive and fun for spring and summer. We can't think of a better way to use sweet coconut cream than to make delicious coconut cocktails, like our coconut margarita!
If you want a frozen version, check out our frozen mojito recipe! Also, check out how to make a mojito bar for parties. It's a wonderful entertaining idea!
Why We Love this Coconut Mojito Recipe
Traditional mojitos are one of our favorite cocktails, so when you add coconut to it, it becomes a tropical favorite! They're everything you want in a refreshing coconut drink with a creamy texture and tart, sweet flavor. A very well-balanced drink that is incredible.
Here's why we love this recipe:
We use creamy coconut cream to sweeten it and coconut milk for a delicious tropical flavor. The coconut flavor is really good!
This drink is easy to make and you don't need a cocktail shaker, just a highball glass.
It works with any white rum and is great with coconut rum.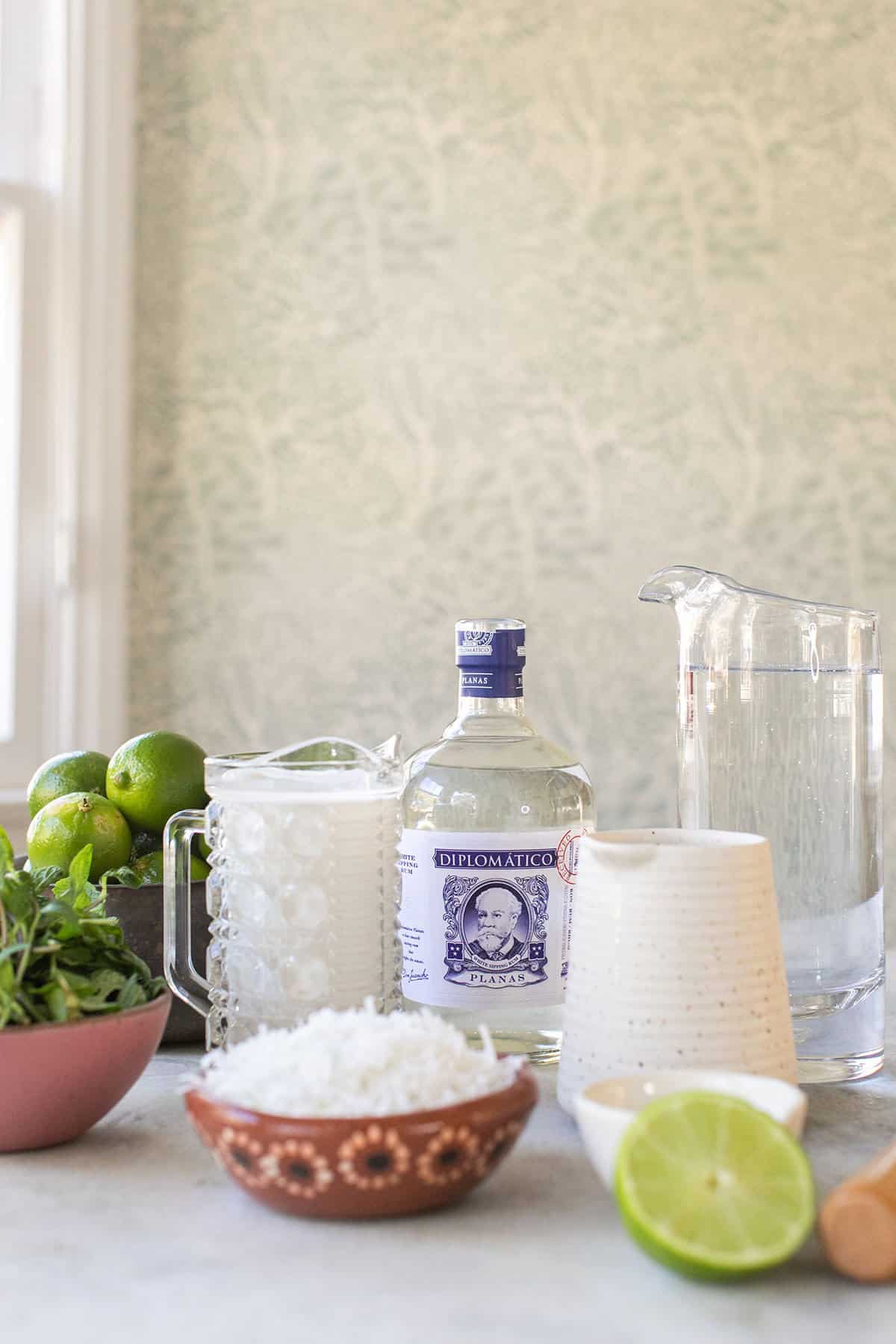 Coconut Mojito Ingredient Notes
The full recipe is in the recipe card below.
Fresh Mint Leaves – An herb that has been used for centuries to make sauces, teas, and more. Remove the leaves from the stems before mudding. 
White Rum – Any white rum will work to make this. Havana Club is the most popular rum in Cuba, so if you want to keep this recipe traditional use that. Otherwise, use any white rum you have available.
Lime Juice – Alway use freshly squeezed lime juice for the ultimate freshness. 1 lime will yield 2 tablespoons of lime juice.
Real Coco Cream Of Coconut – We keep this on hand to make cocktails with coconut.
Coconut Milk – An opaque, milky liquid extracted from the pulp of coconuts.
Club Soda or Sparkling Water – Add a little carbonation to this drink, which helps balance the cocktail and dilute the intense flavors. It always adds some bubbles, making it super refreshing. You can also use a little coconut water too.
Shredded Coconut – Shredded coconut is used to garnish the coconut. Use sweet or toasted.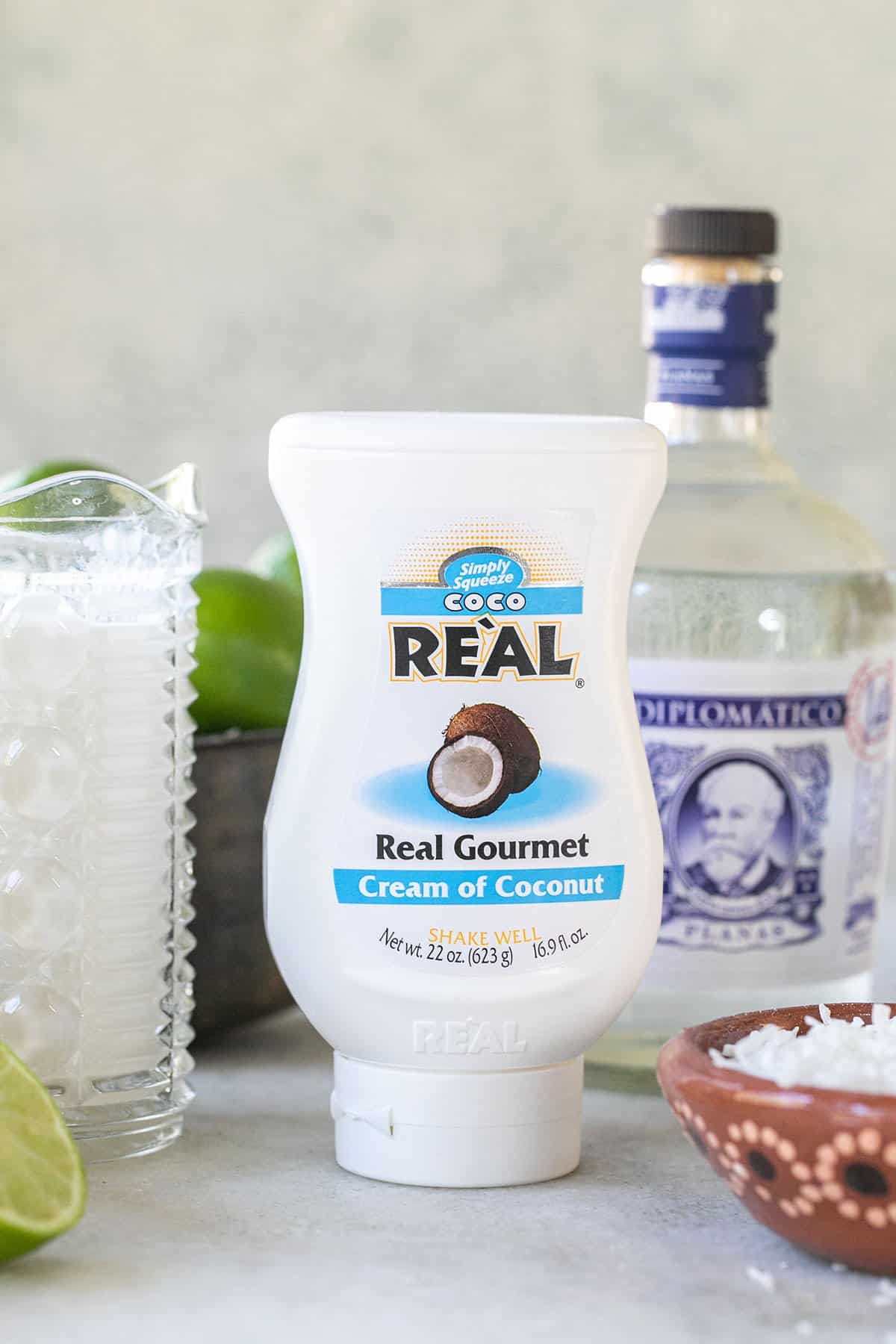 How to Make a Coconut Mojito
You'll need a highball glass or any tall glass, muddler, and cocktail jigger. 
Muddle the Mint – This is the first step to making this drink. Place the mint and the cream of coconut in a highball glass. Using a cocktail muddler, gently press down on the mint to release the aromas and flavor.
Stir – Add the rum, lime juice, coconut milk, and ice to the glass and stir.
Top It with club soda and then garnish with a lime wheel or lime wedge and fresh mint sprig and shredded coconut.
How to Muddle Mint
Choose a muddler made of unvarnished wood. 
Get a sturdy mixing glass or pint glass.
Place the leaves into the bottom of the glass with simple syrup or sugar.
Place the muddler in the glass. Press down lightly on the mint, giving a few gentle twists. 
When you smell the aromas of mint, you're done.
Cocktail Garnishes
For a festive drink, add a raw sugar cane stick to the drink before serving. 
If using a straw, we recommend these biodegradable straws made from sugar cane.
Lime zest is also a festive garnish.
Shredded coconut or toasted coconut looks beautiful over the top.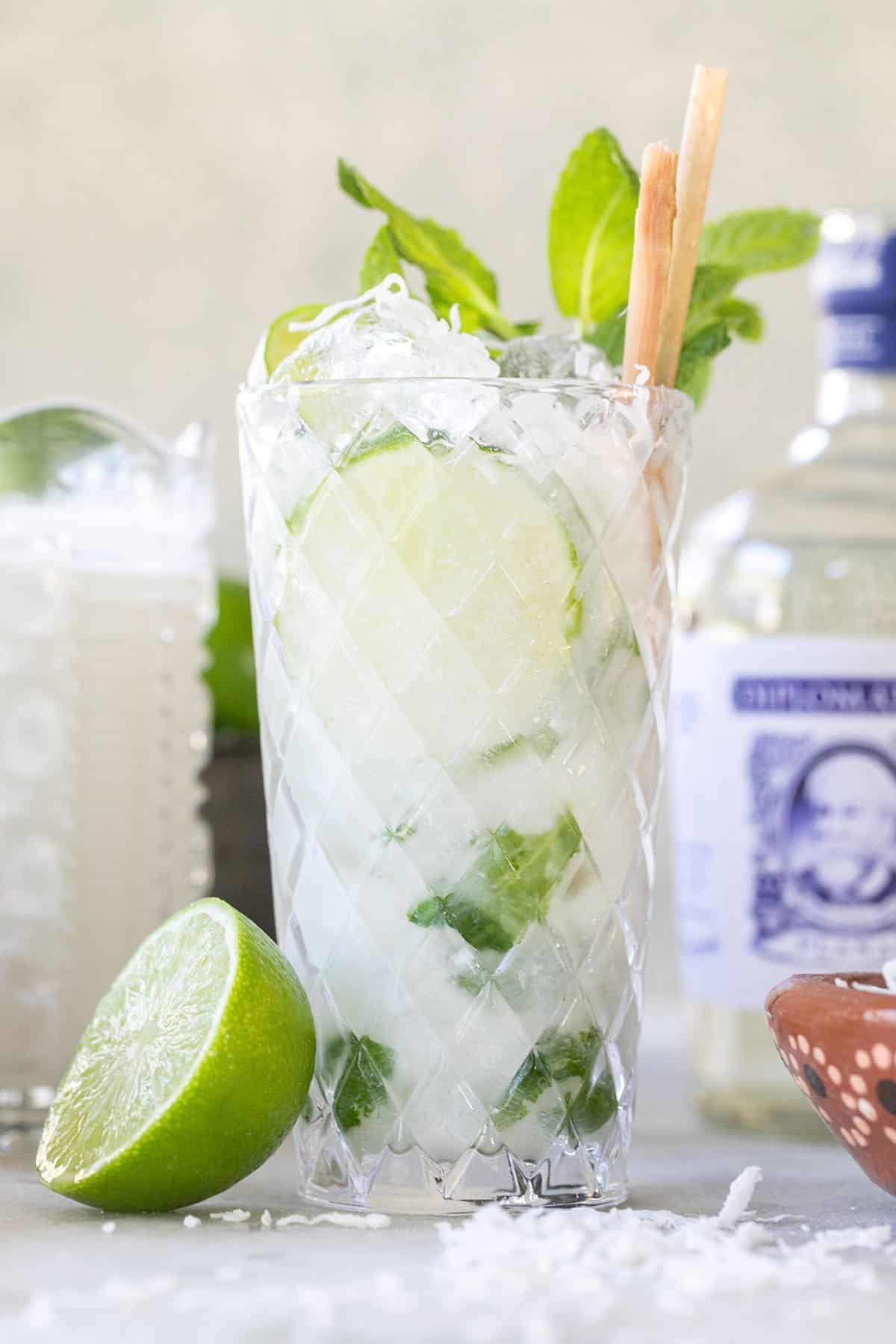 Best Rum for Mojitos
Wondering what alcohol is best for Mojitos? Here are some of our favorites:
Ideally, the white rum used in a Mojito needs to be smooth, strong and packed with flavor.
Our favorite rums include Diplomataco Planus Rum, Malibu, Real McCoy Barbados Rum, and Plantation 3 Stars.
If you need more recommendations, check out these 9 Best Rums for Mojitos.
Tips for Making Coconut Mojitos
For an extra coconut flavor, use coconut rum. This will boost the flavor even more. We use it in our classic pina colada and it's perfection.
If you don't want to make simple syrup, simply muddle 1 tbsp sugar with the mint leaves.
Coconut Cream vs. Coconut Milk
While the traditional recipe calls for coconut cream, some people prefer to make their drinks with coconut milk. Coconut cream has a higher fat content than coconut milk and it's much thicker in texture.
Coconut Mojito Variations
Here are some fun coconut mojito variations you can also try:
Virgin Coconut Mojito – Try this virgin mojito by leaving out the rum.
Pineapple Coconut Mojito – Replace 1-ounce coconut milk with pineapple juice.
Frozen Coconut Mojito – Blend all of the ingredients with 1 cup of ice and make a frozen mojito. Add a little extra cream of coconut when making a frozen mojito.
Coconut Mango Mojito – Replace 1-ounce coconut milk with mango juice.
When to Serve a Coconut Mojito:
Besides just enjoying this drink for happy hour during the week, it's also a great cocktail recipe for a summer celebration! Here are some occasions you can whip up a coconut cocktail:
Frequently Asked Questions
What's in a Mojito?
A Mojito contains fresh lime juice, white rum, mint leaves, sugar, and club soda. There are variations that include other tropical juices to make different flavors like pineapple coconut mojitos.
Does a Mojito Contain Rum or Tequila?
The signature spirit in a Mojito is white rum. Distilled from sugar cane, it has a sweet, soft taste that works well with the other Mojito ingredients. In contrast, Tequila, distilled from the Agave plant, has a distinctive taste that's tangier and less sweet than white rum. Tequila works well with fruit juices and orange flavors, such as orange juice and triple sec or Cointreau.
Can you use Malibu to make mojitos?
Yes, you can use Malibu rum to make mojitos. Malibu Rum is a coconut liqueur that is made with Caribbean rum. Originally, the Malibu rum was used to simplify the making of piña coladas. It's not used in many rum cocktail recipes and comes in a variety of flavors.
More Mojito Recipes:
Looking for more mojito recipes? Try one of these fun flavors! The variations are endless with rum and mint:
The Best Frozen Mojito Recipe – This is truly the BEST frozen cocktail! It's a must on a hot summer day.
The Best Pineapple Mojito – Served in a pineapple! Similar to our toasted pineapple cocktail.
Strawberry Mojito Recipe – A fruity twist to this classic cocktail.
Blueberry Mojito with Blueberry Ice – The blueberry ice are fun to male and awesome!
Matcha Mojito Recipe – An extra green cocktail with matcha health benefits.
If you're looking for more rum cocktails check out our pina coladas and rum punch recipes.
Also check out more great cocktail recipes our favorite brunch recipes, the best-mixed drinks, tequila cocktails, gin cocktails, vodka cocktails, and cheap drinks to make at home!
Let us know if you make this coconut mojito recipe by leaving a comment and review below.
You can also FOLLOW US on FACEBOOK, INSTAGRAM, and PINTEREST to see more delicious recipes, cocktails, desserts, and parties!
Coconut Mojito
A classic mojito with coconut flavors!
Print
Pin
Rate
Ingredients
6

leaves

mint

1/2

ounce

cream of coconut

2

ounces

white rum

1/2

ounce

lime juice

3

ounces

coconut milk

1

ounce

club soda

,

more if you prefer
Instructions
In a highball glass, muddle 6 mint leaves with cream of coconut.

Add in the rum, lime juice, and coconut milk and stir.

Fill with ice and top with club soda or sparkling water.

Garnish with shredded coconut and a lime wheel.
Notes
Tips for Making Coconut Mojitos
For an extra coconut flavor, use coconut rum. This will boost the flavor even more. We use it in our classic pina colada and it's perfection.
If you don't want to make simple syrup, simply muddle 1 tbsp sugar with the mint leaves.
Nutrition
Calories:
364
kcal
|
Carbohydrates:
14
g
|
Protein:
2
g
|
Fat:
21
g
|
Saturated Fat:
18
g
|
Polyunsaturated Fat:
1
g
|
Monounsaturated Fat:
1
g
|
Sodium:
25
mg
|
Potassium:
207
mg
|
Fiber:
1
g
|
Sugar:
10
g
|
Vitamin A:
20
IU
|
Vitamin C:
5
mg
|
Calcium:
19
mg
|
Iron:
3
mg