If you love juicy watermelon as much as we do, then you'll want to try one of these 10 delicious watermelon recipes!
From the best cocktails to watermelon popsicles. We're sharing some of our favorite recipes made with watermelon! They would be perfect for a watermelon-themed party!
It's not summer without a plethora of watermelon! We LOVE watermelon not only for its juicy, fruit flavor, vibrant color, and health benefits but also because it's so versatile!
You can make watermelon recipes using savory or sweet ingredients. Turn it into a salad or make it into ice cream. There are so many flavor combinations and ideas you can make! Here are a few of our favorites…
The Best Watermelon Recipes for a Hot Summer Day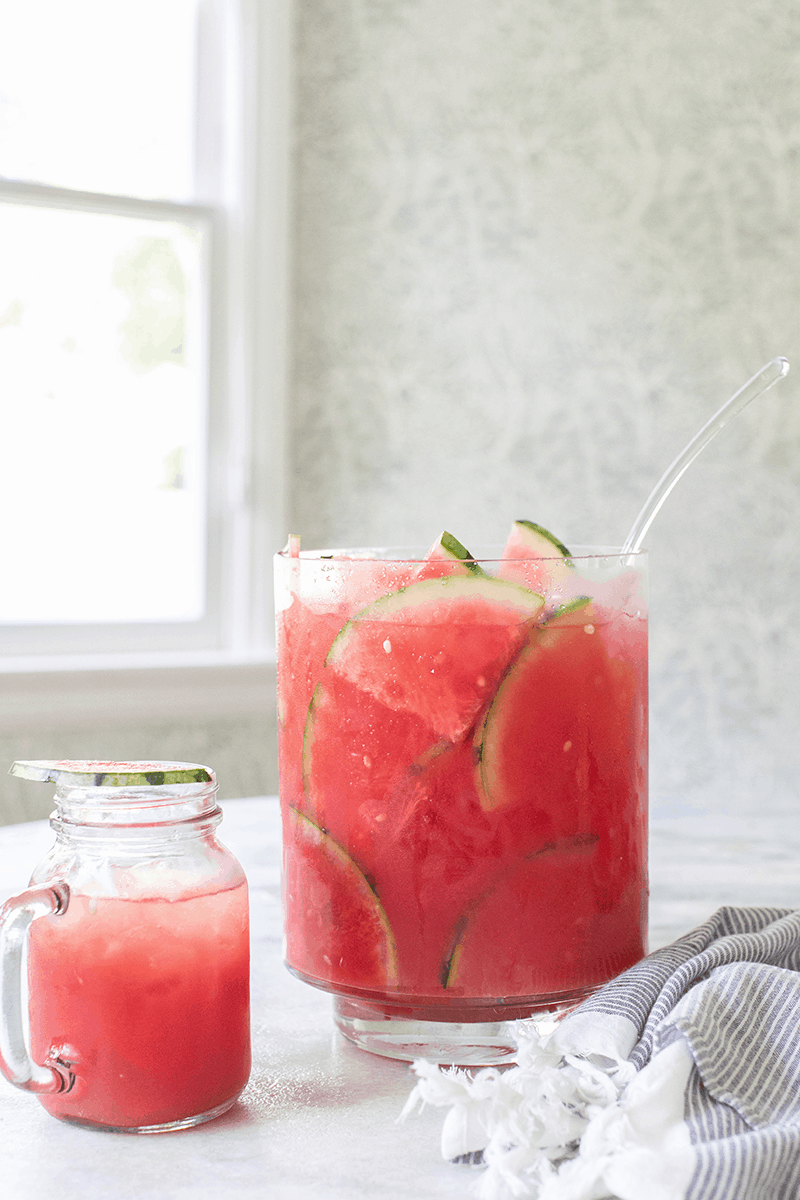 Watermelon Cocktail Punch
This watermelon cocktail punch is perfect for a summer cookout! Made with simple ingredients and tequila, it's sure to cool you down. It's also a beautiful punch too!
Watermelon Tequila Popsicles
How adorable are these spiked watermelon tequila popsicles?! Refreshing watermelon tequila popsicles that are perfect for summer entertaining!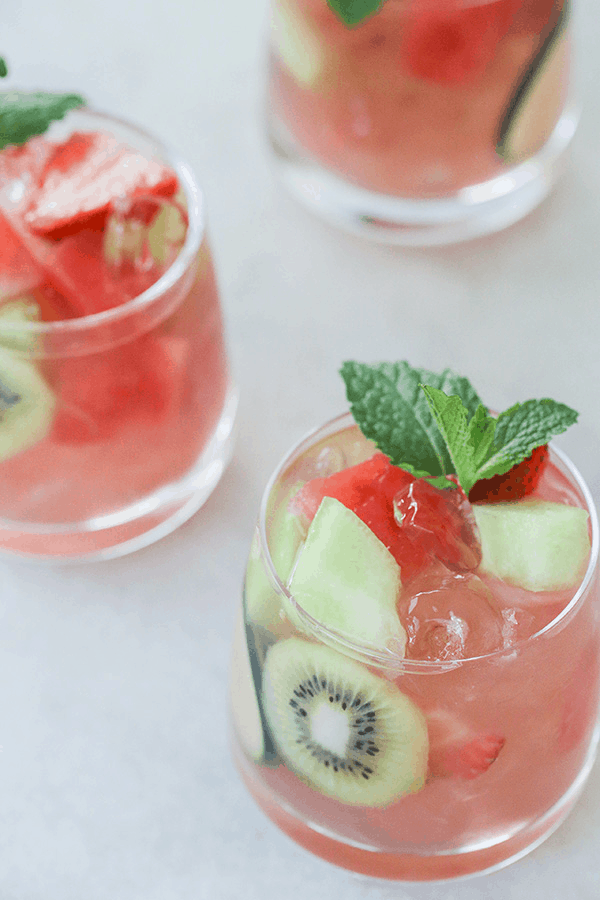 Honeydew & Watermelon Sangria
You will love this refreshing Honeydew & Watermelon sangria recipe! It's such an easy cocktail to make and perfect for those balmy summer months!
Watermelon Lemonade
A refreshing and easy watermelon lemonade recipe that is perfect for summer parties!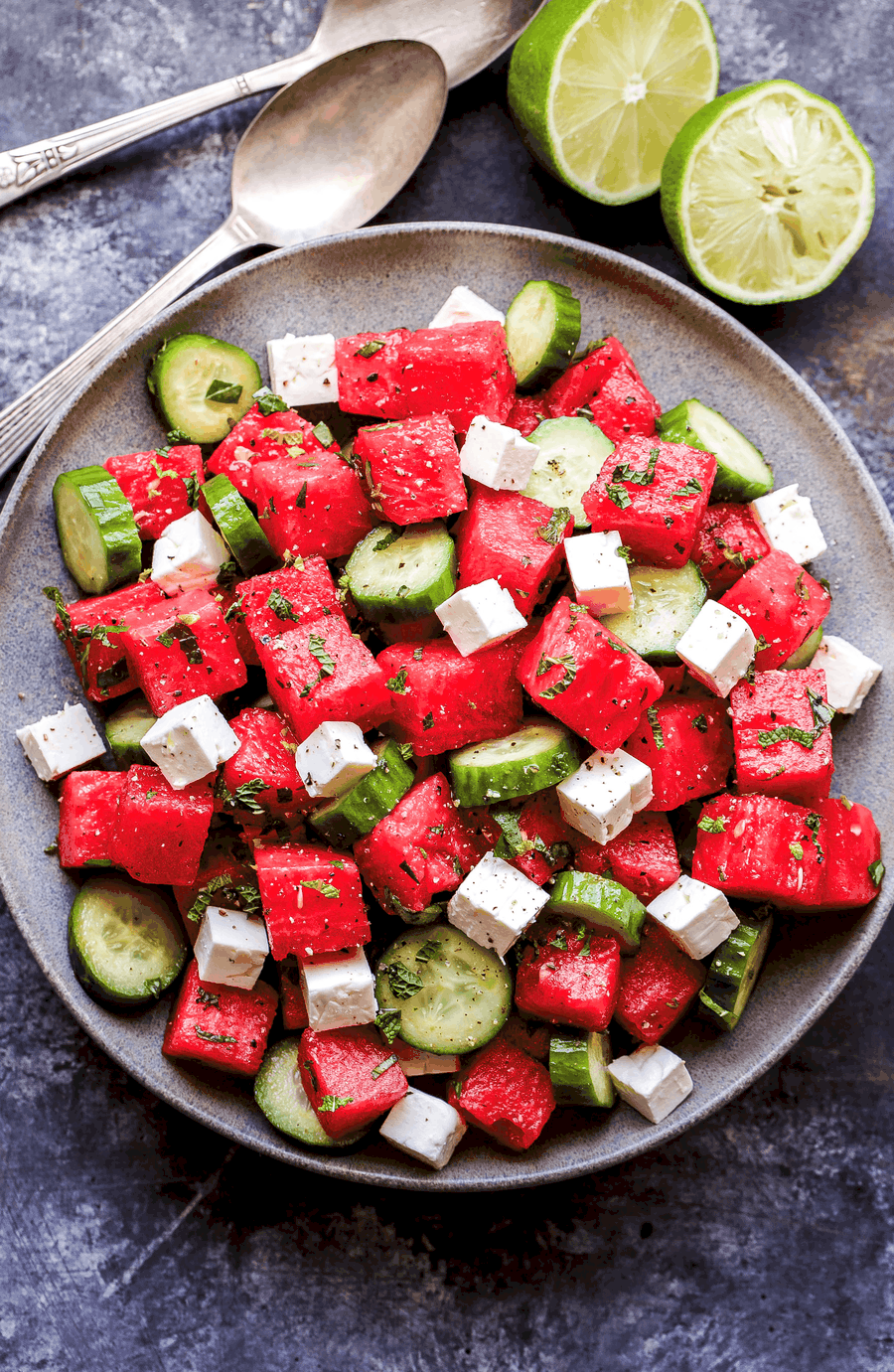 Watermelon Cucumber Salad with Feta
A fresh watermelon salad with feta that's easy to make and a perfect side dish to your favorite BBQ!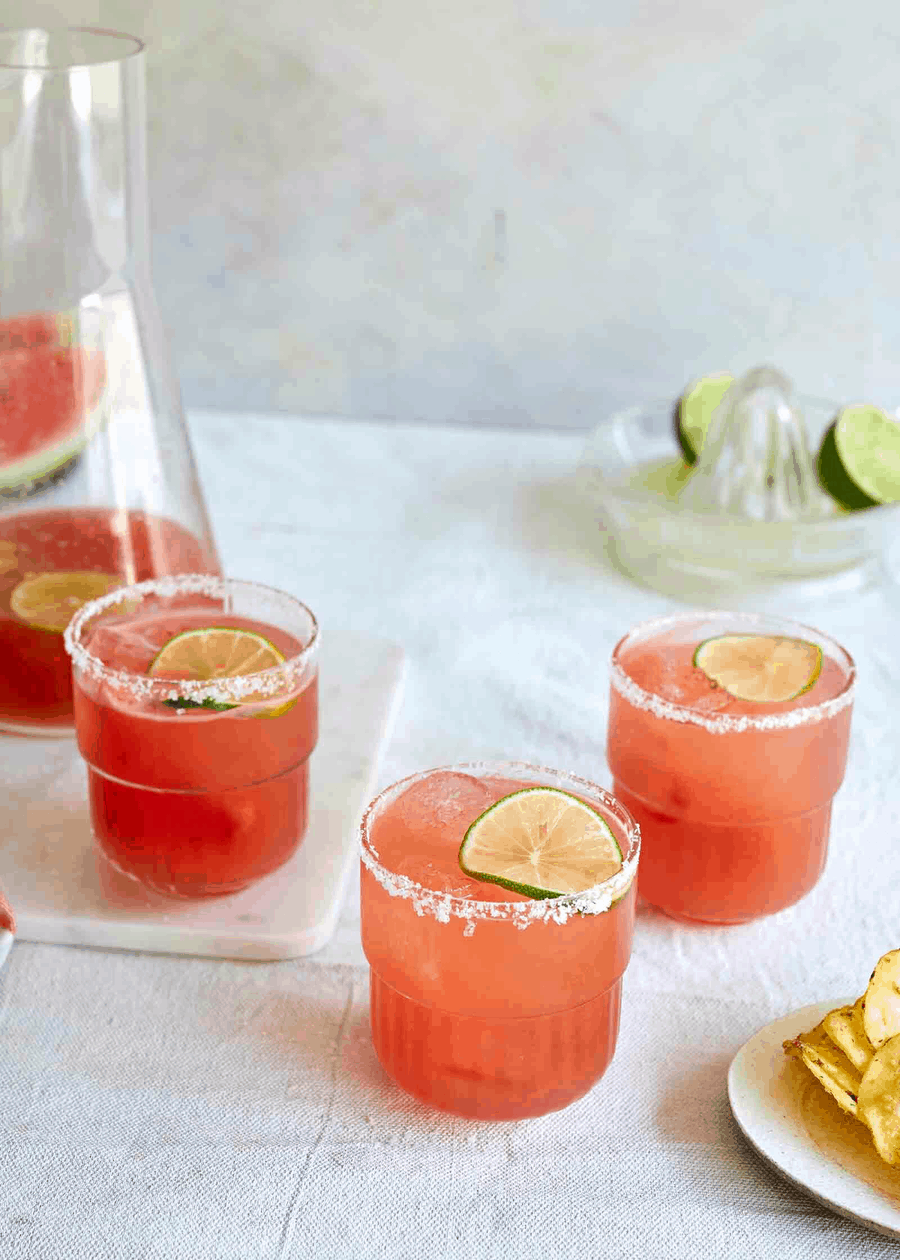 Watermelon Pitcher Margaritas
We're huge fans of watermelon margaritas and these watermelon pitcher margaritas are perfect for a crowd!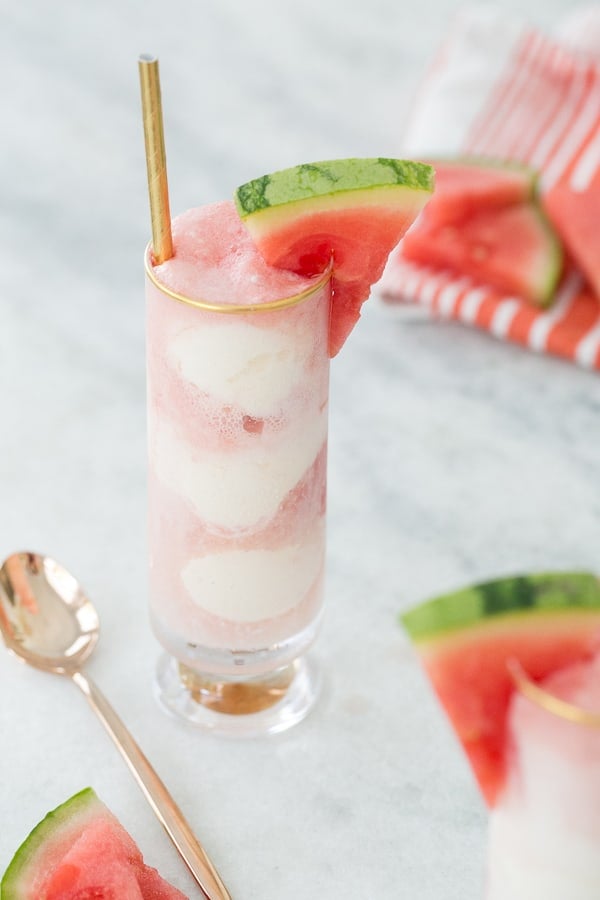 Cold Pressed Watermelon Floats
Scoops of vanilla ice cream with cold-pressed watermelon juice make this watermelon floats perfect for summer!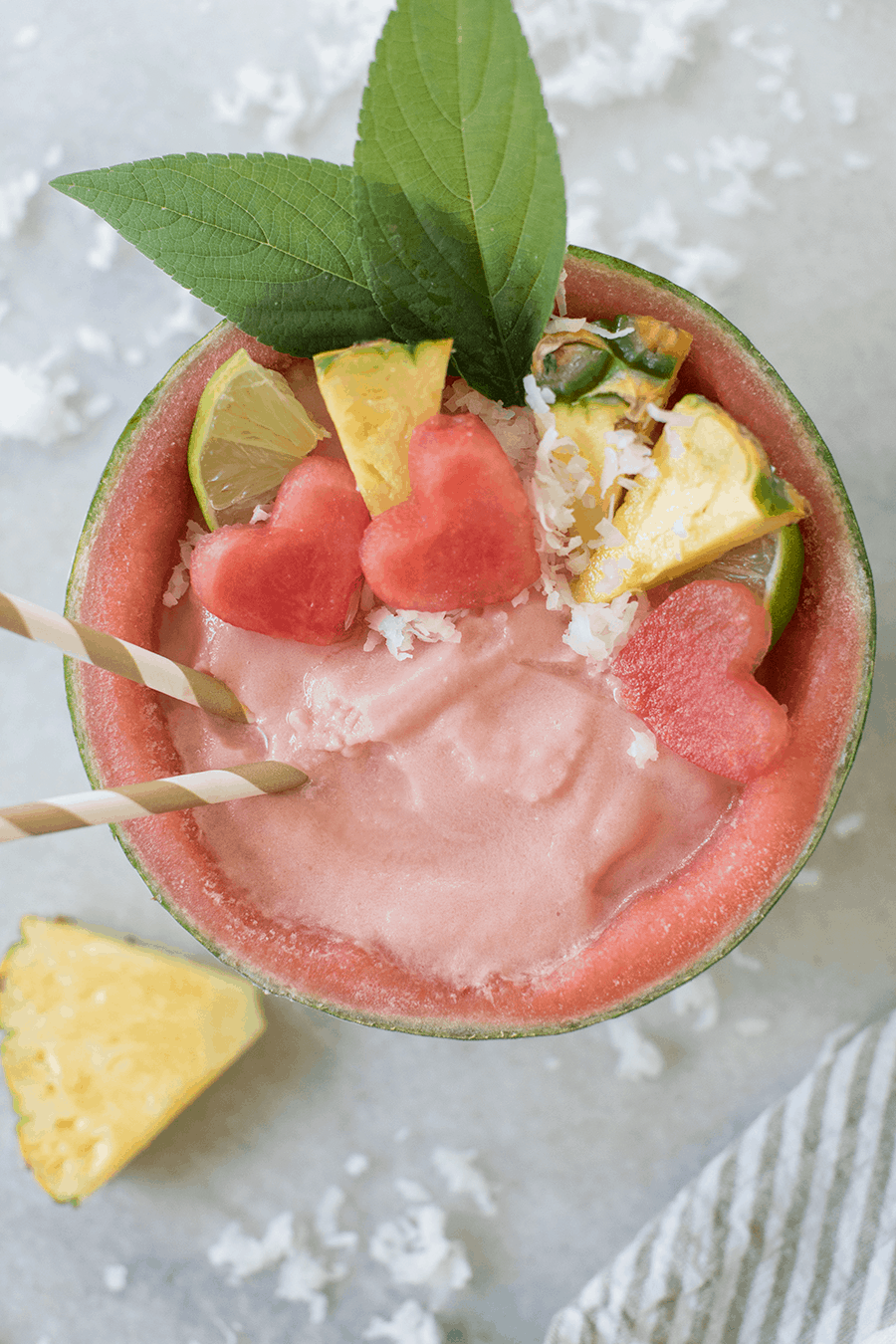 Watermelon Piña Colada
If you like Piña Coladas… you'll love this Watermelon Piña Colada! It's a perfectly sweetened, creamy, blended colada with watermelon, coconut rum, lime, banana rum, pineapple juice!
Spicey Watermelon Salad
A spicy watermelon salad with cilantro and lime dressing! This salad would be perfect with summer BB! The unique flavors compliment each other so well!
Watermelon Popsicles
Fresh watermelon popsicles made with homemade watermelon juice!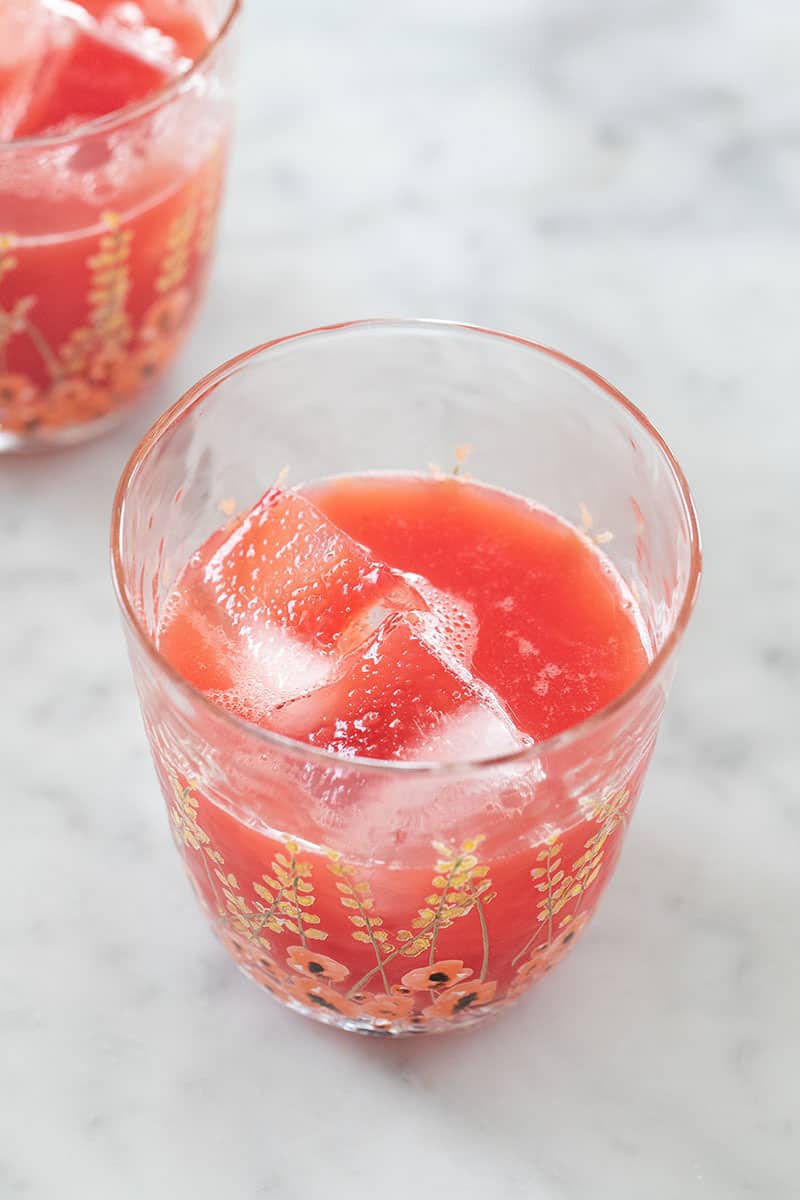 Watermelon Juice
Watermelon juice is incredibly hydrating and great for summer!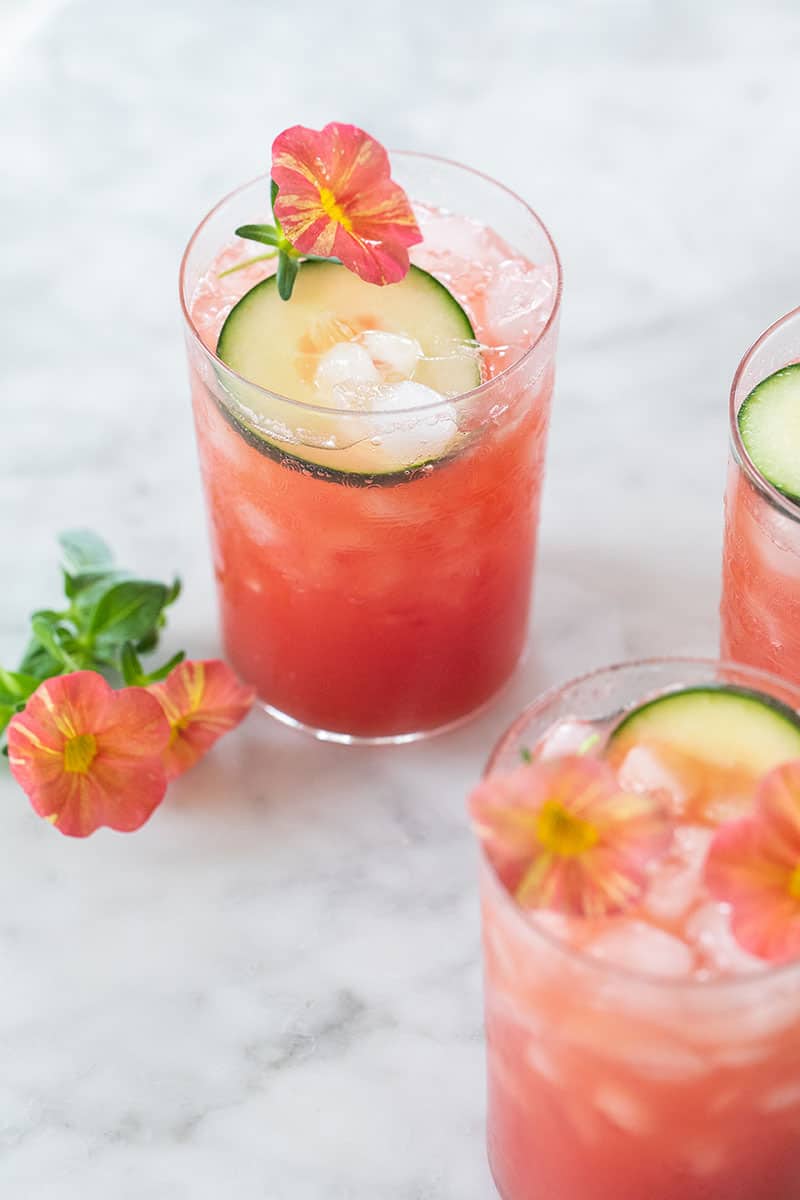 Refreshing Cucumber Watermelon Cooler
This watermelon cooler is made with cucumber and watermelon and it's very refreshing!
Furthermore, if you like to enjoy watermelon by itself, here's an easy way to cut it into sticks!
Frequently Asked Questions about Watermelons
How Do You Pick a Watermelon?
Whether you're picking it off of the vine or off of a shelf at the grocery store, you'll want to follow these tips.
First, pick up a watermelon that is uniform and feels heavy for its size. You want to avoid ones that have any blemishes like bumps or dents.
Turn it in your hands so that you can see the "field spot". This is the discolored part of the melon where it sat in the field. It starts off white and becomes yellowish when it's ripe and at its full sweetness.
Another tip is to look at the stem if there is one. A dry stem indicates that it's ripe, while a green stem indicates that it wasn't ready yet.
What is the Sweetest Kind of Watermelon?
Although "sweetness" can be subjective, fruits are often rated on a Brix Scale. Here's how the ratings go:
7.8-8.2: Somewhat sweet
8.3-9.0: Sweet
Above 9.0: Very sweet
This is useful if you're choosing watermelon varieties to grow. The seed company should provide this information.
If you're simply wanting to buy the best melons, choose from the following types:
Bradford
Crimson Sweet
Diana
Jubilee
Yellow Doll
For the record, the sweetness of a melon doesn't depend on its size, color, or shape.
What Flavors Go Well With Watermelon?
Safe flavor combinations include using other fruits on a tray or in a salad such as berries and other melons.
You can add avocado, red onion, and jalapeno to create complex flavor profiles. You may also want to use seasoning for watermelon dishes like chili pepper, salt, and mint.
If you want it by itself, you can simply add seasoning or make a DIY fruit soda with it.
What Are the Benefits of Eating Watermelon?
Aside from it being refreshing, watermelon has a range of health benefits. Watermelon can:
Fight cancer
Have anti-inflammatory effects
Hydrate
Improve heart health
Improve digestion
Relieve muscle soreness after exercise
Strengthen skin and nails (from vitamins A and C)
With all of these benefits, watermelon also has plenty of nutrients. This includes vitamins A, B1, B5, B6, C, as well as potassium and magnesium.
Is Watermelon Full of Sugar?
Watermelon isn't necessarily full of sugar. 92% of it is made up of water alone.
Still, there is a good chunk of sugar in the remaining 8%. A cup of watermelon has around 10 grams of sugar, depending on the variety. Keep in mind that this is natural sugar, not processed junk.
Plus, watermelon is naturally fat-free, very low in sodium, and only has about 40 calories per cup.
How Do You Keep Watermelon From Getting Mushy?
There are a few ways to tackle this problem.
First, keep the watermelon in the fridge before you cut it for up to 4 to 5 days. When you're ready to eat it, cut it into cubes or long slices.
If you want to save it for later, lay the pieces on parchment paper and put them in the freezer. When it's solid, you can put it into a container or bag (but be sure to leave room for your grapefruit negroni popsicles).
If you're looking to keep it in the fridge for easy snacking, drain out the juice before sealing the lid to the container. Every day, drain out the excess juice to keep it from getting mushy.
More Summer Ideas
Check out our 10 summer popsicle recipes to cool you down.
Three strawberry recipes for summer.
Mexican Fruit Platter with Watermelon
Four delicious agua fresca recipes
Let us know if you make any of these watermelon recipes in the comments below! We'd love to know what you think and what you paired it with!
You can also FOLLOW US on FACEBOOK, INSTAGRAM, and PINTEREST to see more delicious recipes, cocktails, desserts, and parties!
This post may contain affiliate links. Please read our disclosure and privacy policy.
Watermelon Recipes – Watermelon Popsicles
Refreshing watermelon juice popsicles
Print
Pin
Rate
Instructions
Pour the watermelon juice into a popsicle mold.

Add the sticks into the mold.

Let the popsicles freeze overnight.

Run warm water over the mold to remove it.
Nutrition
Calories:
34
kcal
|
Carbohydrates:
9
g
|
Protein:
1
g
|
Fat:
1
g
|
Saturated Fat:
1
g
|
Polyunsaturated Fat:
1
g
|
Monounsaturated Fat:
1
g
|
Sodium:
1
mg
|
Potassium:
128
mg
|
Fiber:
1
g
|
Sugar:
7
g
|
Vitamin A:
649
IU
|
Vitamin C:
9
mg
|
Calcium:
8
mg
|
Iron:
1
mg