This charming and traditional Halloween party was inspired by the original Halloween decorations created by a company named Beistle. In the 1920's, Beistle created a line of Halloween decorations that helped popularize Halloween decorating with black cats, Jack O' Lanterns, owls and bats. I fell in love with the nostalgic feeling of a traditional Halloween party using these classic decorations, so we created this charming and traditional Halloween party that's easy enough to do at home… and family-friendly too! We ordered some vintage Beistle Halloween decor, hay bales, galvanized buckets, lots of market lights and lit up pumpkins and had a blast putting this together. I also thoroughly enjoyed showing my 5 year old how to bob for apples too! Traditions are so fun. I hope you find some great Halloween party ideas and inspiration in this post!
Since vintage Beistle was the inspiration behind having a traditional Halloween party, I purchased all of the paper decor items from an online store called Vintage Beistle, ha! It's all really affordable too! They create reproductions of the classic Halloween decor items sold in the 1920's! We purchased the fortune telling Jack-O'-Lantern Game, the Witch Fortune Wheel Game, which was original produced by The Beistle Company in 1927, and is fun to play with kids, Witch Moon and Pumpkin cutouts, Cat Head Napkins and the Scat Cat Band Cutouts.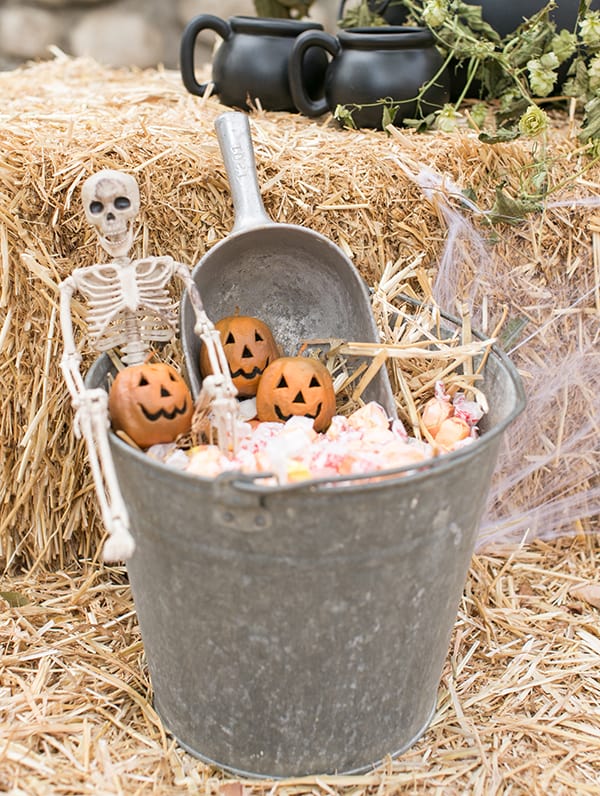 For a quick and easy "table," we used two hay bales and just a whitewashed board on the top to even it out. Super simple, but loved how it turned out!
If you're throwing this party for adults, create a yummy spiked apple cider punch in a cauldron. If it's for kids, you can pour non-alcoholic sparkling cider into the cauldron with ice and fruit! So easy and delicious!
Bobbing for apples is a Halloween tradition that dates back to the 18th century! But it's so fun and full of laughs.
We teamed up with Erin, from White Fig Designs, and she created the most beautiful florals and fall greenery!
Purchased this galvanized tier from here, it will come in handy when entertaining and for parties in the future!
We used this caramel apple recipe and it worked out great. You can dip them in toppings like crushed cookies, candy or nuts!
We created these paper maché hanging Jack-o'-Lanterns and they looked so awesome "floating" in the air! We used battery-operated tea lights to light them up! By far, a favorite detail! Going to do a full DIY on this, stay tuned!
Always hard to get good night shots, but when the sun set, it was so beautifully lit outside and looked like a movie set! It was magical!
Hope you all are inspired and take away some creative ideas for hosting your own Halloween parties! Also, check out our Halloween movie night and Halloween Bar Cart!